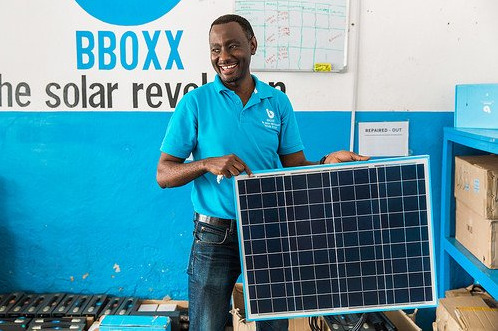 UK-based off-grid renewables specialist BBOXX has signed a deal with the Government of the Democratic Republic of Congo (DRC) to bring clean power to 2.5 million citizens across the African country by 2020, via off-grid solar kits and mini-grids.
The collaboration was partly driven by the DRC Government's 'Energie pour Tous' initiative, which pinpoints off-grid solar for solving the significant energy access issue in the DRC, where it is estimated that there are 62 million people living off-grid. The government has also recognised that traditional grid infrastructure is not a viable solution in rural areas.
The Minister of Rural Development in DRC, Bitakwira Bihona-Hayi Justin said: "The private sector has a key role to play in the off-grid electrification of the DRC. The DRC has passed a law in 2014 to completely privatise the energy sector to attract private investors. This partnership with BBOXX will bring basic energy services through a unique technology to the large off-grid population base in DRC."
Under the BBOXX deal, the government is providing an import tax exemption on solar equipment to make it easier to reach the end customer. Customers will then be able to use mobile payments as low as US$15 per month for a light, radio and phone system.
BBOXX's smart solar home systems are remotely monitored using cloud-based technology, so that any issues such as battery depletion can be resolved before becoming a problem for the customer – a particular boon for the many remote and inaccessible locations of the DRC.
The roll-out of BBOXX systems is expected to create 10,000 jobs and the solar systems will be distributed through BBOXX's network as well as with BBOXX's distribution partner in the capital Kinshasa, Orange Energie.
BBOXX has already been operating in the DRC through its partnership with Victron Energy to provide large pay-as-you-go (PAYG) solar to the urban region Goma in Eastern DRC.
Laurent Van Houcke, COO and co-founder of BBOXX, said: "The government has provided the right regulatory framework and tariff policies that has allowed private companies like BBOXX to work effectively in the country's energy industry for the benefit of its citizens."
This is the latest in a string of deals BBOXX has made across Africa and Asia, which has seen the company partner with governments, investors, technology firms, telecommunications companies and local Distributed Energy Service Companies (DESCOs) to bring clean and affordable energy to underserved communities. BBOXX announced a similar deal with the Government of Togo in December 2017, where the firm won a contract to roll out 300,000 solar home systems to off-grid communities in Togo by 2022.