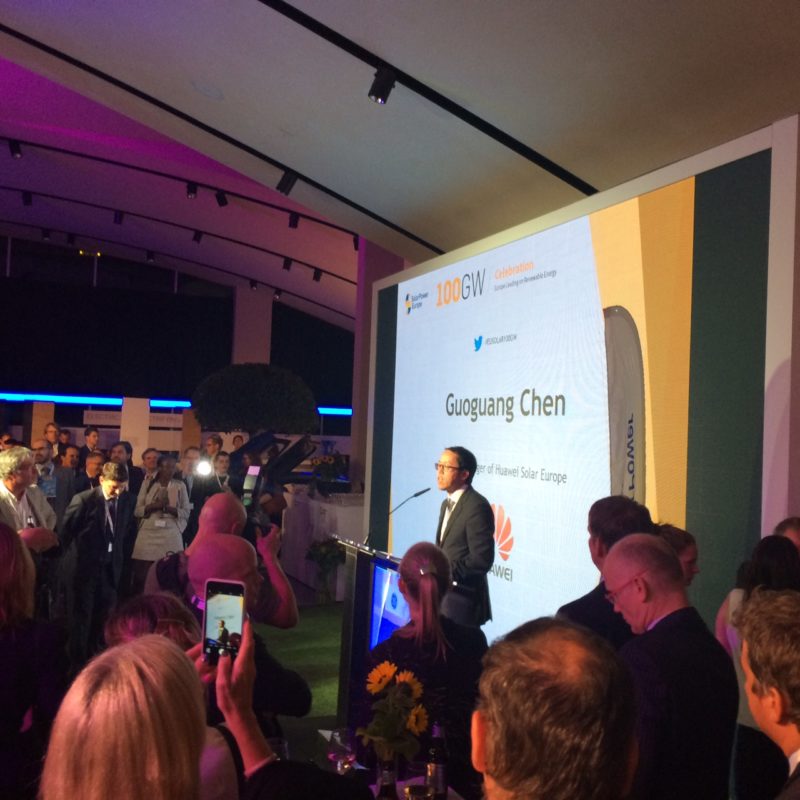 Fully digitized solar power plants will be the next focus for improving efficiencies in the solar PV industry according, to Guoguang Chen, general manager of inverter manufacturer Huawei's Smart PV Europe Business.
Speaking to PV tech at SolarPower Europe's celebration event in Brussels for the continent reaching 100GW of solar, Chen said: "If you look at the other inverter manufacturers, digitisation is now the main topic for almost every industry player, but if you look from a really commercialised solution point of view, currently I don't see the other manufacturers [that] have released this solution into the market."
Huawei spent three years getting its latest smart PV controller to the market, using its own silicon chips, power line communications and engineering technology, including from its radio frequency unit.
Chen said: "Almost everything we [do is] in an open share platform within Huawei. Our design concept is to use a unified platform for every possible scenario. This inverter comes all-in-one."
Alison Finch, chief marketing officer of Huwaei's Smart PV Business, Europe, said the company has been able to synergise its expertise in telecoms with its PV business, as a firm that has spent US$37 billion on overall R&D in the last 10 years.
Cloud-based software is allowing the inverters to be deployed in highly variable locations, whether they be on mountains or the desert, while still extracting strong information on plant performance, added Finch.
She said: "Solar is not about finding the perfect piece of grass in the UK, but it's about thinking you can put it anywhere; then you start realising the scope to expand solar."
Speaking to the audience in Brussels, Chen said that the PV industry has had a "racing mentality" with much focus on swift deployments for situations such as deadlines to receive feed-in tariffs, giving less time to focus on highly intelligent software and smart solutions for PV.
He said that an average 100MW PV plant requires dealing with 40,000 bytes of data per second and such a huge amount of data needs quality processing technology.
In other news, Huawei has announced innovations within its supply chain at its warehouse in Eindhoven, the Netherlands, which supplies the European market. The aim is to shorten production lead-time to deliver product to European customers as quickly as possible.
Finch said: "We realised we need to be more responsive to what the customers require in Europe so we don't want to be 60 days for a delivery when a solar customer realises they need product."