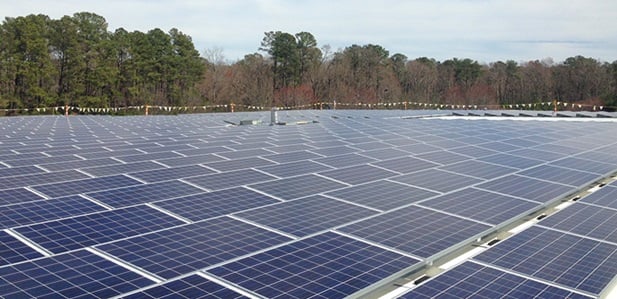 Dominion Virginia Power, a subsidiary of utility Dominion, is to construct a 21MW solar PV plant at Naval Air Station Oceana in Virginia Beach on behalf of the Department of the Navy and Commonwealth of Virginia.
The 18MWac facility, expected to be complete by the end of 2017, will be spread across 40 hectares and will include 179,000 solar panels. The navy will receive an alternative electric feed, to increase the energy resiliency of the base.
Dominion has already partnered the navy on another solar project, having completed construction of the 25MW Morgan's Corner plant in December 2015.
Thomas F. Farrell II, dominion chairman, president and chief executive, said: "Oceana solar facility, along with four other large solar facilities we have announced in Virginia, will bring clean energy to the state, new jobs and other economic benefits.
"Partnerships like the ones highlighted with the Department of Navy and the Commonwealth help to make our state a more attractive place to live, work and do business."
Secretary of the Navy Ray Mabus said: "Not only did we meet the 1GW goal ashore five years early, we surpassed it – reaching 1.1GW by the end of last year. In doing so we've achieved US$90 million in nominal energy cost savings, US$62 million in energy security hardware upgrades to bases, 170MW of access to power during outages and 22 million tons of CO2 abated. And we are just getting started."