Concrete action in the Indian solar sector this year has countered scepticism over the 266GW of clean energy pledges made earlier this year, according to a new report.
India's RE-Invest event, held in February, demonstrated to the world that India's renewables sector was open to foreign investment with 293 companies making firm commitments to invest a combined US$100 billion in 266GW of renewable energy projects in India by 2021/22.
However the plethora of memorandums of understanding led to doubts over how many of these non-binding intentions would be turned into action on the ground.
A report from the Institute for Energy Economics and Financial Analysis (IEEFA), named 'India's Electricity-Sector Transformation: Global Capacity Building', explains how momentum in the renewables sector, especially in solar, has accelerated over the course of 2015.
Jai Sharda managing partner of Equitorials, who helped author the report, told PV Tech that people thought the RE-Invest MoUs were "frivolous", but since then there have been tangible actions even though the 266GW is a distant prospect.
Referring to the solar industry he added: "Big global firms have come and set up shop now, so there is a lot of seriousness in the sector. That has been reflected in the [solar] development over the last one year."
India's pipeline and PV installations are continually accelerating, with analyst firm Bridge to India calculating that the Indian solar project pipeline is over 8GW, with another 4GW of tenders under way currently. The analyst firm also recently announced that cumulative solar installations in India had surpassed 5GW.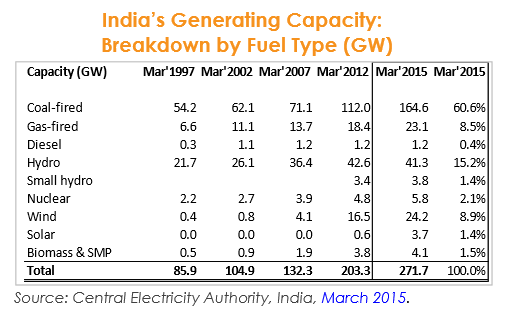 Japanese telecoms provider-turned solar developer Softbank's plan to invest US$20 billion in renewable energy in India in June was seen a "game changer" for the sector, and the announcement was followed by a flurry of investments into India by major international firms.
While a detailed list of each major corporate commitment can be found in the report, IEEFA summarised the type of entities entering the market in 2015 in the following way:
Four of the world's largest solar manufacturers advanced plans to build Indian solar manufacturing capacity (Trina Solar, JA Solar, Hanwha Q CELLS, LONGi)
Three of the world's leading renewable-energy utilities each acquired top Indian renewable project-development firms (EDF Energies Nouvelles, ENEL Green Power, ENGIE)
Four of North America's top solar-development companies accelerated project development in India (SkyPower, First Solar, SunEdison and SunPower)
Leading Asian innovators and utilities have targeted Indian renewables (Foxconn, SoftBank, Sembcorp, CLP Group)
Most of the leading Indian energy sector conglomerates have initiated multiple new investment programs in solar (AdaniPower – 10GW, TataPower ~4GW, ReliancePower – 6GW)
Several of India's wealthiest companies entered the power markets to invest in renewables (Aditya Birla Group, the Dilip family, Bharti Enterprises, Jindal Steel and Power)
India's emerging renewable-development firms built momentum (Welspun, Azure, Greenko, ACME Solar, ReNew Power, Suzlon Energy, Vikram Solar, Essel Infraprojects Limited, INOX Wind, Ostro Energy)
Indian state-owned enterprises diversified into renewables (NTPC, Coal India, Neyveli Lignite Corporation, Indian Railways, National Hydro Power Corp.)
Global development banks and leading equity investors are providing innovative green finance (International Finance Corp, the World Bank, KfW, Asia Development Bank, Abu Dhabi Investment Authority, GE, Goldman Sachs, Actis Capital)
Sharda said: "Most of the firms listed in the report are very well established, strong firms, whose brand names command a lot of respect."
IEEFA itself forecasts 2.5GW of installations this financial year, followed by 5GW next year, in what Sharda claims are conservative estimates.
Since RE-Invest, there have been well over US$100 billion of firm commitments announced by a multitude of companies at successively lower prices, fixed flat for 25 years, the report claims.
Sharda said that the US$100 billion of commitments would actually be sufficient to install more than 100GW of solar, which is the Government's target for 2022. This is because, while it costs around US$1 billion per GW of solar today, the cost will decrease as technology and capital flow in the sector improves.
The report also said the Reserve Bank of India cutting official interest rates three times in 2015 for a total of 125 basis points was a "tailwind" for renewable investment in India. Having almost zero operating costs means the construction capital and financing cost are the key hurdles. The lower the interest rate environment, the more competitive renewables are, claimed the report.
IEEFA's previous report in August estimated that India would reach 75-80GW by 2022, which Sharda noted is still a "massive" number in the context of the RE-Invest commitments. That report claimed India is capable of a sharp ramp up of solar deployment on a level with China's solar spike in recent years.