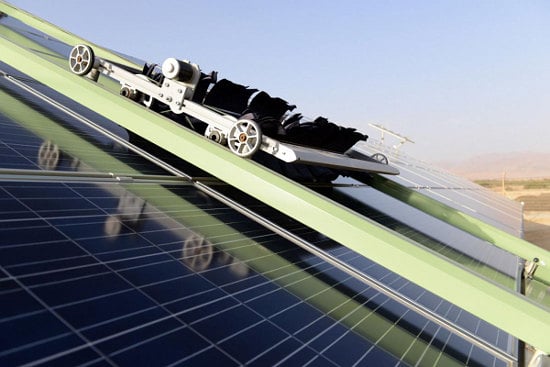 Israel-based automated solar solutions provider Ecoppia has signed a deal to retrofit a 40MW solar plant in Israel with its robotic cleaning technology.
The plant, which is jointly owned by Israel-based solar developer Arava Power and EDF Energies Nouvelles Israel, was commissioned in July this year.
Dirt and dust covering solar panels, which is also known as soiling, is a significant challenge to PV project operators, especially in desert regions. Soiling can decrease a plant's energy output by up to 40%.
Traditional cleaning methods include large amounts of labour using water and brushes, with water again being a scarce commodity particularly in desert environments. However, Ecoppia's robot cleaners are fixed permanently to rails on an array. Powered by their own solar panels, using neither water nor labour, the robots clean automatically each night. Dust sticking to the panel is considerably reduced and output kept high. Automisation also negates problems with predicting dust storms.
An Ecoppia spokesperson told PV Tech that the robots do not touch the panel, except for gentle microfibres that do the cleaning, which minimises any potential for damage. However, this latest news comes shortly after German testing house, PI Berlin, undertook a study, which found that some automated cleaning solutions have the potential to damage module performance. There was no reference to Ecoppia's system in the PI Berlin report.
Eran Meller, chief executive of Ecoppia, said: "It's the next step for the solar industry. We're seeing significant value creation in all the projects we're currently involved in, both here in the Middle East and in India. For many of the big industry players, a solution that can clean panels nightly, can respond instantly to weather and is waterless – we feel solutions like ours have the potential to become the industry standard."
Ron Adam, the permanent representative of Israel to the International Renewable Energy Agency (IRENA), said: "It's very exciting to see the progress Ecoppia is making in terms of winning large clients – it's because of promising technology like theirs that we believe Israel has a bright future in the international solar industry."
Ecoppia's robots clean five million solar panels each month.
In August Ecoppia introduced its advanced E4 control system including the integration of real-time and forecasted information on precipitation, cloudiness and air quality.
In May it also announced that its E4 robotic solar panel cleaning system wasoperational on five PV installations in the Middle East – comprising more than 35MW of installed capacity.