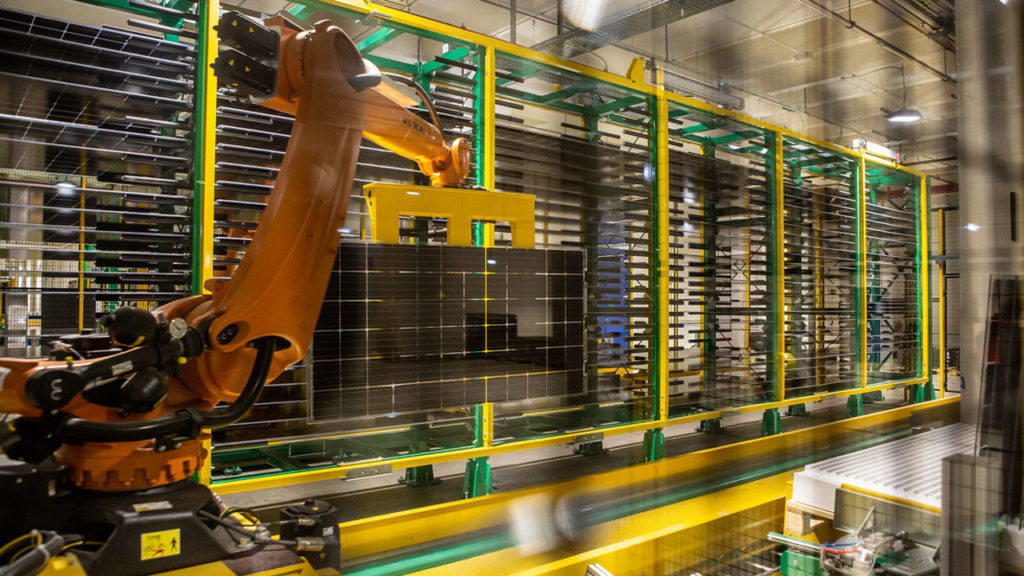 Enel North America has confirmed Inola, Oklahoma as the location for its 3GW heterojunction technology (HJT) solar cell and module factory.
Oklahoma was already earmarked as the most likely location for the facility last month.
The factory will be built through Enel's PV manufacturing subsidiary 3Sun and represents around US$1 billion in initial investment. Construction is set to start in the autumn of this year with the first modules available to market by the end of 2024. The project has the potential to double its capacity to 6GW after meeting full 3GW functionality by 2025.
3Sun said that the facility will produce its bifacial HJT module, following suit from its Catania, Italy facility which is set to begin producing the modules later this year. Enel also said that it is leaving the door open for a potential tandem cell production line in the near future.
Giovanni Bertolino, head of 3Sun USA said: "We are proud to help usher in a new era of American-made energy and do so with a state that is already a leader in the energy industry. Our selection of Oklahoma is a testament to the strength of the Tulsa Port of Inola site, the state's commitment to workforce development, and an attractive investment climate."
Inola is a small town around 15 miles from Tulsa and styles itself as the 'Hay capital of the world'.
Oklahoma Governor Kevin Stitt said: "Enel's expansion is a huge win for Oklahoma, and I'm thrilled by their record investment in our state's economy and workforce that will have a lasting legacy and continue to impact Oklahomans for generations."
In the wake of the Inflation Reduction Act (IRA) a number of US solar PV manufacturing announcements have been made. Regarding cells, the two most prominent are Hanwha Qcells' announcement of an 8GW integrated supply chain in Georgia and this planned Enel facility. CubicPV has also announced plans for a 10GW silicon wafer factory in the US.
Joe Biden addressed Enel's investment into its Oklahoma facility: "Because of my Inflation Reduction Act, private capital is being invested in Oklahoma and all across the country, as communities step up to help build our clean energy economy." The congressional delegation of Oklahoma originally voted against the IRA.
The President continued: "Companies like Enel have the opportunity to hire the most highly skilled, dedicated, and engaged workers in the world – American union members. While Republicans in Congress try to defund our Investing in America agenda, we will stand with working families to keep those jobs here in states like Oklahoma. We'll continue to bring every community along to participate in America's manufacturing renaissance, powered by American workers, and we won't let any community be left behind."
Last week the Internal Revenue Service (IRS) released guidance on the domestic content requirements that renewable energy projects will need to meet in order to receive a 10% additional tax credit under the IRA. Solar PV modules will need to be 40% US-made across their supply chain to qualify for the adder, with a plan to raise that threshold to 55% from 2026.