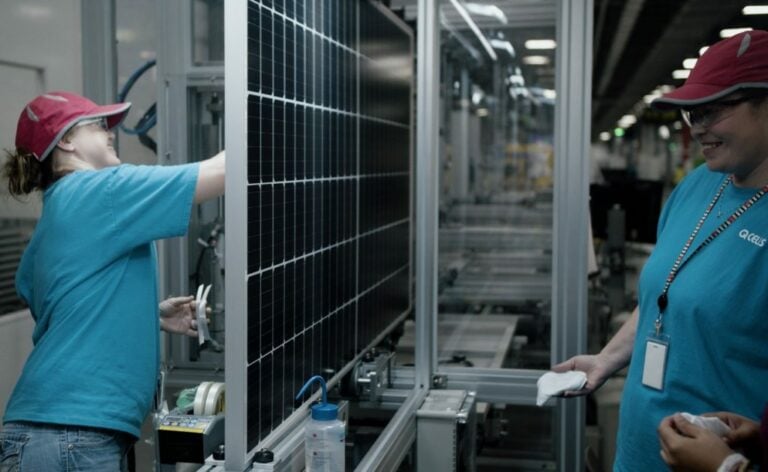 The US Department of Treasury and Internal Revenue Service (IRS) have released guidance pertaining to the domestic content bonus included in the Inflation Reduction Act (IRA); solar PV projects will need to meet requirements for both their PV and their steel components in order to benefit.
The guidance outlines two tiers of domestic content requirements (DCR). Steel and iron products will have to be 100% US-made in order to qualify for the bonus – which constitutes 10% on top of the existing IRA adders – whilst 'manufactured products' (including PV modules) will need to be 40% produced in the US.
This is for projects that begin construction before the end of 2025, when the requirement will increase to 55%.
In practice, this means that steel racking for PV arrays will be held to the 100% domestic requirement, whilst modules will fall under the 40%/55% bracket. Steel components used in the construction of modules or other 'manufactured projects' are not subject to the requirements. Trackers and inverters also fall under the umbrella of 'manufactured projects', as well as module components like cells, encapsulant, glass, frames etc.
Wafers and anything further upstream aren't mentioned in the guidance.
In addition to the domestic content, projects must meet one of the following criteria to get the full 10% bonus credit:
As of December 2022, 22GW of new US cell and module manufacturing capacity has been announced. That figure is now in excess of 30GW following announcements from Qcells, which has invested heavily in a fully-integrated Georgia manufacturing portfolio, and SEG Solar amongst others.
The lessened, 40% DCR through 2026 will make it easier to fund and deploy solar projects in that time, but January research from Wood Mackenzie suggested that a rise in the requirements to 55% from 2026 will make it hard to qualify for the adder without the use of US-made modules, which the firm said are set to be considerably more expensive than imports in the coming years.
Time is of the essence in the US' solar industry, as a fast buildout of domestic supply will be key to maximise both compliance with the DCR and prevent a significant slowing in deployments following the end of President Biden's 2-year import tariff waiver. You can follow PV Tech'scoverage of the recent import tariff saga here.
Energy storage projects were also included in the guidance announcements. Read full coverage pertaining to storage at our sister site, Energystorage.news.