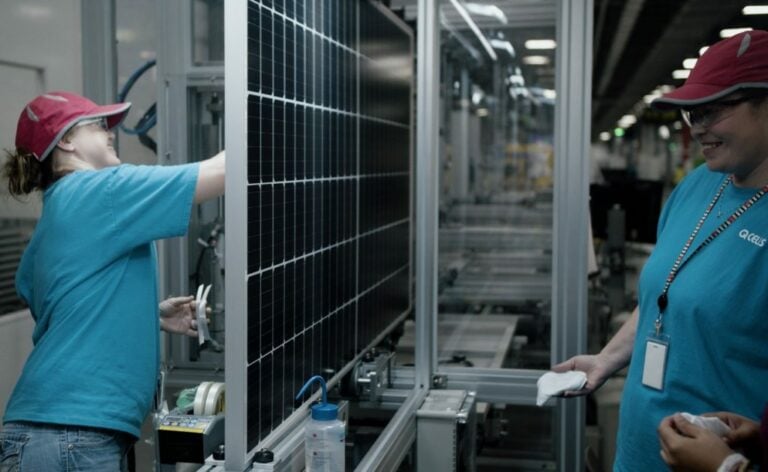 Qcells plans to establish a fully integrated US solar manufacturing supply chain, aiming to manufacture solar ingots and wafers in the country as well as expand its module supply capacity.
Qcells' parent company, Hanwha Solutions, said that it intends to break ground on a 3.3GW of ingot, wafer, cell and module manufacturing plant in Bartow County, Georgia, in Q1 2023 and reach 8.4GW of module production in the state by 2024.
The company is planning an expansion to its operations in Dalton, Georgia, to produce an additional 2GW of modules as well as its previously announced 1.4GW module fabrication plant in the state.
The announcement constitutes an investment of around US$2.5 billion, and was heralded by state Senator Jon Ossoff as the "largest" clean energy manufacturing investment in American history.
Qcells currently has 10GW of cell and 12.4GW of module capacity globally. This expansion, including the previously unveiled 1.4GW site, would add 3.3GW of cell production and 6.7GW of module production to its arsenal by 2024, in addition to establishing its first 3.3GW of ingot and wafer manufacturing capacity.
Hanwha also recently became the leading shareholder in polysilicon producer REC Silicon. The polysilicon manufacturer appointed an ex-Qcell's executive as its CFO last October.
"As demand for clean energy continues to grow nationally, we're ready to put thousands of people to work creating fully American made and sustainable solar solutions, from raw material to finished panels," said Justin Lee, CEO of Qcells.
"We are committed to working with our customers as well as national and Georgia state leaders to bring completely clean energy to millions of people across the country."
It is no surprise that the announcement directly cites the driving influence of the Inflation Reduction Act (IRA), the US$369 billion package containing significant tax credits for domestically manufactured renewable energy.
QCells forecasts that these expansions will generate US$875 million a year by 2024 in per-unit tax credits offered by the IRA through the advanced manufacturing production credit (assuming that all of its capacity is produced and sold).
22GW of US module and cell manufacturing plans have been announced since the IRA passed last August, but this marks the first foray of any company into a fully integrated upstream wafer and ingot manufacturing chain in the US.
Qcells cited research by Wood Mackenzie forecasting that the US will be installing 33GW of solar PV a year by 2024. Incidentally, Hanwha Qcells was one of four companies not found to be circumventing US import tariffs from Southeast Asia last month.