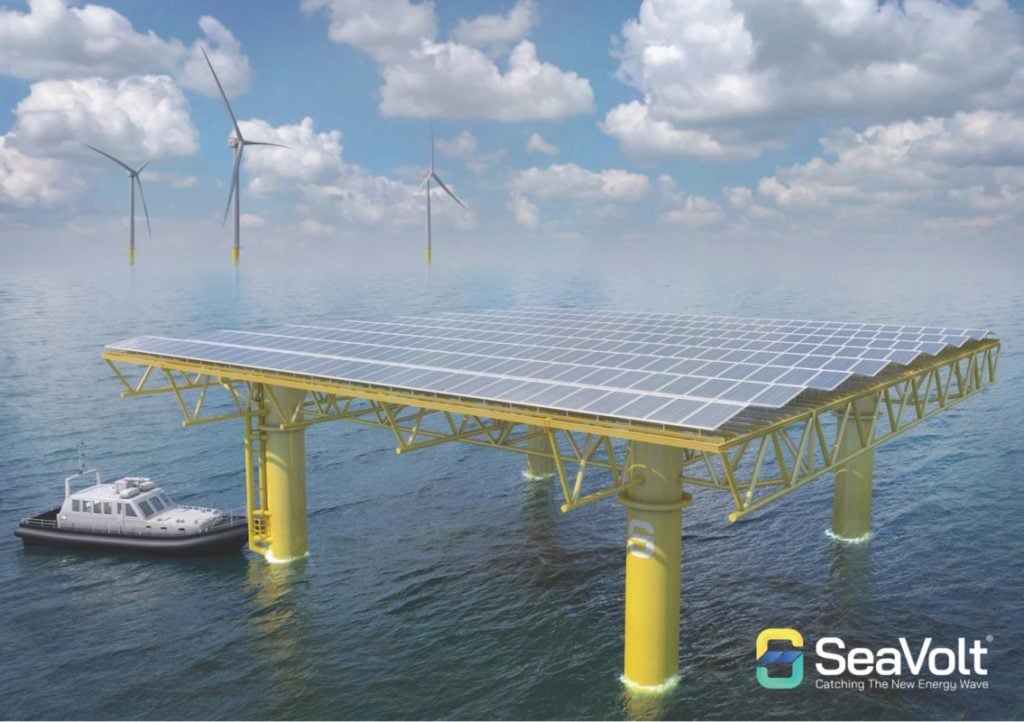 Tractebel – a subsidiary of French utility Engie – has developed a new offshore floating solar technology in partnership with offshore energy specialists DEME and maritime infrastructure firm Jan De Nul.
The tech – dubbed SEAVOLT – is designed to withstand harsh marine conditions, the companies said, with a modular design that makes it easily adaptable to different sites and demands. Based on images from the partners, the technology proposes to raise a bank of solar modules above the waves atop a substantial floating metal structure. A patent for the technology is still pending.
In collaboration with researchers from Ghent University, the partnership is currently developing a test site to be deployed off the Belgian coast in Summer 2023. They are also launching parallel schemes focusing on the environment, ecosystem and cost-effectiveness with funding from the Energy Transition Fund and Federal Relaunch Fund in Belgium.
Tractebel said that SEAVOLT has the potential to be paired with offshore wind installations, opening up significantly more potentially deployable renewables capacity. Where local authorities allow for multi-use concessions, the potential exists to deploy large capacities in short order. Offshore solar also offers an attractive solution in countries where land use is a growing issue for developers.
"In the same way that we have seen wind technology moving from land to the sea, we are seeing the extension of the whole energy system towards offshore locations," said Philippe Van Troeye, Tractebel CEO.
"We believe offshore floating PV has an important role to play in the acceleration of the energy transition. While this technology is still in its infancy, we are convinced that with such strong partners on board we are giving SEAVOLT all possible chances to succeed."
In January, PV Tech Premium spoke with Oceans of Energy, a company developing offshore floating PV technology in sites off the Netherlands, about the road to commercialising the technology from a research to a deployment stage.