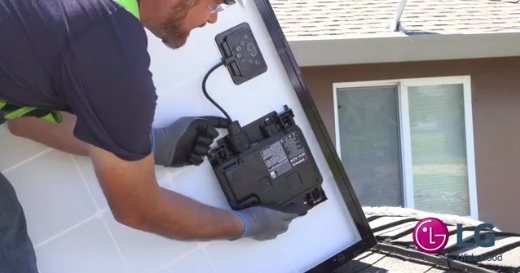 Leading PV microinverter supplier Enphase Energy reported second quarter 2018 earnings that indicated the path back to sustained profitability was in sight, despite a number of market issues, such as trade barriers and continued electronic component shortages.

Enphase reported in-line second quarter revenue of US$75.9 million, on guidance of US$72 million to US$80 million. First quarter 2018 revenue had been US$70.0 million.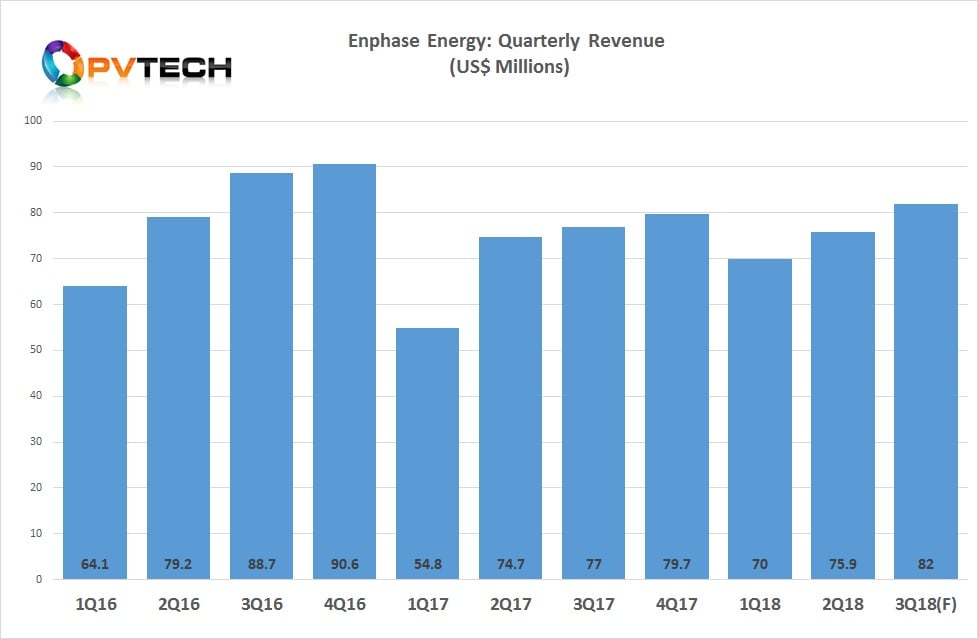 Of note was GAAP gross margin of 29.9%, up from 26.2% in the previous quarter and in-line with the high-end of previous guidance and the margin target set for the end of the year.
A sweeping range of cost reduction strategies and new practices at the product design, manufacturability as well as at the operational and service segments are boosting quarterly cash income and reducing losses, such as a GAAP operating loss of only US$0.6 million, compared to a loss of US$2.5 million in the previous quarter.

However, the loss reduction was helped by a US$2.0 million milestone payment with 100% margin from an unidentified partner working with Enphase on a specific customised next generation IQ 8 platform.
Shipments are also moving in the right direction after a low-point was experienced in the first quarter of 2017. Enphase shipped 203MW (DC), or 675,000 microinverters in the second quarter of 2018, up from 611,000 in the previous quarter.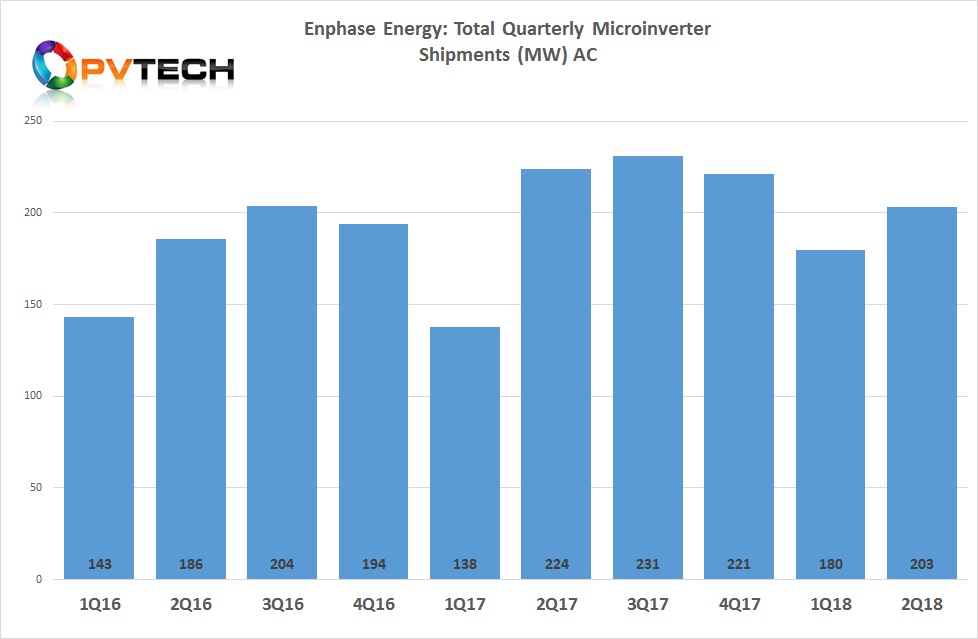 The margin improvement was also due to the lower production costs of its IQ 7 platform and the global roll-out as much as done. In the reporting quarter IQ 7 microinverters made up 22% of all microinverter shipments, according to the company.
The company's cash balance was US$58.5 million at the end of the quarter, compared to US$53.3 million at the end of the prior quarter.
Revenue growth predicted as storm brews
Enphase management were more bullish about business growth in the second half of the year and catalysts for growth into 2019.
New management had noted that the company had basically walked away from low-margin business in 2017, but instead focused on operational excellence, cost control and lower inventory levels, which had proved successful, according to the company.
With an improved financial position, decent growth would helped by the SunPower deal, growing demand for AC modules from its growing customer base of module manufacturers and the fact its IQ 7X microinverter, designed for 96-cell modules up to 400W and with a 97.5% CEC efficiency, would be introduced later in the year.
Indeed, should the SunPower acquisition of module manufacturer SolarWorld Americas go through sometime in the third quarter of 2018, Enphase could pick-up business from SolarWorld's 500MW of module assembly capacity.
Enphase's IQ 7X microinverter was also said to have specifically designed for SunPower's Maxeon cell and X series 96-cell modules, which currently have some of the highest power outputs, although SunPower had been limited in cell production capacity of 350MW last year but has recently claimed nameplate capacity would be 400MW in 2018.
Better prospects with AC module unit sales could come from partner LG Electronics, which has surpassed SunPower in having the largest capacity of IBC cell technology and is offering identical module performance figures as some of SunPower's range.
However, the deal with SunPower was said to add US$60 million to us$70 million of annualized revenue in the second half of 2019 at 33% to 35% non-GAAP gross margin, according to management in their second quarter earnings call.

Yet challenges remain such as import duties on AC modules coming into the US as well as the threat of even higher duties on inverters, which are continuing to be impacted by component shortages around the world and little visibility into when such component shortages will significantly ease.
It is well know that most capacitor manufacturers have been on allocation with extended lead times for nearly 18 months. This has also been the same for resistors, and power inductors.
Enphase noted that the component shortages negatively impacted gross margin by approximately 1% to 2% in the quarter.
Guidance
The company guided third quarter 2018 revenue to be within a range of US$76 million to US$82 million with GAAP and non-GAAP gross margin to be within a range of 30% to 33%.
Non-GAAP operating expense was guided to be within a range of US$18.0 million to US$19.0 million, in-line with the last two quarters.