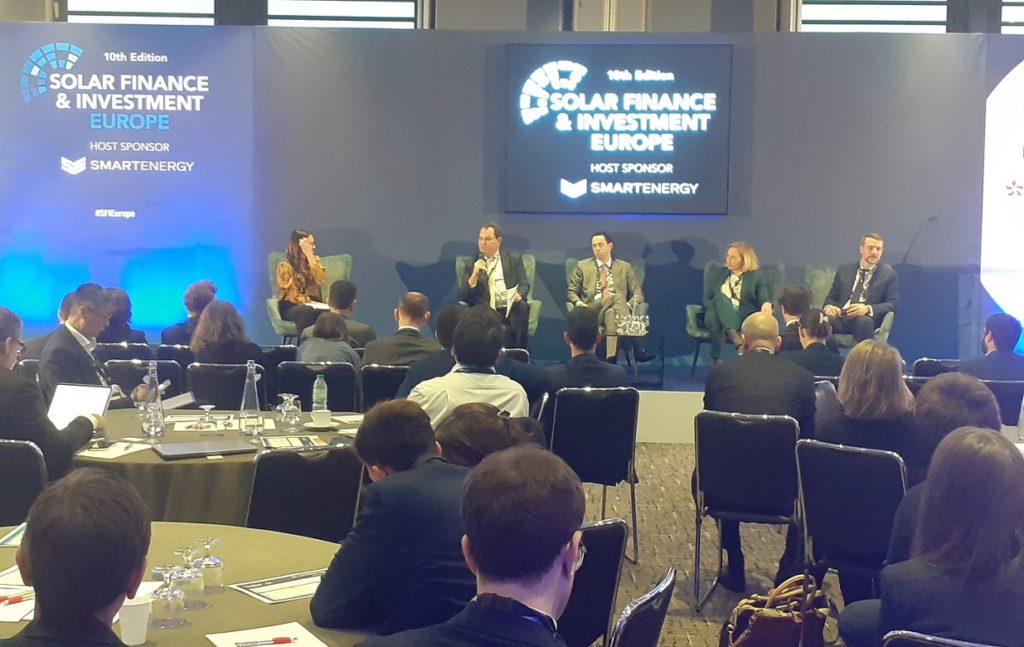 Solar investors believe that Europe can be a competitive market for PV manufacturing and compete with the US Inflation Reduction Act (IRA), as ESG and energy security concerns will drive money to the continent.
Speaking at the 10th annual Solar Finance & Investment Europe event, hosted by PV Tech publisher Solar Media in London, Aldo Beolchini, managing partner and chief investment officer of NextEnergy Capital said that: "The modules manufactured in the EU are cost-competitive. The problem is that today there isn't a supply chain in Europe."
Global PV production is currently overwhelmingly dependent on China, and the mounting pressures to lessen this dominance have begun to incentivise investment elsewhere, though so far Europe has been relatively slow on the uptake. "This level of concentration clearly doesn't allow this industry to thrive in the long term, it is just not healthy", said Beolchini.
"It just doesn't make sense for a continent that has such an ambitious target of installing 60GW more solar every year to have pretty much zero manufacturing capacity."
The EU has recently announced its Green Deal Industrial Plan designed to boost EU renewables manufacturing capacity by streamlining the permitting and funding process. The plan was positioned as a direct response to both the urgency that has entered the renewable energy market since the outbreak of war in Ukraine and the IRA, and follows calls from industry representatives for more robust support of domestic production.
On the same panel, CEO of Glennmont Partners Joost Bergsma said that "Europe can be highly competitive". He highlighted supply chain traceability as the key concern for investors, beyond any wider concerns about energy security and competition.
The allegations of forced labour in Chinese PV factories have impacted the global supply network significantly, leading the US to introduce the Uyghur Forced Labor Prevention Act. Bergsma intimated that the pressures from investors to ensure ethically traceable supply chains will move focus away from China, and that "Europe, in terms of technology, certainly has the skill set and the know-how" to pick up the slack and establish itself as a manufacturing hub.
He added: "Europe has united and created a world-leading playing field for investment, I would say, and investments and money are the oxygen of the energy transition."
Earlier this month a coalition of European PV industry stakeholders called for greater support for upstream manufacturing, saying that legislation and financial facilities could revitalise the industry and lead to several gigawatts of wafer production coming online in the next half-decade.
"It is the entire globalisation that has gone just too far," said Beolchini, "and it is important to have the ability to bring back some manufacturing capacity, even just for diversification."