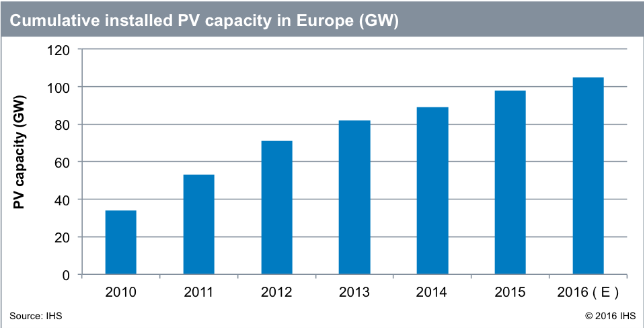 Europe has surpassed 100GW of installed grid-connected solar PV capacity, according to new data from research firm IHS.
The continent has risen from 3GW PV capacity in 2005 to 100GW in the second quarter of 2016, mainly as a result of an 80% reduction in costs and a host of supportive regulatory frameworks brought in by countries looking to meet the EU's Renewable Energy Directive, according to IHS.
However, Josefin Berg, senior analyst for IHS Technology, warned that with an "increasingly regulated environment", the European solar industry will face new challenges in installing the next 100GW.
James Watson, chief executive of SolarPower Europe, added that with many of the feed-in tariff (FiT) subsidies coming to an end across the continent, there is a need for a suitable electricity market design and long-term investments signals for solar to progress.
He said: "We hope that the European Commission's forthcoming market design reform and Renewable Energy Directive will pave the way for the 200GW benchmark.
"Europe was once the cradle of solar energy, now the rest of the world is catching up."
Oliver Schäfer, president of SolarPower Europe, said: "Just a few years ago solar was considered to be a niche alternative technology, but it is now a major element of our energy system. In fact solar power is one of the most competitive forms of energy generation in Europe today."
SolarPower Europe is holding a celebration event for the 100GW milestone in Brussels in September.
This article was revised to include extra figures from IHS.