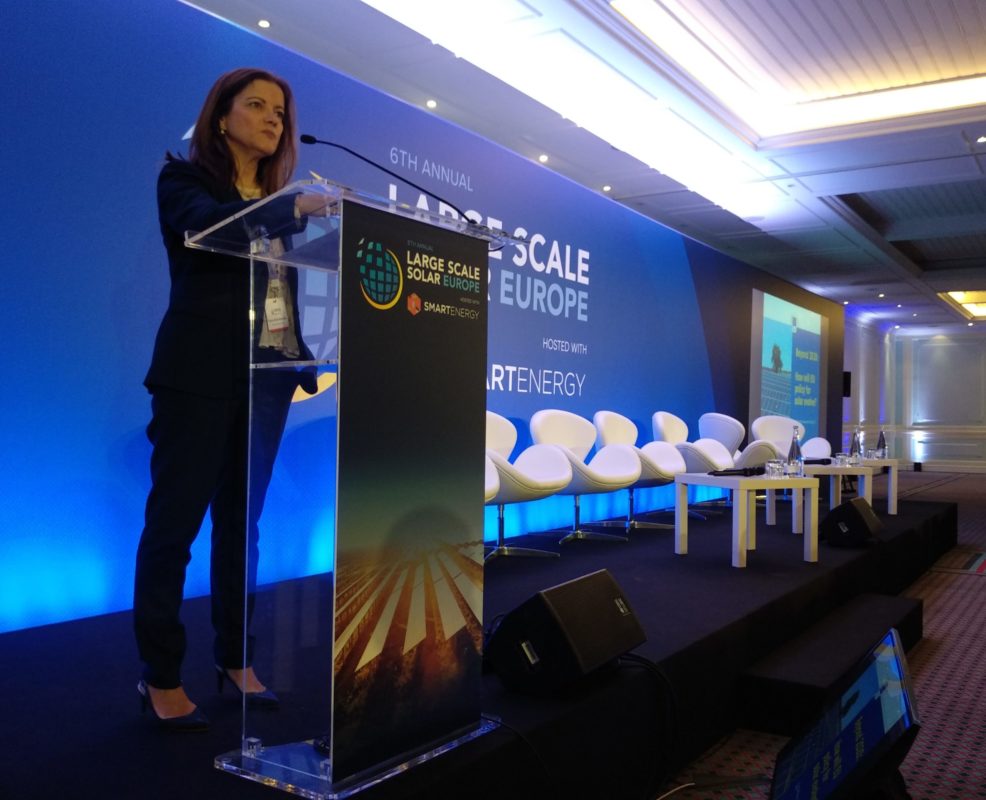 Legislative milestones of the past few years of Jean-Claude Juncker's European Commission will help EU solar play a decisive role in the next decade, a top official has said weeks before the bloc holds fresh elections.
Paula Abreu Marques, who heads up the renewable policy unit at the Commission, spoke at the Large Scale Solar Europe summit last week to detail how solar will be supported long-term by laws adopted under Jean-Claude Juncker's cabinet.
"After 2020, we believe the situation will move. Solar PV is expected to become a mainstream technology at the centre of our energy transition," Abreu said. "The market will have to double compared to today to achieve 2030's target, and double again in the years after to reach the 2050 goal."
Question marks on grid
As Abreu noted, member states will all contribute to the EU-wide renewable target of 32% by 2030 but won't face – unlike with 2020's 20% goal – pre-determined, binding national targets. Instead, countries are proposing their own goals in plans the Commission must now review; Spain's, Portugal's and others foresee a multi-gigawatt push to installed PV capacity.
According to Abreu, the scale-up will be supported under the various laws – the flagship directive on renewables, a regulation on energy governance, among many others – in the Clean Energy Package, first proposed in 2016 and rubberstamped by MEPs only last week.
The legislation, the official said, forbids with exceptions the "abrupt changes" in support schemes seen in the past; it forces countries to spell out when and how they will tender, remove regulatory barriers for PPAs and set up a single administrative contact point for project developers, she added.
Whether EU grids can be expanded fast enough to absorb a renewable boom was a common concern at the event. Asked whether current efforts go far enough, Abreu pointed at the investment foreseen under the various EU funding programmes – the CEF, among others – and noted countries will have to quantify national grid funding in their renewable plans; the Commission will provide its own feedback by June, leaving countries until December to revise accordingly.
The EU heads to the polls
Abreu's speech comes six months after the Commission rocked the solar industry as it moved to scrap import tariffs for Chinese panels, a major setback for the bloc's solar manufacturers.
Asked by PV Tech about plans to support the sector going forward, Abreu said existing legislation and funding mechanisms will create conditions for investments and help bring solar manufacturing back to Europe again. "This is our goal," she pointed out.
In recent weeks, the Commission has been urged by SolarPower Europe to legislate for a solar surge; a supply-side push that would have solar provide 20% of the bloc's power demand by 2030, creating in the process 30 million solar roofs and taking EU solar headcount to 300,000 jobs.
Energy and climate commissioner Miguel Arias Cañete formally received these demands at the Clean Energy Industrial Forum on 18 March, but this will be a decision for his successor to make. The term of the current Commission cabinet is nearing the finish line as the bloc prepares for EU elections on May this year; polls of recent months suggest a far-right surge is a possibility.
See here for more information on the Large Scale Solar Europe conference, held in Lisbon on 26-27 March 2019