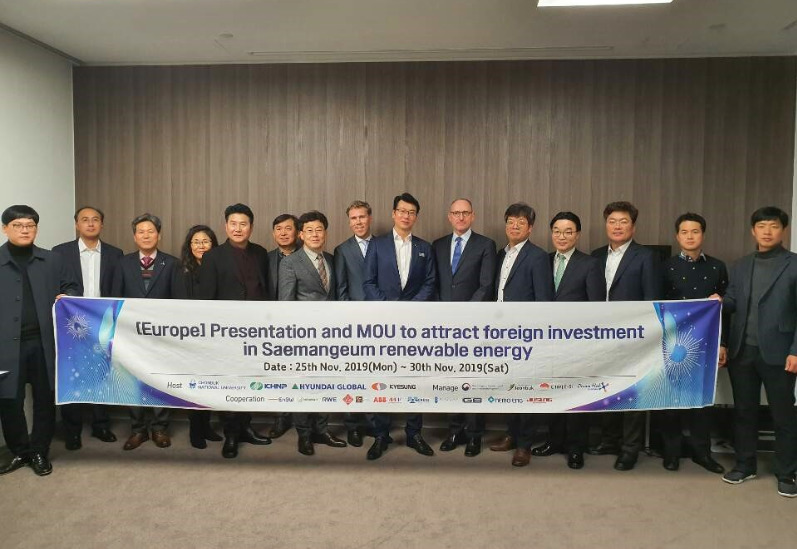 International and local firms have formed a joint venture to develop a record-breaking wind and floating solar complex behind the Saemangeum dyke in South Korea, one of the world's largest seawalls.
Financial advisor Amsterdam Capital Partners (AMSCAP), along with subsea engineering solution provider G8 Subsea and local Korean entities Saemangeum Development and Investment Agency of Korea (SDIA) and Saemangeum Offshore Wind Power Ltd. (SOWP) are planning a 300MW offshore wind project and 2.7GW of floating PV at the Samangeum Industrial Complex.
Saemangeum is a 409 km2 area of reclaimed land with what is said to be the world's longest sea wall. The Korean government wants to develop Saemangeum into a global business and free trade hub for Northeast Asia. AMSCAP and G8 will work mainly alongside SOWP on the offshore wind farm element of the huge clean energy complex.
Contacted by PV Tech, the project's promoters had not shed light on the specifics of the floating PV element by the time this article was published. A 2.1GW floating solar project for the Saemangum area has been reported previously. It is unclear if the projects are related. In November, the 2.1GW project was reportedly given the green-light from the country's Defence Ministry after local papers suggested that reflections from the panels might disrupt operations at a nearby US airbase.
Floating solar capacity worldwide now stands at more than 1.3GW, according to a recently released handbook from the World Bank and the Solar Energy Research Institute of Singapore (SERIS). The guide warns that site choice is key, with easily accessible, low-salinity manmade water bodies – reservoirs, dams, irrigation ponds – held by a single owner preferable.
Anchoring requirements for FPV make it currently more expensive than ground-mount solar but pricing could improve as the cost of floats declines and land availability for traditional large-scale solar becomes scarcer in the coming years.