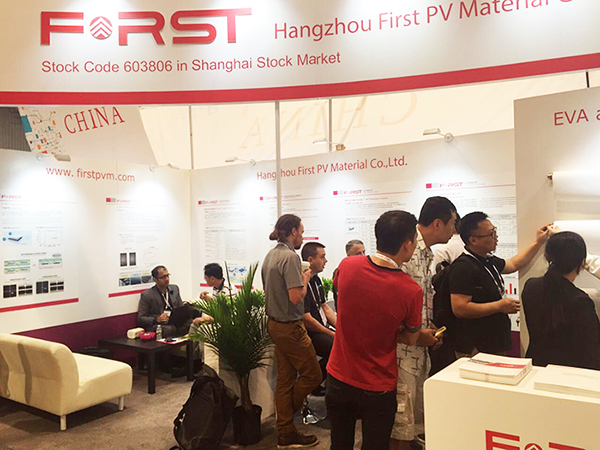 Leading PV module encapsulation and backsheet material supplier Hangzhou First Applied Materials Co, formerly First Photovoltaics (PV) reported a continued increase in demand with sales up by 16.56% but profits crashed by 43.49% on significant ASP pressure in the first half of 2017.
First Applied reported first half of 2017 revenue of RMB 2.25 billion (US$337.7 million), up around 16.5% from the prior year period and up around 12% from the second-half of 2016. First Applied had record sales of over US$590 million in 2016.
The company noted that it was benefiting from the rapid decline in the cost of PV modules that was driving global demand as well as the 9% increase in installations in China to 24.4GW in the first half of 2017.
Strong demand led to First Applied increasing production capacity of EVA (ethylene vinyl acetate) encapsulant film and sold a total of 277 million square meters, up 19.71% over the prior year period. PV module backsheet sales totalled 1,722.48 million square meters, up over 112% from the prior year period. The company is also adding capacity with its new facility in Thailand.
The company benefited from securing several large domestic PV module manufacturers as new customers in the reporting period. Leading 'Silicon Module Super League' (SMSL) member JinkoSolar is a key customer and had module shipments of 2,068MW in the first quarter of 2017.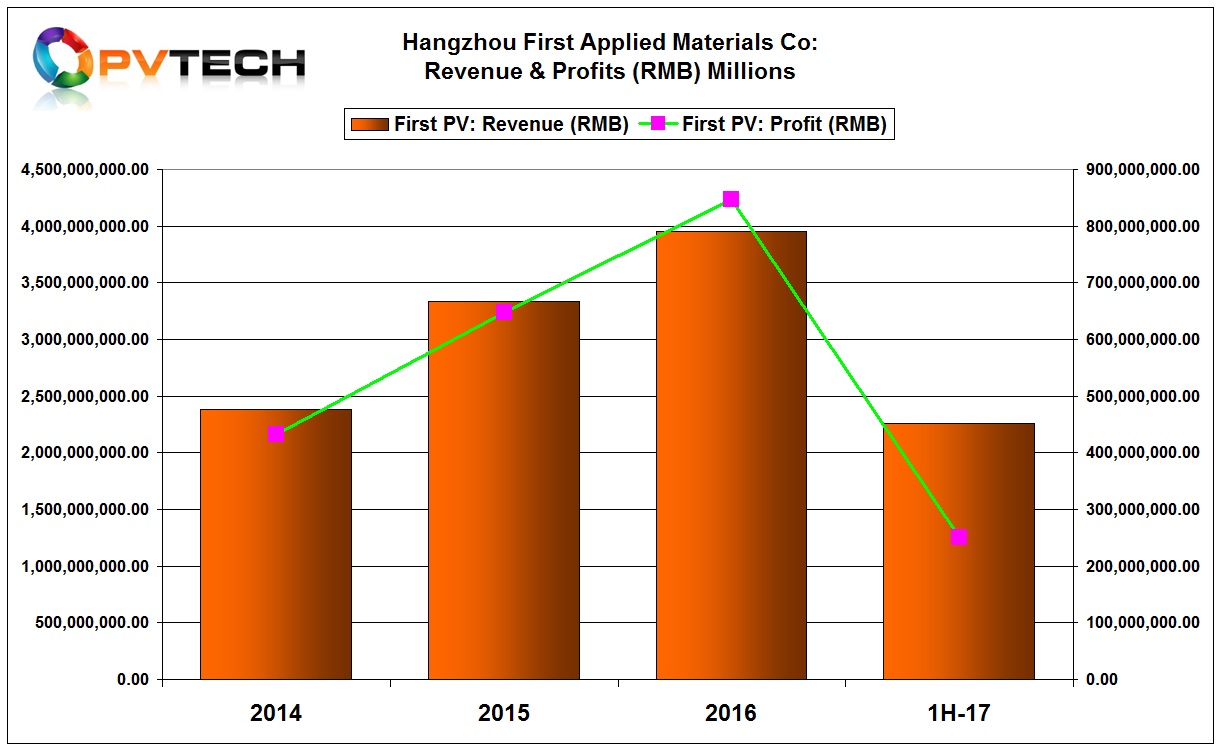 PV Tech recently reported that struggling US-headquartered PV encapsulant producer STR Holdings had closed it production in China after entering the China market and incurred bad debt expense of US$2.6 million during 2016, which led the company to file lawsuits against three customers of STR China for non-payment during 2016.
In comparison, First Applied had bad debt provisions of around US$9.2 million at the end of first quarter of 2017.
However, the key impact on First Applied had been significant ASP declines that have continued from the third quarter of 2016, as well as an increase in the average purchase price of raw materials in the first half of 2017.
As a result, the company reported a net profit of RMB249.7 million (US$37.4 million) a 43.49% decline from the prior year period. Net profit in 2016 was around US$127 million.
First Applied is intensifying efforts to promote white EVA and POE film as well as other high value-added film new products in the glass/glass and other module product segments in an effort to offset the impact of conventional EVA film ASP declined on the company's profitability.