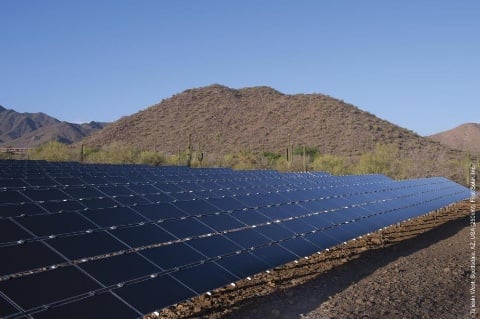 PV solar systems provider First Solar announced Thursday that it has completed the sale of the cash equity interests in the 250MW Moapa Southern Paiute Solar Project in Nevada to private asset manager Capital Dynamics.
Terms of the transaction were not disclosed.
Less than two weeks ago, First Solar brought the solar plant online — with the project standing as the first ever utility-scale solar installation on tribal land in the US.
The project, which is located just 30 miles north of Las Vegas, has a 25-year PPA with the Los Angeles Department of Water and Power (LADWP) and can generate enough clean energy to power around 111,000 homes in Los Angeles.
Minority tax equity interests in the project are shared by GE unit GE Energy Financial Services, along with an affiliate of the Goldman Sachs Group.
Georges Antoun, First Solar's chief commercial officer, said: "This has been an exciting project to develop and build. Our technology is driving down the cost of solar electricity and enabling power providers to include competitive, reliable renewable energy in their portfolios. We are proud to transfer ownership of this power generation asset to Capital Dynamics."
First Solar Energy Services will continue to operate and maintain the power plant for Capital Dynamics.
John Breckenridge, Capital Dynamics' head of clean energy and infrastructure, said: "The Moapa project is an important step in the Clean Energy and Infrastructure strategy of Capital Dynamics. We continue to be long-term owners of high quality power generation assets in North America and Europe. We are particularly pleased that with Moapa, we expand our strong relationship with First Solar."