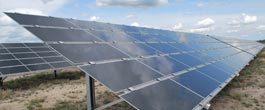 First Solar has signed off on a pair of deals with Origis Energy and D.E. Shaw that will see the company provide 795MW of its modules for a variety of projects in the US.
First Solar's deal with Origis Energy is for 595MW of PV modules and spans a three-year delivery date schedule. The agreement includes delivery of First Solar's Series 4 modules in 2017 and 2018, along with Series 6 modules in 2019 and 2020.
First Solar's materials will be used in a number of projects throughout the United States where Origis Energy is constructing solar sites.
Samir Verstyn, chief investment officer at Origis Energy, said: "The bankability of solar and energy storage components is a key consideration for us to deliver high performing clean energy assets to our clients. This alliance with First Solar fulfills the site and schedule commitments we have made to the market in the foreseeable future. We are very pleased to construct our projects with First Solar Tier 1 module technology."
First Solar's module sale with an affiliate of D. E. Shaw Renewable Investments (DESRI) totals 200MW of PV modules — with a delivery date in 2019.
As part of the deal, First Solar will offer its new large area Series 6 thin-film PV modules to DESRI for its pipeline of projects going into construction over the next two years in the United States. First Solar also signed off on operations and maintenance (O&M) contracts for two projects that DESRI is developing.
Bryan Martin, CEO of DESRI, said: "DESRI is thrilled to continue growing its partnership with First Solar. We take great comfort knowing that these projects will benefit from the company's cutting-edge module technology in the industry, as well as its exceptional O&M services during operations."