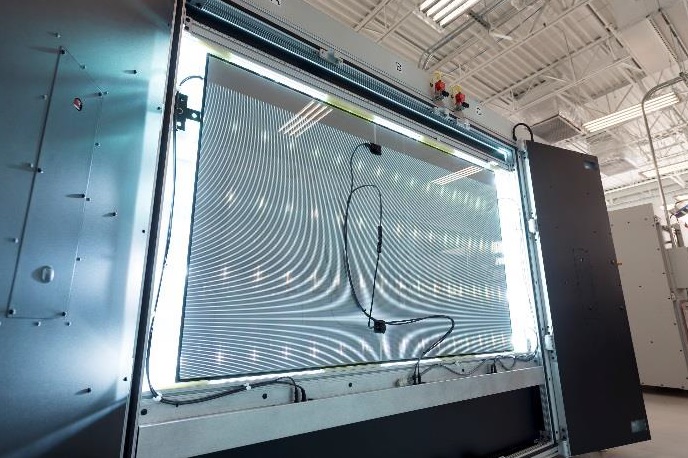 'Solar Module Super League' (SMSL) member, First Solar said it was sold out of thin-film cadmium telluride (CdTe) solar modules through the second half of 2021 as the company continues to ramp its Series 6 larger-area modules.
The SMSL said in its earnings call with financial analysts to discuss third quarter 2019 results that new module bookings were 1.1GW (DC) in the quarter, taking total new bookings in the year to 5.4GW (DC). This means First Solar had already reached its target of 1:1 book-to-ship ratio in 2019.
Total forward bookings had topped 12.4GW (DC) at the time of the earnings call.
First Solar's manufacturing capacity is fully booked through the second quarter of 2021. However, management also noted in the earnings call that it was two thirds booked in relation to planned nameplate capacity in 2021, reaching a previously guided 6.5GW.
The company also had over 1GW of module orders booked for shipment in 2022 and beyond.

Potential booking opportunities were reported to be in the range of 8.1GW (DC) with 300MW of signed orders but not booked. As a result, potential booking opportunities had increased by 2.1GW, compared to the previous quarter. Almost 45% of the booking opportunities were US based.
First Solar's mid- to late stage booking opportunities only included potential deals that could book within the next 12 months. However, First Solar noted in the earnings call that its longer-term bookings pipeline reached 15.2GW (DC) in the quarter, an increase of 1.9GW (DC) from the prior quarter.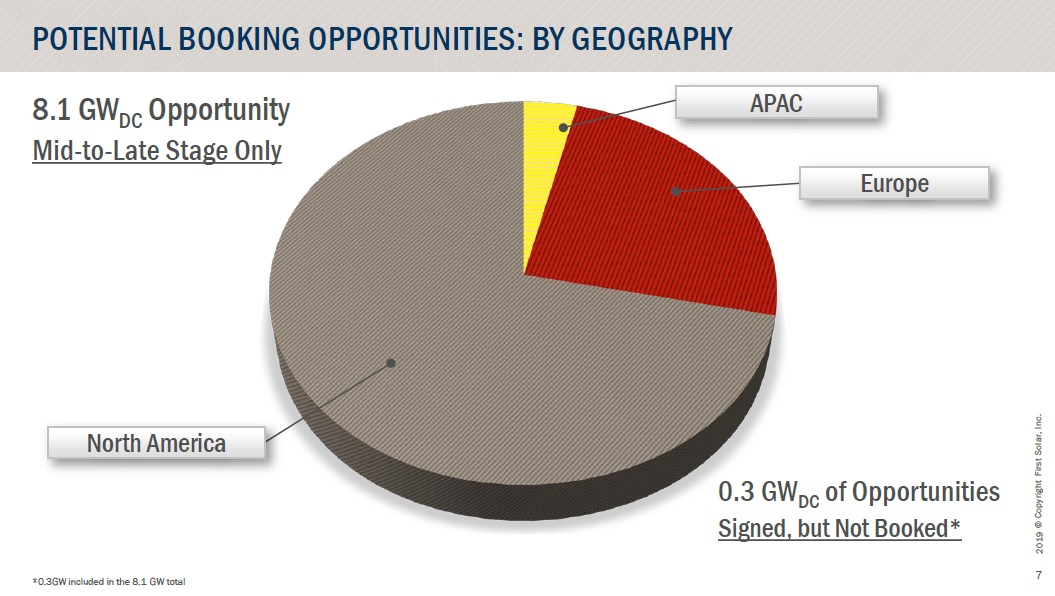 Management noted that the majority of module bookings were for Series 6 modules, with approximately 85% of Series 6 bookings coming from North America with the remainder coming from Europe.
With the start of production at its Perrysburg 2 plant, three months ahead of schedule, First Solar expects the ramp at the new facility to be completed by the end of the first quarter of 2020, providing the company with a total nameplate capacity of 5.5GW.
Manufacturing update
PV Tech recently highlighted, First Solar would take back its manufacturing leadership in US and western hemisphere when its second Perrysburg facility commenced production in the first quarter of 2020. Q CELLS had briefly held the bragging rights for module assembly capacity in the US.
With production at Perrysburg 2 facility a quarter ahead of schedule, coupled to debottlenecking, First Solar said the nameplate capacity at the facility would be 1.3GW, compared to previous expectations of capacity being 1.2GW. Therefore, total US (Ohio) capacity is 1.9GW, compared with previously planned capacity of 1.8GW.
The revised schedule start of manufacturing Perrysburg 2 has a potential to add up to 80MW of output in 2019, yet management noted that production timings and quality reviews, revenue projections for the year would remain unchanged.
One the key updates expected in the earnings call related to Series 6 manufacturing improvements, due to previous challenges in yield, utilisation and conversion efficiency rates.
Management noted in the earnings call that quarter-on-quarter capacity utilization has increased 6 percentage points to 100%, while megawatts produced per day had increased by 8%.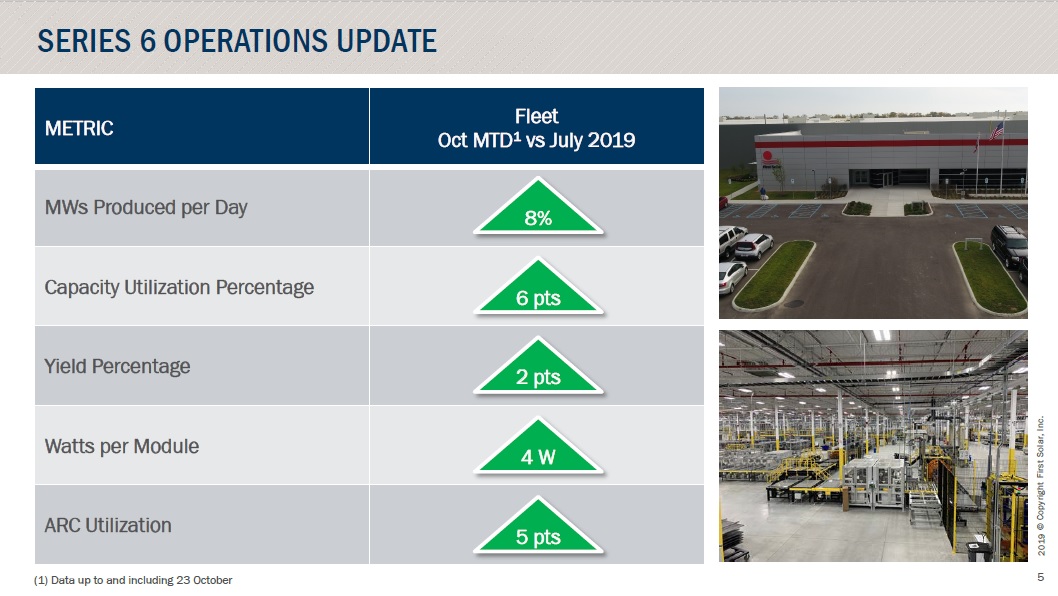 Yield was said to have increased by 2 percentage points to 93%. In relation to yield, the average watt per module was said to have increased by an average of 4 watts. Series 6 modules (highest rated) had reached 435Wp. The percentage of modules produced with an antireflective coating was said to have increased 5 percentage points to 96%.
However, its lead Perrysburg 1 line had also just achieved 440Wp modules.
From a technical standpoint, First Solar has also produced 'sample' modules that have been validated with 19% aperture area conversion efficiency, reaching 447Wp performance, a new world record for CdTe thin-film modules.
With the manufacturing improvements, First Solar said that its Series 6 cost per-watt from Q1 to Q4 had declined by approximately 30%, which is slightly ahead of previously guided projections. The two Series 6 plants in Vietnam were providing the lowest cost modules within the company. However, further cost reductions at the US plants were required to match Vietnam.
Management acknowledged that the costs at the US plants were behind expectations, primarily due to supply chain costs and import duties on glass and aluminium.
Capital expenditure in the third quarter of 2019 was US$183 million, compared to US$179 million in the previous quarter.

The decision to stop Series 4 module production in Malaysia has yet to be made, partially due to supply deals and issues related to potential project delays in Japan.
"We're pleased with the ongoing progress of our Series 6 technology platform," said Mark Widmar, CEO of First Solar. "Capacity utilization, throughput and yield continue to improve, resulting in record Series 6 production of approximately 1GW in the quarter."
Financials
Delays in revenue recognition from PV power plant project sales have impacted First Solar's results through 2019.
The company reported third quarter 2019 revenue of US$547 million, a decrease of US$38 million from the prior quarter.
On a segment basis,' Systems' sales accounted for 32% of revenue, compared to 61% in the previous quarter. The system segment gross margin was negative 5%, due to the low overall revenue recognized in the quarter.
Module segment gross margin was 40% in the third quarter, which was boosted by an US$80 million reduction in product warranty liability reserves. Overall gross margin in the third quarter of 2019 was 25%, compared to 13% in the second quarter of 2019.
The company reported operating expenses of US$97 million, an increase of US$11 million compared to the previous quarter, due to increased start-up costs at the Perrysburg 2 facility.
First Solar reported an operating income of US$41 million in the third quarter of 2019, compared to an operating loss of US$9 million in the prior quarter.
Guidance
Despite project issues, First Solar reiterated full-year revenue guidance to be in the range of US$3.5 billion to US$3.7 billion.
Full-year module shipments also remained unchanged at 5.4GW to 5.6GW.
However, gross margin was increased from a previous range of 18.5% to 19.5%, to 19% to 20%.