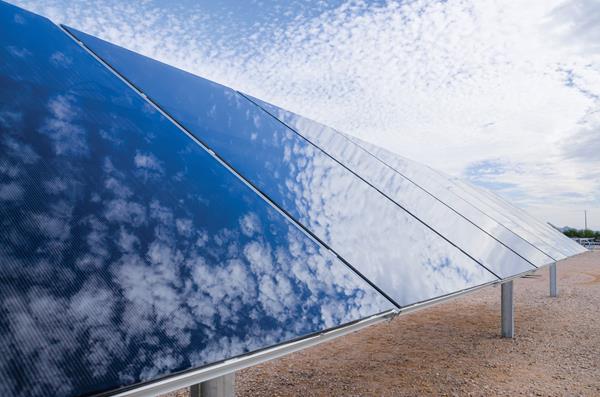 First Solar's 150MW Sun Streams 2 PV project will power new energy-efficient data centres being built by Microsoft in both Goodyear and El Mirage, Arizona. Sun Streams 2, which is being developed and constructed by First Solar in Maricopa County, Arizona, will power the data centres through a 20-year PPA.
The 150MW installation will utilise First Solar's proprietary Series 6 module technology, which has a carbon footprint that is up to six times lower than conventionally-manufactured crystalline silicon PV panels. First Solar is expanding its manufacturing capacity to meet the demand for Series 6 modules, with the company's second manufacturing facility in the US set to begin production in early 2020 in Perrysburg, Ohio.
Brian Janous, general manager of energy and sustainability at Microsoft, said: "First Solar's high-tech factories, which are some of the most sophisticated and sustainable facilities of their type in the world, are enabled by Microsoft technologies and the Microsoft Azure cloud platform, including Azure IoT Hub and SQL Data Warehouse.
"The Series 6 modules produced by these factories will power Sun Streams 2, which, in turn, will be used to deliver renewable energy to our world-class data centres in Arizona."
Once operational in 2021, the Sun Streams 2 project will offset 190,000 metric tons of CO2 annually, which is equivalent to taking 37,000 cars off the road annually and saving 356 million liters of water annually based on Arizona averages. The air quality benefits of the project will also amount to more than US$12.5 million in avoided healthcare costs annually.
Karl Brutsaert, senior director of corporate renewables at First Solar, added: "As the global leader in corporate solar, we're delighted to support Microsoft's decarbonization commitments. Microsoft operates one of the largest and most innovative cloud infrastructures in the world, so it is only fitting that its latest data centres are powered by cleaner solar electricity generated by some of the most eco-efficient and innovative solar technology available today."
Sun Streams 2 is slated to begin construction in late-2019 and will generate up to 500 construction jobs.