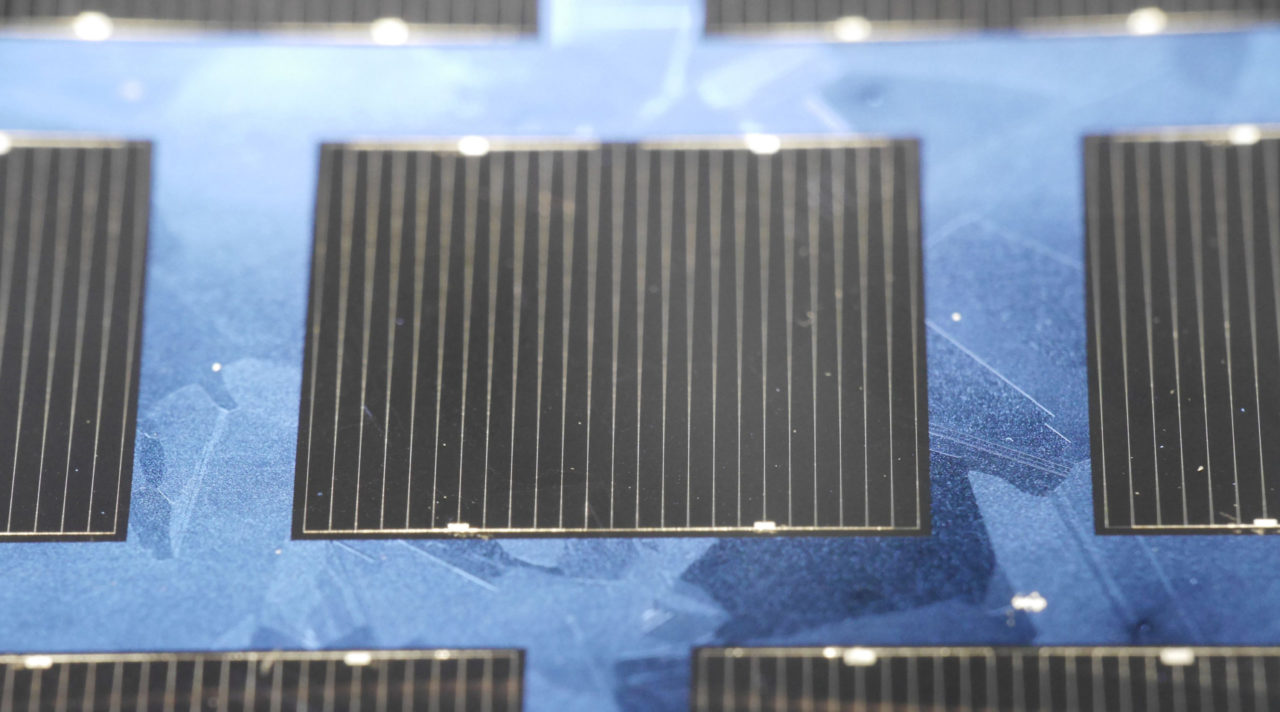 Updated: German research institute Fraunhofer ISE has claimed a new record conversion efficiency for a 20mm x 20mm N-type multicrystalline cell using process match wafer and its TOPCon (Tunnel Oxide Passivated Contact) developed technology.
Fraunhofer ISE said the record 21.9% conversion efficiency was achieved by combining n-type high performance multicrystalline silicon, or HP mc-Si that shows a higher tolerance to impurities, especially iron, with its TOPCon technology that has metal contacts applied to the wafers rear side without patterning, which enables majority charge carriers to pass and prevents the minority carriers from recombining, boosting efficiency.
Dr. Stephan Riepe, Head of the Group, Silicon – Crystallization and Epitaxy said, "In our Silicon Material Technology Center [SIMTEC], we adjusted the crystallization process with the goal of creating a material optimized for the planned solar cell processing procedure. We worked closely and in constant exchange with our colleagues until we all achieved our common target of world record efficiency."
Although PERC (Passivated Emitter Rear Contact) technology reduces recombination increasing conversion efficiency, it still requires additional patterning steps and leads to longer current conduction paths. However, the TOPCon technology is deployed as a full-area passivated back contact, without any patterning. The thickness of the intermediate passivation layer is only one or two nanometers thick, allowing the charge carriers to 'tunnel' through it, preventing recombination and limiting losses.
"Our goal is to develop an advanced cell technology for the n-type multicrystalline wafer that really demonstrates its full potential," added Dr. Jan Benick, Team Leader of Innovative Clean Room Technologies for High Efficiency Silicon Solar Cells.
"The question is, how far can we get to closing the efficiency gap to monocrystalline material."
Dr Benick heads the 'multiTOP' project, in which the record cell was achieved and the project is planned to continue to run up to March 2018.
Cell efficiency records momentum
A number of record and manufacturing milestone cell efficiency records for multicrystalline have been announced in recent months. Notably, 'Silicon Module Super League' (SMSL) member Trina Solar, which as set a record of 19.86% aperture efficiency for a P-type multicrystalline solar cell-based module, independently verified by Fraunhofer ISE CalLab in Germany. The record was set with half-cut cell interconnection, passivated emitter and rear contact (PERC) technology and highly efficient light trapping on a module area of 1.514m2.
US-Based wafer producer 1366 Technologies and 'Silicon Module Super League' (SMSL) member Hanwha Q CELLS hit a new record of 19.6% efficiency for cells using 1366's 'Direct wafer' process.
The record, independently confirmed by the Fraunhofer ISE CalLab, was achieved using 1366's kerfless, drop-in P-type 156mm multicrystalline wafers using its 'Direct Wafer' method and Hanwha's 'Q.ANTUM' passivated emitter rear contact (PERC) cell process.
At the manufacturing level, REC Group has claimed that a pre-production batch of multicrystalline solar cells at its manufacturing plant in Singapore achieved a best conversion efficiency of 20.47% measured by an in-house tester with an external calibration cell. The company noted that upgraded wafer to cell processes were responsible for achieving an average cell efficiency of 20.21%, with the best cell at 20.47%.
The process developments would be applied to REC's production lines at the beginning of November, 2016, according to the company.
China-based PV module manufacturer Wuxi Suntech, a subsidiary of diversified renewables firm, Shunfeng International Clean Energy (SFCE) had also said it had achieved P-type multicrystalline Passivated Emitter Rear Contact (PERC) cell efficiencies of 20% in volume production.