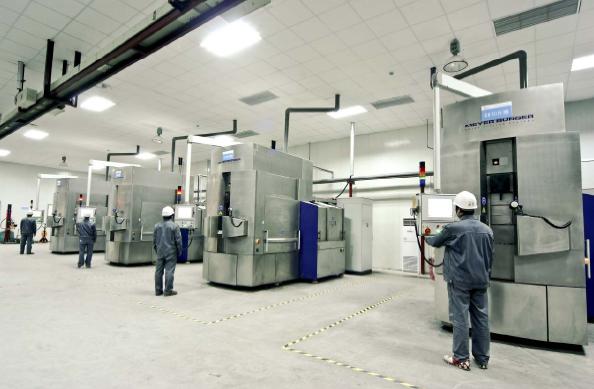 Leading polysilicon and wafer producer GCL-Poly Energy Holdings was able to increase production in 2015 resulting in slightly higher total revenue and improved gross margin on further production cost reductions.
GCL-Poly was able to operate its polysilicon facilities at full-capacity in 2015, improving yield and productivity to achieve production of approximately 74,358MT, an increase of 11.2%, compared to 66,876MT in 2014.
The story was similar in the production of wafers. GCL-Poly reported improvements in advanced ingot furnace facilities and wafer slicing processes that helped extend nameplate capacity from 14GW (an increase of 1GW from 2014), while producing a total of 14,968 MW of wafers in 2015. This also included tolling business, representing an increase of 14.3% from 13,098MW in 2014.
Despite the polysilicon and wafer production increase, revenue was relatively flat in 2015 with the previous year, due primarily to lower ASPs for both products.
GCL-Poly reported total revenue in 2015 of RMB21,766 million (US$3.34 billion), a 1.1% increase over the previous year.
The group's overall gross profit margin was 26.5%, compared with 23.1% in 2014. Gross profit margin for the solar material business increased from 23.2% in 2014 to 27.0% in 2015.
Polysilicon
The company sold 18,023MT of polysilicon to external customers in 2015 with an ASP of US$15.6/kg, compared an ASP of US$21.7/kg in 2014. The company claimed a polysilicon global market share of 30% in 2015.
Wafer
GCL-Poly reported wafer sales of RMB16,791 million (US$2.57 billion) in 2015, slightly down from RMB 16,679 million in 2014. Wafer ASPs were RMB1.175 (US$0.188/W) in 2015, down from RMB1.322 (US$0.215/W) in 2015. Management claimed a 40% global market share of wafer production in 2015.
Overall R&D expenditure for polysilicon and wafering activities was around US$39.5 million in 2015.
PV Projects
The company's Solar Farm Business continued to manage and operate 371MW solar farms, of which 18MW was located in the US and 353MW is located in China. These solar farms were constructed or acquired by the group prior to obtaining a controlling stake in GCL New Energy (GNE).
GNE was said to have achieved a total installed capacity of approximately 1,640MW at the end of 2015, representing 166% increase over the previous year.
GNE reported revenue of RMB1,970 million (US$302.4 million) in 2015, representing a growth of 143% over the same period of last year, returning a net loss of RMB15 million (US$2.3 million).