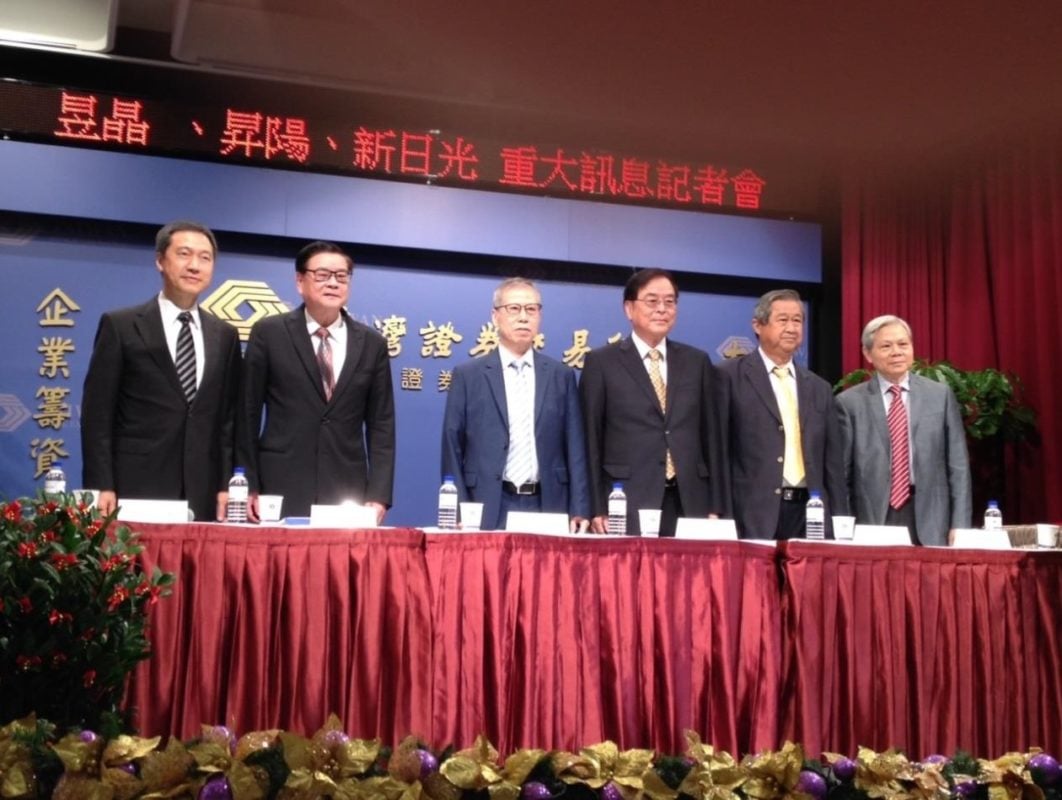 As expected, three of Taiwan's merchant solar cell and module producers, Gintech Energy Corp, Neo Solar Power (NSP) and Solartech Energy have officially announced plans to merge and exit the 'foundry' business model they were founded on.
The three companies said in a joint statement that as they were dealing with a "highly competitive and increasingly concentrated market, the Companies believe that Taiwanese manufacturers should come together to form a solar flagship company with a competitive edge on the global market and build a flourishing and prosperous integrated platform."
The companies have also invited other Taiwanese producers to join the merger deal, which will be called United Renewable Energy Co., Ltd. (UREC). As PV Tech recently highlighted, Gintech is the second largest merchant manufacturer in Taiwan, based in revenue in 2017, while NSP and SolarTech are ranked third and fourth, respectively.
To comply with Taiwanese laws, the three companies said that they had agreed that NSP would be the surviving company after it merges with the other two partners.
The companies hope to have a legally binding merger agreement signed by the end of December, 2017 and to complete a merger process within the third quarter of 2018.
After the proposed merger, Dr. Sam Hong (NSP) and Dr. Wen-whe Pan (Gintech) are expected to serve as the Chairman and CEO of UREC, respectively.
Under UREC, the new company would have wafer, cell, module and downstream capabilities, inline with the vertically integrated business model as well as manufacturing operations in China and South East Asia.
PV Tech estimates that NSP has around 2.2GW of total solar cell capacity of which around 700MW was primarily dedicated to monocrystalline cell production. The company had relocated around 100MW of mono cell production from its 500MW cell plant in Malaysia to Vietnam and planned to migrate around 500MW of capacity in Taiwan to mono-PERC and ultimately stop all multicrystalline cell production.
NSP had also announced in April 2016 that it would also establish a 50MW dedicated N-Type monocrystalline heterojunction (HJ) line that offers higher potential cell and module conversion efficiencies than mono-PERC products.
Gintech is estimated to have around 2GW of cell capacity that includes at least 350MW in Thailand, while Solartech has around 1GW of cell capacity in Taiwan and access to around 350MW of cell and module capacity via a JV in Malaysia, TS Solartech.
The merged companies also said that they would plan to tap the National Development Fund for capital expenditure to further support the transition to a vertically integrated business model with emphasis on supporting the Taiwanese government plans to transform the country's energy sector towards renewables.
Separately, NSP also announced that it would launch a tender offer to acquire a further 24.11% stake in its downstream PV project business subsidiary, General Energy Solutions Inc (GES).
NSP noted that completion of the public tender offer for GES it would become its 100% shareholder and centrally managed by another subsidiary of NSP, NSP System Development Corp.