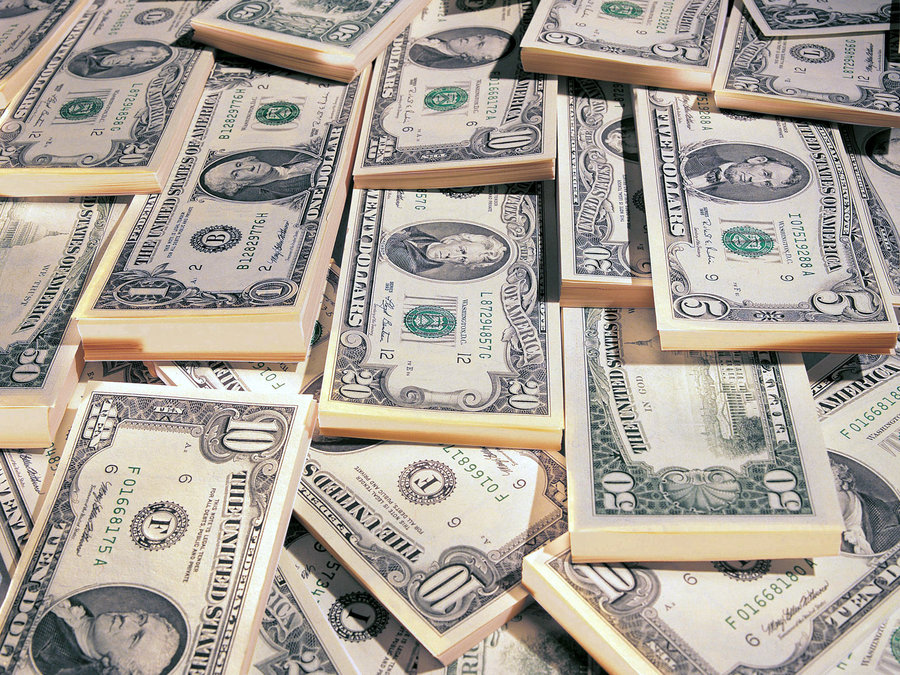 Global clean energy investment in the first quarter of 2017 was down 17% compared to Q1 2016, as market leaders China and the US scaled back support for wind and solar farms.
The latest figures from Bloomberg New Energy Finance (BNEF) reveal that despite the lower year-over-year figures, Q1 2017 was only down 7% on Q4 2016. Regardless of a tepid start to the year for the global clean energy market, this quarter saw higher than normal equity raising from public markets and venture capital.
Some good news for the quarter was marked by a US$1.4 billion public market share sale by Tesla, and US$650 million investment by Enel for its 754MW Villanueva project in Mexico.
"Q1 this year reflects, once again, the declines in average capital costs per megawatt for wind and solar," said Jon Moore, CEO of BNEF. "This trend means that year-by-year it's possible to finance equivalent amounts of capacity in these technologies for fewer dollars."
"It was a relatively quiet first quarter for global investment, but it's too early to assume that 2017 as a whole will be lower than last year," added Abraham Louw, clean energy economics analyst at BNEF. "BNEF analysts are currently expecting both wind and solar to see similar – or higher – numbers of megawatts added this year than last."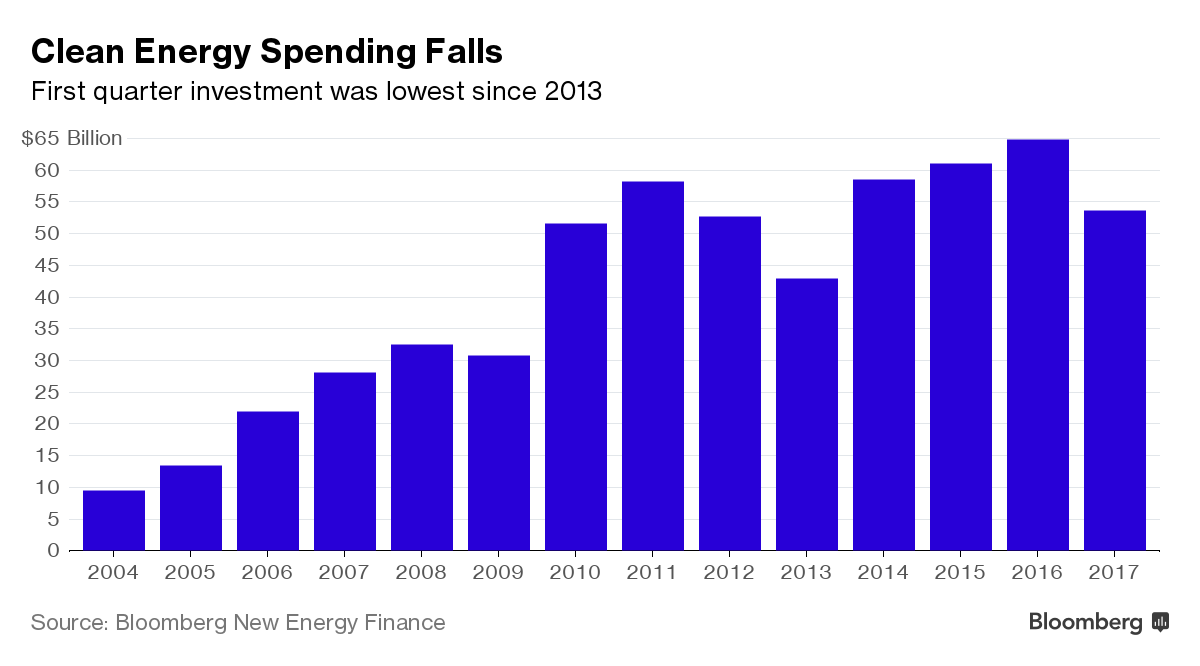 Investment by market
The main drivers of this year's dip in investment are a 60% year-on-year fall in offshore wind financing; down from US$11.5 billion in Q1 2016 to US$4.6 billion. Governments in the biggest markets for renewables are slashing subsidies for new projects, which is reflected in the drop in cost of PV equipment and wind turbines. Overall the US and China saw a slow-down in their clean energy investment, with the latter down 11% to just US$17.2 billion in Q1 and the former down 24% with just US$9.4 billion.
The UK too was down a sharp 91% to just US$1.2 billion, due to no new offshore wind financings. However, German investment was up 96% year-on-year to US$3 billion, with France also up 145% at US$1.1 billion and Japan up 36% at US$4.1 billion.
Developing countries also had varying fortunes in Q1. Indian investment was US$2.8 billion, down just 2%, while Mexico was up 47-fold at US$2.3 billion and Brazil down 3% at US$1.8 billion.
Investment by type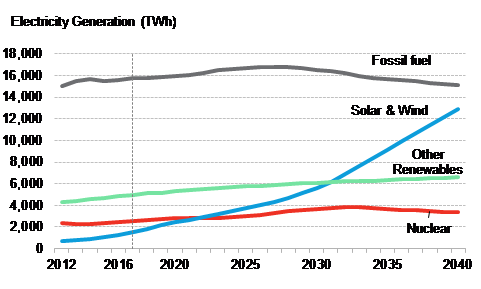 The largest category in Q1 2017 was asset finance of utility-scale renewable energy projects; totalling US$39 billion – which was still down 28% from Q1 2016. The second largest category of investment was small-scale solar projects of less than 1MW at US$10.7 billion, which was up by 8% quarter-on-quarter. Also on the rise was public markets investment which leaped 215% year-on-year to US$2.1 billion, linked mostly to sales by Tesla. The EV maker and PV systems integrator raised US$977.5 million via a convertible issue, and another US$402.5 million via a secondary share issue.