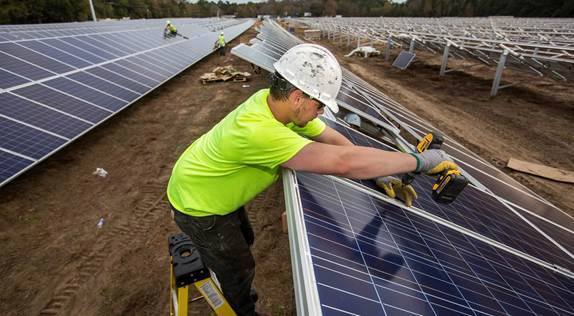 Ontario's Independent Electricity System Operator (IESO) has awarded seven solar energy contracts totalling nearly 140MW with a weighted average price of CA$0.1567/kWh (US$0.12).
IESO launched the competitive tender in March 2015 under its Large Renewable Procurement (LRP) scheme, which seeks to procure renewable energy projects of more than 500kW capacity. The allocation of solar in the tender was over-subscribed by a factor of 12, with 1,742MW registered across 80 projects.
The range of tariffs for the seven successful solar projects was CA$0.1415/kWH to CA$0.1785/kWh.
A total of 16 renewable energy project contracts totalling 455MW were awarded in the tender, which included five winds projects totalling nearly 300MW, with a weighted average price of CA$0.0859/kWh and four hydroelectric projects totally nearly 15.5MW with a weighted average price of CA$0.1759/kWh.
IESO noted that price ranges of all the awarded projects were lower than the available FiT rates in Ontario, which tend to be applicable to projects that are below 500kW capacity.
There was strong participation from Canadian developers with more than 80% of the renewable energy projects involving input from local communities. Local support from the municipality or local community and landowners was factored into project evaluation.
Solar project winners included:
Ontario Corp – 1.375MW
BluEarth Renewables – 54MW
EDF EN – 10MW + 12MW
Invenergy – 6.75MW
SkySolar – 11.76MW
SunEdison – 44MW
BluEarth Renewables' 54MW project will be located in the Township of Stone Mills, Ontario.
Grant Arnold, BluEarth's president and chief executive, said: "This is an exciting accomplishment for our company and the result of an incredible amount of hard work. I am proud of our team and grateful to our partners and stakeholders for their effort and support in bringing the project to this point."
In the coming weeks, BluEarth anticipates initiating the technical studies required under the Ministry of the Environment and Climate Change (MOECC) Renewable Energy Approval (REA) process.
Ontario has seen several large-scale solar plants in development since the summer, with Canadian Solar Solutions, a subsidiary of Canadian Solar, completing construction of the largest solar project in Canada, a 100MW PV plant in Ontario, last July.