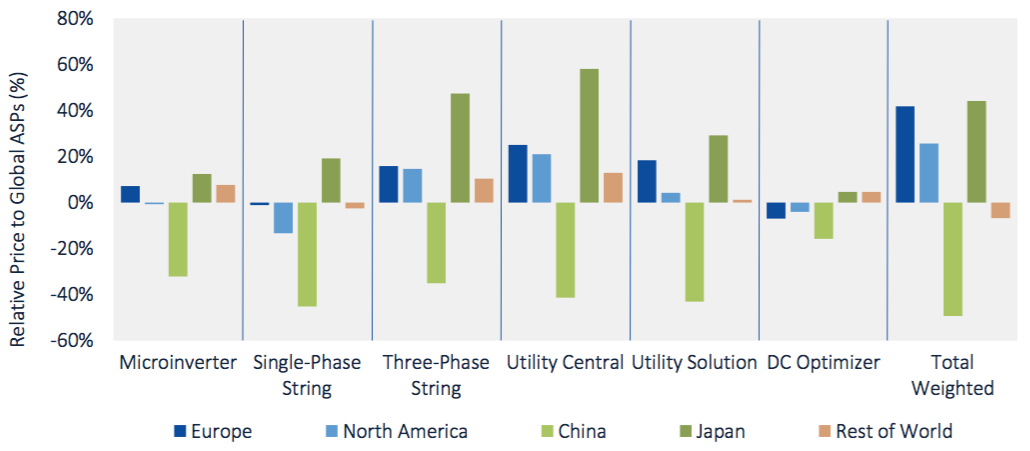 Global shipments of PV inverters will reach 90GW by 2020, valuing at more than US$7.1 billion, according to GTM Research's latest report, 'The Global PV Inverter and MLPE Landscape 2016'. This represents an average annual growth rate of 11% between 2016 and the end of the decade.
In 2015 shipments grew 42%, up from 42.1GW in 2014. But in spite of the projected long-term growth, 2016 progression for inverter shipments has plateaued. "Due to the US utility solar ITC rush and strong demand in China, there was a build-up of shipments in 2015 to meet 2016 project demand," said report author and GTM Research analyst Scott Moskowitz. "Overall installation growth will slow in 2017, resulting in flat inverter shipments year-over-year."
The Asia-Pacific region was the biggest market sector for 2015, accounting for 66% of the 59.7GW shipped. This region was headed up by China and Japan. However, the report notes that demand will likely shift to other regions including Latin America, India, the Middle East and Africa, as the Japanese market begins to decline. In fact, by 2020, GTM Research forecasts the Asia-Pacific region to account for less than half of all inverter shipments.
The shift in inverter technology preferences is also highlighted in the report. In 2015, central inverters accounted for 57% of all inverter shipments, but they are forecasted to see that share fall to 43% by 2020, due to the continued rise of three-phase string inverters. These inverters will account for 37% of all inverter shipments globally by the end of the decade, as they become more commonplace in utility-scale systems. In addition, module-level power electronics (MLPE) will also gain share as upfront costs decline and their use expands to commercial markets. MLPE are expected to account for 10% of all inverter shipments by 2020.
The report also ranks and profiles leading PV inverter manufacturers. For the first time ever, Huawei took the top spot for 2015 shipment figures. Sungrow, SMA, ABB and TMEIC also placed in the top five.
Overall, inverter prices will continue to steadily fall as the market expands and new technology advancements allow for lower upfront costs, according to the report. In particular, 1,500-volt inverter technology, higher power density string inverters and rapidly falling microinverter pricing will contribute to further price reductions across all segments over the next several years.
The report details how the inverter market will continue to consolidate as PV demand spreads globally, "resulting in a market with more competitive, globalised pricing." The report cites "shifting global demand, rapidly evolving product preferences and competitive pricing" as the key themes for the growth of the PV inverter industry.