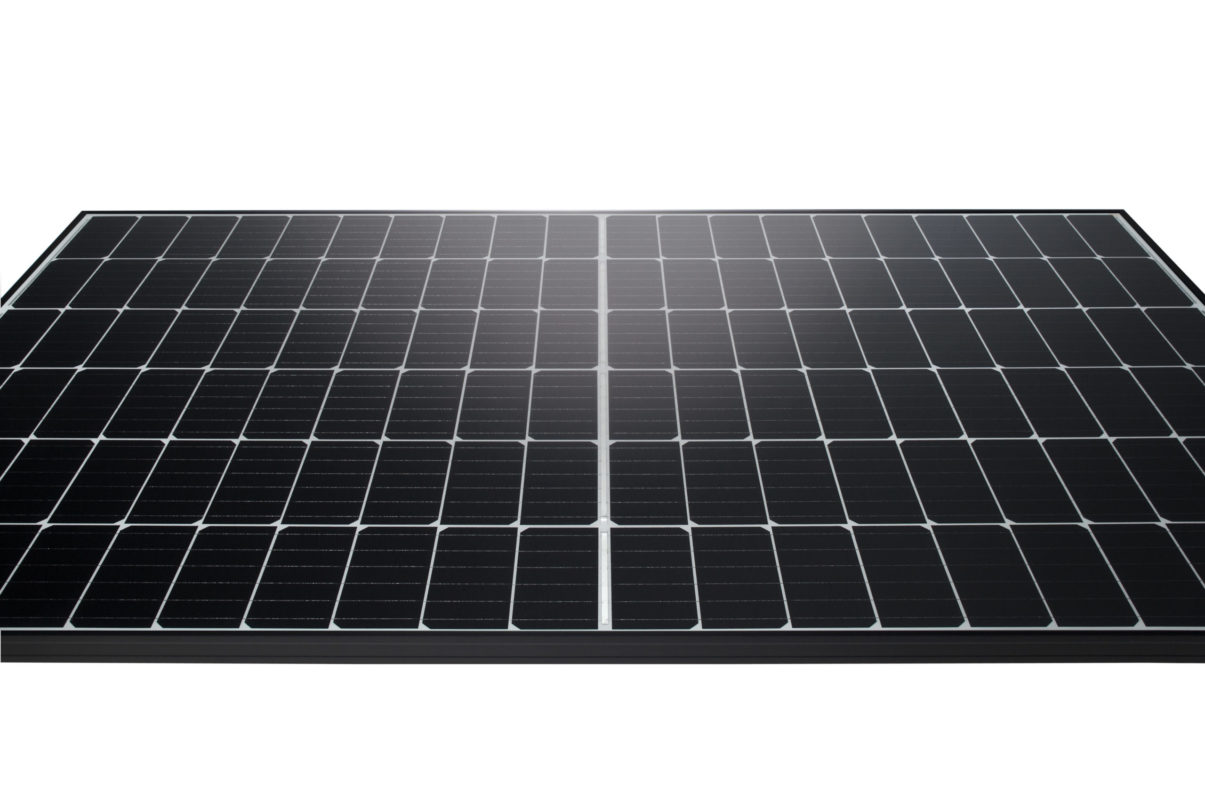 Hanwha Q CELLS new Q.PEAK DUO-G5 series modules are designed for higher efficiency and minimized degradation that provides a price to performance ratio designed to target the residential and commercial markets. The Q.PEAK DUO-G5 half-cell module won an Intersolar Award 2018.
Problem
PV installers must meet customer demand for solar module and system durability and higher-power requirements and offer improved shading response performance, while lowering the levelized cost of electricity (LCOE).
Solution
The Q.PEAK DUO-G5 series combines a whole range of technological innovation to reach maximum electricity yields and lowest LCOE. Mono half-cut cells with six busbars in parallel produce up to 3.5% power gain versus a typical full cell, four bus bar module. Six busbars in combination with half-cell technology help to lower resistive losses in each cell and is said to result in a 3.0% power gain against typical full cell interconnection. The use of round wires instead of flat ribbons for cell interconnection significantly reduces the effective shading on the solar cells and are said to result in a power gain of an additional 2.0%. Improved performance and durability of half-cells with independent upper and lower module halves connected in parallel, ensures an improved shading response, resulting in higher yields when the module is partially shaded. Half-cut cells are also subjected to reduced mechanical stress, resulting in fewer cracks. The company´s proprietary Q.ANTUM cell technology (PERC-based) provides for higher efficiency and minimized degradation, enabling the module to reach power classes of up to 330Wp from 120 half-cells.
Applications
Residential and commercial.
Platform
The Q.ANTUM technology controls the degradation effects of LID (light induced degradation) and LeTID (light and elevated temperature induced degradation), which can severely reduce the performance of conventional PERC solar modules throughout its lifetime. The module uses an aluminium alloy anodized frame, certified for high snow (5400 Pa) and wind loads (4000 Pa). The module comes with a 12-year product warranty and performance warranties of 98% in the first year, a minimum of 93% within 10 years and still 85% after 25 years.
Availability
Two versions are currently available, Q.PEAK DUO-G5 with up to 330Wp and Q.PEAK DUO BLK-G5, featuring black back sheet and frame, with power classes up to 320Wp.