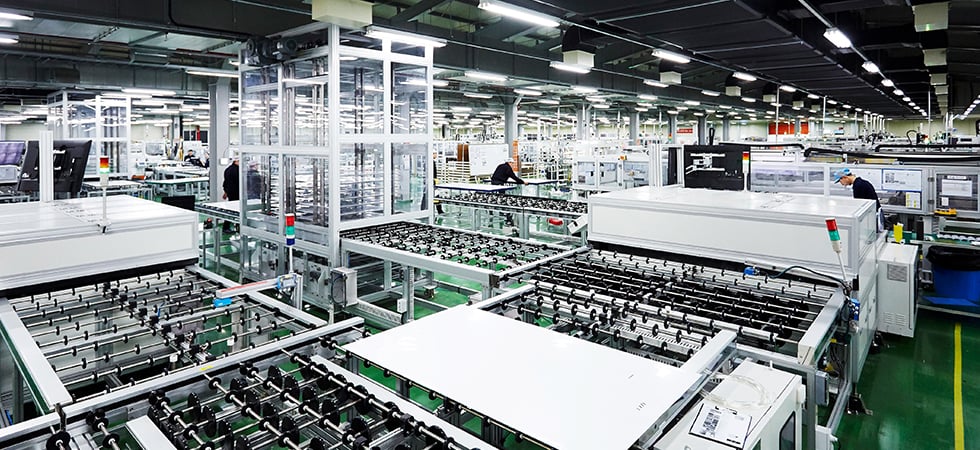 'Silicon Module Super League' (SMSL) member Hanwha Q CELLS has revealed its 'Made in America' product strategy ahead of the 2018 Solar Power International (SPI) Exhibition being held at the Anaheim Convention Center in California next week.
The SMSL said that it planned to address the three core markets in the US, utility-scale, residential and commercial when its affiliate company Hanwha Q CELLS (Korea) starts module assembly operations on behalf of the SMSL in 2019 at a 1.6GW-plus plant in Whitfield County, Georgia.
As PV Tech recently highlighted, the Georgia plant is expected to begin operations in February 2019.
Key US assembled modules will include its Q.PEAK DUO BLK-G6 series, a follow-on development from the recently launched Q.PEAK DUO-G5 series, which won an Intersolar Award 2018.
The US made module will use P-type monocrystalline half-cut cells with at least six bus bars on its proprietary 'Q.ANTUM' PERC (Passivated Emitter Rear Cell) technology, which was said to have approximately 5% more output than the G5 series that is currently in the 330Wp range and used in residential and commercial rooftop sectors. These come with white or black backsheet configurations and is the core existing product offering in the US market.
The US utility-scale markets will be served by the Q.PLUS DUO L-G5.2, a P-type multicrystalline solar module with half-cut cells that has a maximum output of up to 370Wp in a 144-cell format.
In the future, Hanwha Q CELLS will introduce a US-centric version of its recently launched European Q.HOME+ ESS HYB-G2 system, which adds an inverter, scalable battery and smart energy management system for residential applications.