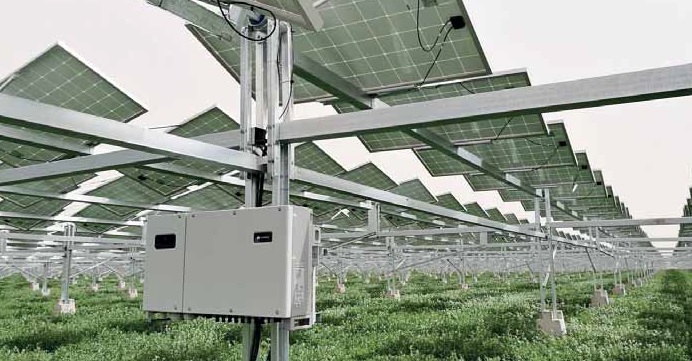 In 2011 China-based ICT (information and communications technology) firm Huawei Technologies decided to enter the PV inverter sector, bringing its ICT know-how and hardware to a market already burdened by overcapacity and declining margins. 
In a few short years, instead of floundering, Huawei soon became the market leader in China, surpassing key long-standing players. In 2015 it had around a 45% market share (by shipments) in the largest market worldwide with more than 18GW of PV installations. 
However, Huawei has not only dominated the Chinese PV landscape, its overall global shipments topped 10.5GW in 2015, penetrating key markets such as Japan, Europe and India.
Unlike many rivals that have typically offered central inverters for utility-scale PV power plants, Huawei relies upon three-phase string inverter technology under the banner of its 'FusionSolar' smart PV solutions. It has partnered on several gigawatt-scale power plants in China to reinforce that its technology can not only compete with central inverters, but can offer a number of compelling operational benefits. It is these that have been behind its meteoric rise.
Ahead of this year's Intersolar North America exhibition, US investment banking firm, ROTH Capital held a client conference call with Huawei Smart PV Solution North America's Bates Marshall, VP sales & general manager, on its entry into the US market. 
Although a private company (employee-owned but not state-owned), Marshall noted that Huawei's total string inverter shipments in 2013 totalled only 820MW, while the company was targeting shipments of around 15GW in 2016. 
However, 2016 is viewed by Marshall as its entry year into the US market. Marshall is a former senior VP at Advanced Energy, once the leading central inverter supplier to the US utility-scale market and previously spent three-years as a VP with SMA Solar in the US. 
The company had already established some strategic partnerships in late 2015 with the likes of Shoals Technologies Group, a leading balance-of-system (BOS) supplier in the US and single-axis tracker supplier, NexTracker.
Not surprisingly, Huawei is also engaging with some of the largest US EPCs to demonstrate the advantages of string inverters and lowered LCOE (Levelised Cost of Electricity). 
Huawei's intent in the US market is such that it will be exhibiting some of its initial US-centric product offerings for the first time at Intersolar NA, held annually at the Moscone centre in San Francisco. 
Marshall noted that it would be showcasing its 1500V three-phase string inverter series, which includes multi-channel MPPTs (Maximum Power Point Tracking) and multi-modal MPPTs. These are naturally cooled, providing "at least a 2% yield improvement", Marshall said in the ROTH Capital conference call. 
In a post conference call investor note, ROTH Capital's solar analyst Philip Shen said: "We see Huawei's entry into the US utility-scale market creating the potential for increased competition ahead for inverter manufacturers including ABB and SMA Solar Technology, while utility and commercial scale developers such as CSIQ (Canadian Solar), FSLR (First Solar), SunPower (SPWR) and SKYS (Sky Solar Holding) could benefit from lower BOS costs."
Although Huawei's US PV utility-scale market foray is just starting, the company has further product offerings to bring to market to build momentum, such as its 'big data' and 'smart' O&M services that have proved highly popular in China and Europe. 
The company is also expected to offer US-centric residential products in the near future, said to be along the MLPE technology route, popular with rooftop installers.