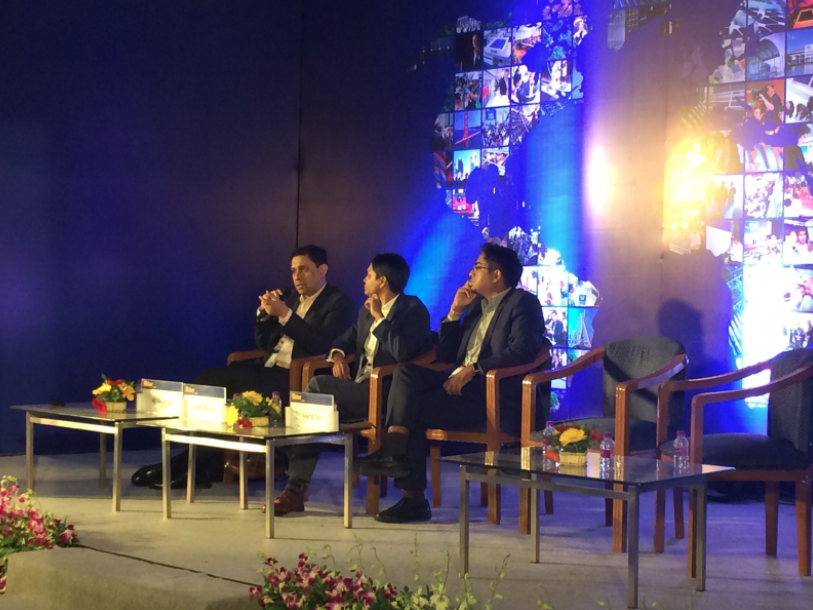 Rooftop solar growth in India is rising in spite of government policy support, which has been lacking or misplaced, according to panellists at Intersolar India in Mumbai.
Vinay Rustagi, managing director of consultancy firm Bridge to India, said that policy for rooftop is "really in a no man's land right now". Apart from the shaky rollout of net metering three years ago and a concessional credit scheme from the World Bank and State Bank of India (SBI) 18 months ago, the sector has been left short of support.
Net metering still not perfect
Kuldeep Jain, managing director of C&I rooftop specialist CleanMax Solar, said that it has been a big task to ensure most states have some semblance of a net metering policy, while in most cases there is an "artificial cap" on the maximum capacity that can be installed. Jain claimed that this 0.5-1MW cap has not been enforced on technical grounds but rather to maintain the dominance and monopoly of the distribution companies (Discoms) over the client.
Sishir Garemella, founder and CEO at rooftop solar firm Sunvest Energy, told PV Tech that there needs to be more uniformity of policy, since net metering differs across every state, with each Discom having its own policy.
He added: "India is 29 different countries really. Each state has its own regulation and unless there is some sort of uniformity of rules and regulations it's very hard to scale more than one city at a time. You will never see big traction."
From a purely residential perspective, Garemella also said that the price of solar is falling enough for subsidies to be completely removed, as the market is now "dynamic enough" to absorb those costs.
"Subsidies typically have friction," he added. "There are multiple competing subsidies, sometimes the process is very unclear and while the intentions are great, the on-ground execution of subsidies is fairly difficult for installers and for customers."
Failing their removal, he suggested that a different form of financial support rather than the upfront capital subsidy should be introduced.
Hints of policy progress
Adarsh Das, co-founder and chief executive of developer and EPC firm Sunsource Energy, said that rooftop growth had been in spite of government support – excepting net metering and the rooftop subsidy – because the costs have started to get lower and lower. However he did cite the interest rate subsidy as a potential major driver going forward.
Rustagi said rooftop will continue to grow at a rate of around 50-60% each year, because the "private sector has tasted success", with the financials and capacities available now attractive. Furthermore, most execution challenges have been addressed.
Rustagi did note a disappointing rollout of major tenders for public sector procurement and a lack of "visionary or path-finding" policies. He did cite talk of a 'rent-a-roof' policy, but said that this "great idea" needs to be thoroughly thought out before being announced.
Ultimately he said: "On the policy front much more needs to be done."
Residential post-2021 boom?
One delegate asked whether Bloomberg New Energy Finance's (BNEF) latest report forecasting an Indian residential solar boom post-2021, fitted in with other projections.
Rustagi replied: "The problem with the residential market is there no clear compelling driver for that market right now and we do actually see quite a few challenges. As Kuldeep said, residential tariffs are the lowest in the country, […] so there is not a very large financial driver for residential customers."
India's cherished rooftops
He also said that residential consumers need comfort, handholding, awareness, quality assurance, as well as advice on good PPA structures, where to get subsidies and good modules. If the government really wants the sector to grow, it has to empower and enable the consumers to make the right decision, he added.
Moreover, he described rooftops in India as a "very prized commodity", often used for leisure in a way that prevents people from wanting to invest in a solar system for 20-25 years. For the comfort factor, consumers would therefore want ready-made, fully-bundled kits.
However, as Garemella noted, most rooftops in India are different and therefore it is difficult to sell standardised equipment. He said the OPEX model is also difficult in India for this reason – adding: "OPEX model worked very well in the US largely because all roofs are very similar, so there is a very standardised product you can give across America."
He did note some areas of opportunity – noting: "The cost is very high relative to the cost of power that people are paying, so the paybacks are very very long. Primarily, that's why a large part of India is not considering solar, however, there are certain parts of India, Delhi, Mumbai, and a few other cities where the residential tariffs and consumptions are very very high. They are equivalent to New York or London – expensive power. Those are the low hanging fruit."
Financing
He agreed that market awareness is very poor in the residential sector and also highlighted that India has slow contractual enforcement, which means if a customer refuses to pay on a PPA, it can take many years to see an outcome when taken to court.
Garemella said: "Where the market would benefit from a financing point of view is at the loan market or the leasing market, where the customer puts down 20-30% and then the financier puts 70% and gives them a loan maybe of 5-10 years payback over time – somewhere between your home loan and your car loan."
Kuldeep Jain echoed these comments saying that it will always be a challenge in India trying to recover "little driblets of money" from a residential consumer – adding: "Your asset is on their roof and if they choose to not pay you there are very limited measures you are going to have available, so it's a very risky kind of situation."
Jain suggested that rooftop firms would happily pay Discoms a fee if they could guarantee these kind of collections from the consumer. He also suggested a form of 'first loss portfolio guarantee financial instrument' is needed in the rooftop sector.
Bridge to India Rooftop Map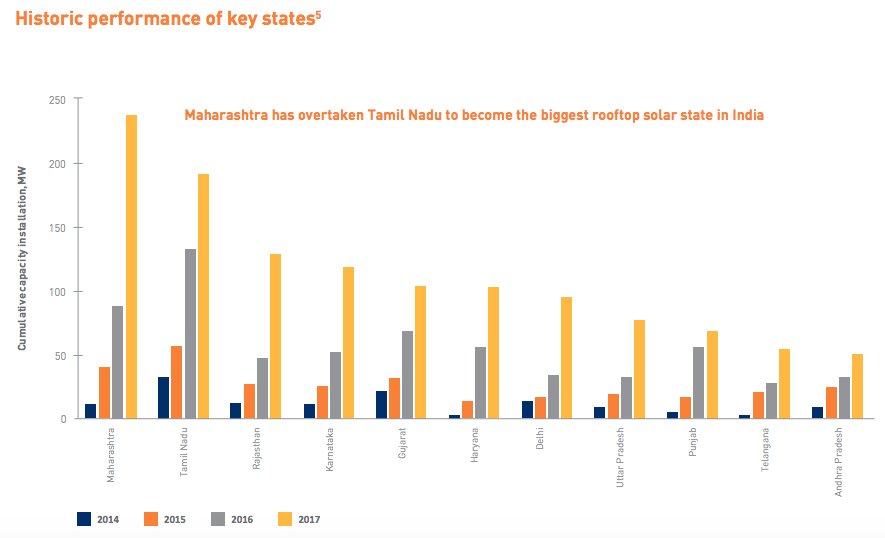 Bridge to India this week also released its 'India Solar Rooftop Map' noting 840MW of new installations in the last 12 months up to September 2017, which is a year-on-year growth of 82%. Meanwhile CAGR is expected to grow 77% for the next four years.
Perhaps the top line was that Maharashtra has taken over Tamil Nadu to become the largest rooftop PV state in the country.
However, in a release, Rustagi said it is "abundantly clear" that Indian will now not reach its 40GW rooftop target for 2022, and the consultancy even dropped its forecasts from 13.2GW to 10.8GW by that date.
As expected, C&I continues to dominate, accounting for 66% of capacity additions in the last year.
Company leadership in the sector has remained relatively stable. For example. CleanMax, Cleantech Solar and Amplus lead the OPEX project development category, while Delta and SMA stayed atop the inverter market, and Tata Power Solar is still the biggest EPC contractor for rooftop.
Bridge to India stated: "Residential rooftop solar grew at a more sedate pace of 45%. But the major disappointment is low uptake in the public sector, which added only 173MW in the last 12 months against our estimate of 200MW."
Only last week, a 500MW government building rooftop tender saw less than half the capacity taken up by bidders, although final installation figures could rise.
Birdge to India found that total installed rooftop capacity in India as of September 2017 stood at 1,861MW.