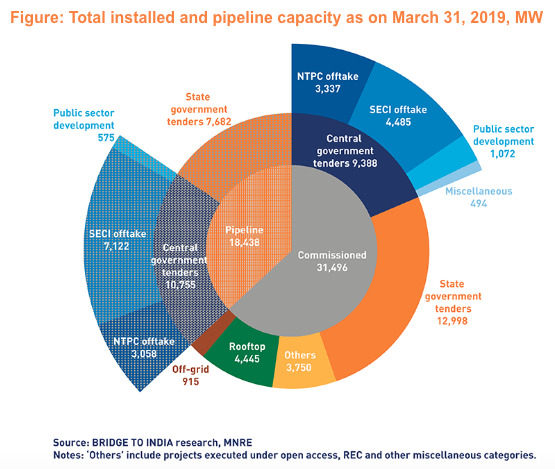 India had its highest ever capacity of solar projects allocated or at various stages of development by the end of Q1 this year, suggesting a significant pick-up in installation activity over the next two years, according to a report from consultancy firm Bridge to India.
In the 'India Solar Compass 2019 Q1' report, however, the consultancy said that a surge in tender issuances is still not being matched by actual project allocations. During the first quarter of the year, 19 new utility-scale solar tenders with a combined capacity of 15,733MW were issued (up 2% from Q4 2018), but only 3,697MW of capacity was successfully allocated.
Nevertheless, the South Asian nation's PV project pipeline stood at a record 18,438MW as of 31 March 2019.
While deployment is set to increase, the industry is facing growing troubles with land acquisition, network connectivity, delayed payments and tender cancellations, said the report. Meanwhile, the commercial and industrial (C&I) segment has been hampered by policy reversals in rooftop solar and open access regulations.
With prime minister Narendra Modi taking office for a second time with a thumping victory, the solar industry expects his new government to bring in a wave of reforms and return confidence in the sector, while also making good on the flurry of policy moves in advance of the general elections.
The list of announcements included schemes to promote rooftop solar, agricultural solar and domestic manufacturing. One of India's key PV export markets, the US, was hit with safeguard measures by president Trump this week, making an even stronger case for Indian solar policy to mandate the use of locally-sourced equipment.
Q1 deployment
Installation activity picked up significantly over the first quarter of the year, but was still 495MW below last year's level. Additions were split between utility-scale solar (1,885MW) and rooftop solar (590MW).
India's total installed solar capacity grew to 31,496MW by 31 March.
During Q1, module prices firmed up by 10% to US$0.22 per Watt, adding financial burden to developers. Bridge to India expects prices to stay flat or slide downwards slightly later in 2019, dependent as usual on demand from China.
Last month, Indian solar raised more finance than still-pervasive coal, according to the International Energy Agency (IEA).
The report 'Lying in wait: Slew of policy announcements ahead of general elections but all eyes are on the new regime', can be found here.