Despite India tripling solar deployments to reach 10GW in less than three years, the country's ultimate target of 100GW by 2022 will be extremely difficult without better enforcement of the Renewable Purchase Obligation (RPO), according to Mercom Capital Group's latest market intelligence report.
Previous Ministry of New and Renewable energy (MNRE) joint secretary Tarun Kapoor once said that the RPO was the single most important driver of the National Solar Mission and its targets. However, as states have rushed to try and comply with their RPOs and wind and solar installations have increased exponentially, there is still a significant shortfall.
Mercom and MNRE data shows state solar RPO compliance levels in FY2016/17: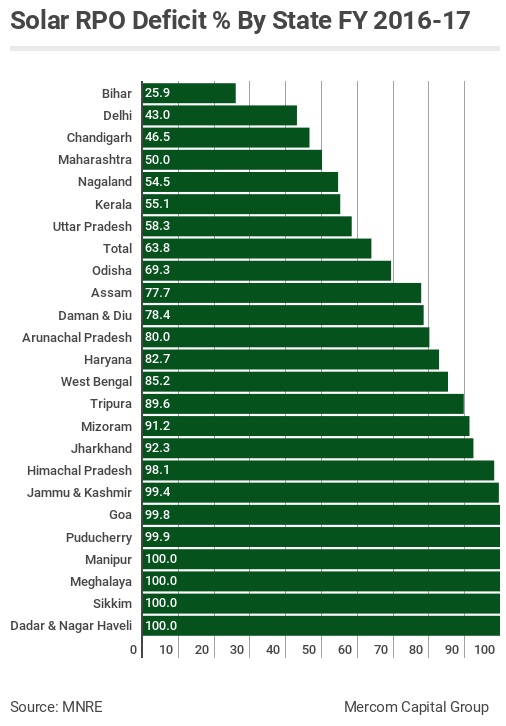 Most states have defaulted on their overall RPOs for fifth year in a row, for which a lack of enforcement has been blamed. Meanwhile, twenty-five states and union territories are behind on their specified solar RPO targets for the current financial year, leaving a solar RPO deficit of 2,034MW (-64%).
The solar RPO,which stands at 2.75% will also rise to 8% by 2022.
By March 2014, India had 2,656MW installed, rising to 10.8GW as of 20 March 2017. However, Mercom's report said that despite remarkable progress, "10GW so far is not as impressive as it sounds".
The country now needs to install 90GW of solar in five years – a rate of 18GW per year. Most analysts have already predicted just 9GW to be installed in the calendar year 2017.
Enforcement plans
Improving transmission infrastructure is one focus area to encourage RPO compliance. Measures on this include waiving interstate transmission charges for wind and solar and building Green Energy Corridors.
The prices of solar and wind coming down to thermal power levels will also provide greater encouragement for state distribution companies (Discoms) to comply.
The voluntary UDAY scheme, the government's rescue package aiming to revive the financial health of the country's debt-laden Discoms by shifting some of their financial responsibilites onto state governments, would also improve compliance if successful. However, Mercom has previously reported a lack of positive impacts seen from UDAY so far.
Raj Prabhu, CEO of Mercom Capital Group, said: "In the Indian market, it is not just about strict compliance and penalising states to push for higher installations levels. There are a lot of underlying issues that the government needs to address like Discom financials, must-run status, transmission and evacuation issues, on-time payments and payment guarantees, and deemed generation benefits. Solar companies and investors have demonstrated that they are willing to take the risk and invest in the market. It is the government that needs to catch up and provide low-risk, conducive market conditions for renewable installations to thrive."
An MNRE official also told Mercom that if other states mimic the recent Rewa tender in Madhya Pradesh that provided several incentives for solar developers including guarantees, then states could meet their RPO's in much shorter timeframes. However, in blog on PV Tech today, Bridge to India's Jasmeet Khurana has explained the troubles that would arise if all states moved to the Rewa model.