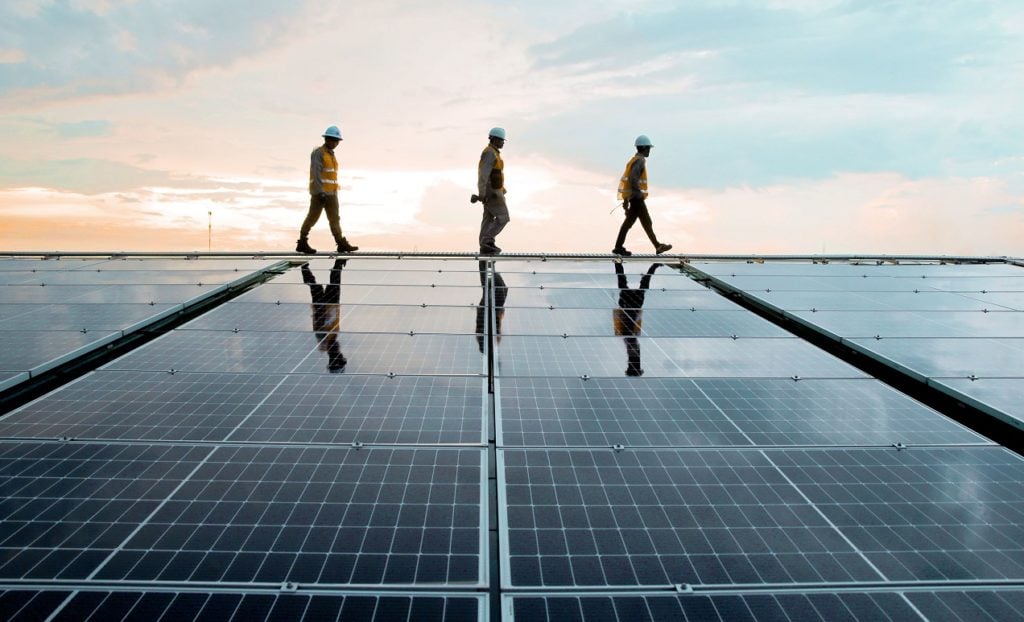 Curtailment remains the most talked-about subject in Vietnamese solar, but potential solutions such as foreign investment in transmission and grid-based energy storage are being held back. This combined with the lack of clarity on PPAs, as reported by PV Tech Premium last week, are the most powerful barriers to the proliferation of large-scale solar in the Southeast Asian nation. Meanwhile the rooftop segment remains strong but is feeling the cold shoulder from national utility EVN as it pushes back against its big manufacturing customers flocking to PV.
There is little space for utility-scale solar in Vietnam for the next few years, says Thanh Hai Nguyen, partner at law firm Baker & Mackenzie, who is in regular contact with government officials working on Vietnam's next Power Development Plan (PDP8). With 8GW of large-scale plants already commissioned and despite many more gigawatts of new solar farm projects lined up, the current government plan only allows for around 2.3-2.4GW of new additions up to 2030. These allowances are also mainly for projects already approved in the PDP7 with initial development rights from a provincial authority. This gives little certainty to the PV industry, while wind plants are increasingly a priority instead. On the other hand, rooftop solar is still promoted by the government to some extent as it has less impact on the grid run by national monopoly utility EVN, says Thanh Hai Nguyen.
Transmission overhaul needed
The next PDP8 includes a focus on high-voltage transmission lines to absorb power from new generation plants and reduce the bottlenecks. Some industry members believe that opening up the transmission system to foreign investment could speed up the process and help larger deployments of renewable energy. The country is very slowly moving towards allowing private investment on the grid and the law has been amended, but the implementation is slow, says Thanh Hai Nguyen. At present, this mostly involves companies handling construction and operations and maintenance (O&M) before handing over to EVN, which means the incumbent utility can maintain its monopoly.
Prominent American diplomats have advocated for private investment in the grid to benefit Vietnam's energy system. When US special presidential envoy for climate John Kerry visited Vietnam in September to meet with prime minister Pham Minh Chinh, he highlighted the poor grid integration of renewable energy projects whilst also advising Vietnam to take coal-fired power out of its next PDP. This was compounded by Virginia Foote, co-chair of the Vietnam Business Forum, who recommended legislation to allow private investment in power transmission whilst also promoting the combination of renewables and battery storage for PDP8.
"The government is jealously guarding its lock on the distribution market and wants to be a controller," says Fred Burke, senior adviser at Baker & Mackenzie. There is still a lot of opposition from local mining company Vinacomin and other coal companies that prefer Vietnam to remain hooked on coal.
Curtailment was always expected
Curtailment remains one of the most talked-about issues in Vietnamese solar but some claim it is a sign of how successful the solar boom has been and is more of a feature than a bug. Early developers were able to offset the risk by taking advantage of an extremely generous feed-in tariff.
"There's a sense that everybody knew this was happening," adds Burke. "They went in with their eyes open."
Instances of curtailment depend on location and time. Some provinces have lower grid capacity, and the provinces of Ninh Thuan and Binh Thuan are very overcrowded with projects. Curtailment has calmed down from high levels one year ago due to greater grid investment from EVN. Moreover, the pandemic had created less energy demand, particularly in the commercial and industrial (C&I) sector, leading to greater but temporary PV generation curtailment.
Under the PPA contracts, EVN has a right to curtail for technical reasons if there is any overload on the grid, so Thanh Hai Nguyen says that even though curtailments have been gradually reduced, the risk is still significant, but tariffs are still high enough to draw investor interest.
"EVN is pedalling very hard to try and build a transmission grid to remove all curtailment with a commitment that there would be no curtailment by the end of 2022," says Gavin Smith, director of UK-based consultancy Clean Energy Advisors, who specialises in Vietnam. "That's an absolute imperative. You see in all of the analysis by all the expert organisations that the development of a more flexible, better-orientated grid system is a necessity for Vietnam's future power development."
The run-up to Vietnam's solar boom also saw what Smith calls an "institutional incongruity" with large multilateral development banks still funding the coal-based energy plan of the government with billion-dollar loans purely for coal-fired power transmission infrastructure in spite of the forthcoming future push for solar deployment.
Rooftop optimism
In contrast to the sudden halt in large-scale development, the rooftop sector is still making strong progress. Burke describes a recent event in Ho Chi Minh City buzzing with optimistic developers.
"We've gone from a case where there were only six households having solar PV installations in all of Ho Chi Minh city of 8 million people and now today there's more than 10,000 PV installations," he says. "You save from having to buy a diesel generator for when the lights go out so it's great."
He also notes that many factories are now using behind-the-meter solar to generate their electricity, which enables consumer brands, for example, sportswear and electronics brands, to go to their target markets and promote their use of renewable energy.
"It's just amazing how fast it's all happening," he adds.
On the other hand, Smith says that over the last year, EVN has gradually been reversing its attitude of welcoming surplus rooftop solar energy into the grid and is now refusing to accept exports from new projects, which has a big effect on the C&I segment. As a result, those wanting to build rooftop solar systems now have to build it entirely for self-consumption with no export possibilities. This limits the scale and therefore the economic benefits to factory owners. It may also increase costs because to make solar viable, factories may also now need to invest in energy storage. EVN has pointed to technical reasons for its change of heart, but Smith says: "There's no obvious technical threat to the grid from rooftop solar exports. EVN was effectively losing a lot of its retail customers, because they were piling into rooftop solar installations."
Cooled down by fire safety
There are also rumblings that a new fire safety policy may cool down the potential growth of rooftop PV, with local fire safety authorities said to have been providing inconsistent guidance on the procedures leading to complex and lengthy appraisal processes.
There is debate on this amongst the rooftop developer community, says Smith. Developers assessed the problem and noted that there is no defined timeline for the Fire Department (PCCC) to issue a certification, nor are there standard documents and processes. Practices vary between provinces and new regulations failed to deal with inheritance issues on earlier projects, meaning that there is no solution to handle projects that were installed before the issuance of the official letter that brought in the fire safety policy.
Developers have said the solution would be for PCCC to adopt standardised national processes and timelines for response. The Ministry of Industry and Trade (MOIT) has also been requested to support and consult with PCCCs.
Storage in limbo
Energy storage is often touted as one of the key solutions to grid congestion issues, but the 'Danish Energy Agency 2021 Vietnam energy Outlook Report' put together with MOIT stated that although early reinforcement of transmission capacity is needed, storage is not needed until after 2030 to ensure cost efficiency.
"Storage capacity should grow from almost none in 2030 to around 460GW in 2050," it reads. "The needed storage capacity is mainly batteries with 2-4 hours of storage but also up to 9GW of pumped hydro storage (PHS) with around 10 hours of storage."
Smith says that other nations have clearly used storage to great effect in managing grid flows reducing overall cost and losses in transmission.
"The USA has already taken steps to help Vietnam to understand what good storage opportunities there are and the benefits they would have," he adds. "I firmly believe, as the US does, that Vietnam needs some substantial grid storage capacity to manage."
Smith also criticises the Danish Energy Agency's focus on nuclear over and above solar and wind, adding: "So they're looking at 2050 and saying, if there's problems with land access for solar power or the offshore wind doesn't come online then they need 35GW of nuclear, which is quite as realistic as saying that Vietnam is going to have a rocket on Mars. It's just nonsense."
In terms of policy there are no specific legal mechanisms at present to support storage, says Thanh Hai Nguyen, but EVN plans to carry out a centralised battery energy storage pilot to gradually address curtailment issues and address the mismatch between demand and generation. However, it is not allowing third-party private sector developers to make their own investments.
While some companies are looking at Vietnam as a location to manufacture batteries, adds Thanh Hai Nguyen, the main purpose would be to export to other countries for tax purposes rather than to use and operate in Vietnam.
PV Tech Premium last week detailed how uncertainties around PPAs and the need to negotiate tariffs are once again the key barriers to solar deployment in Vietnam.
"Before, there weren't gatekeepers," says Smith. "You didn't have to negotiate every step of the way. It's a standardised process and open market access. Unfortunately, the government has now tried to roll back much of that work."
"There were such great benefits," he adds. "We got Vietnam out of its energy hole in 2018 to 2020 by building clean energy, because without the addition of solar, there would have been power cuts in 2019 and 2020."
These comments come against the backdrop of Vietnam refusing US$5 billion of G7 funding under the JETP programme at COP27, despite great hopes from G7 nations hoping to facilitate a rapid decarbonisation of coal-dependent economies. Instead, the Vietnamese government refused while Indonesia walked away with US$20 billion in funding to transition away from coal, decisions which may foreshadow the future renewable energy strategies of both nations.