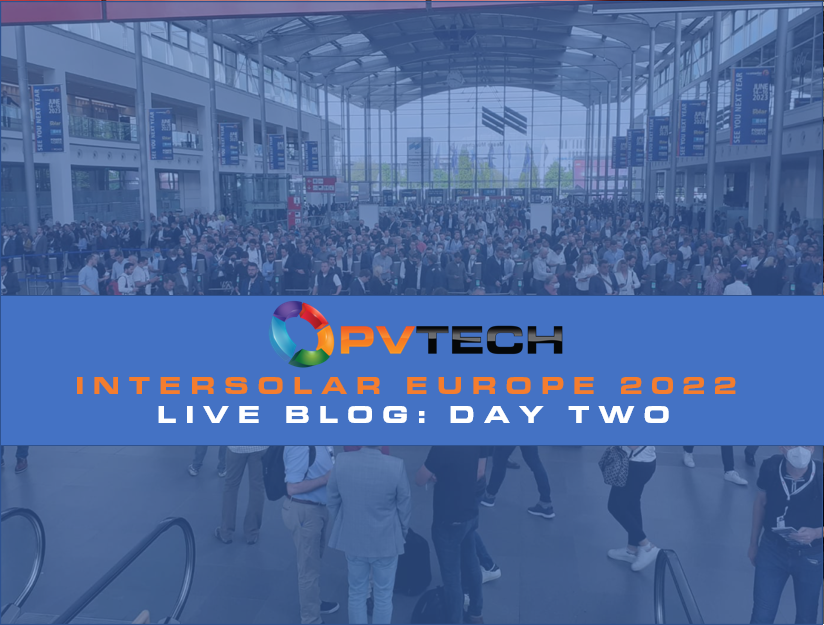 Welcome back to Intersolar Europe 2022 for the exhibition's second day, and PV Tech's rolling coverage of the event also returns. This story will be updated throughout the day, so be sure to refresh for the latest news, product launches and insight from the exhibition. Our coverage of day one can be found here.
---
17:01 – INSIGHT – BayWa r.e. more concerned with logistics than module supply moving forward
Mytilineos is more concerned about persistent logistical problems, such as high shipping costs and COVID-19 lockdowns in Shanghai, than it is about module price fluctuations moving forward, a representative told PV Tech.
The company, which has closed a 24MW PPA at the event this year already, said that while module prices are fluctuating, it has locked in enough supply to for its near-term portfolio via an effective hedging strategy.
It had delayed some projects in 2021 and is now accelerating deployment this year in order to get back on track with its project timetable.
It currently has 607MW under construction, according to Fabio Spucches, global head of project development at Mytilineos, and has expanded it development team.
Being a vertically integrated company has also been a boon for the company as it does not have to negotiate third party EPC contracts, Spucches said. In fact, its EPC business unit is booming at the moment and has decided to focus on working with selective, long time partners such as the likes of Lightsource bp, Total Eren and Sonnedix.
16:40 – INSIGHT – 19GW of floating PV in German at risk of new government regulations, says BayWa r.e.
New proposed regulations around floating PV (FPV) by the German government could see 19GW struck off BayWa r.e.'s development plans, representatives told PV Tech.
At present, the company is targeting 20GW of FPV but this would be revised down to just 1GW if proposals by the German government, designed as part of its update energy strategy in response to the war in Ukraine, are brought in.
According to BayWa r.e., Germany is planning to restrict FPV on lakes and reservoirs to 15% of the total area of the waterbody. Furthermore, it is planning to introduce a law that would mean FPV projects cannot be built withing 50m of the shoreline, which again would constrain potential capacity.
BayWa r.e., which has its full wares on display at Intersolar this year – agrivoltaics, mounting systems, PV project development, PPA structures, inverters and more – at its huge stand, said it was actively lobbying German politicians against the proposals but was worried about the potential impact on its FPV development plans.
16:00 – INSIGHT – Soltec redesigning electronics in trackers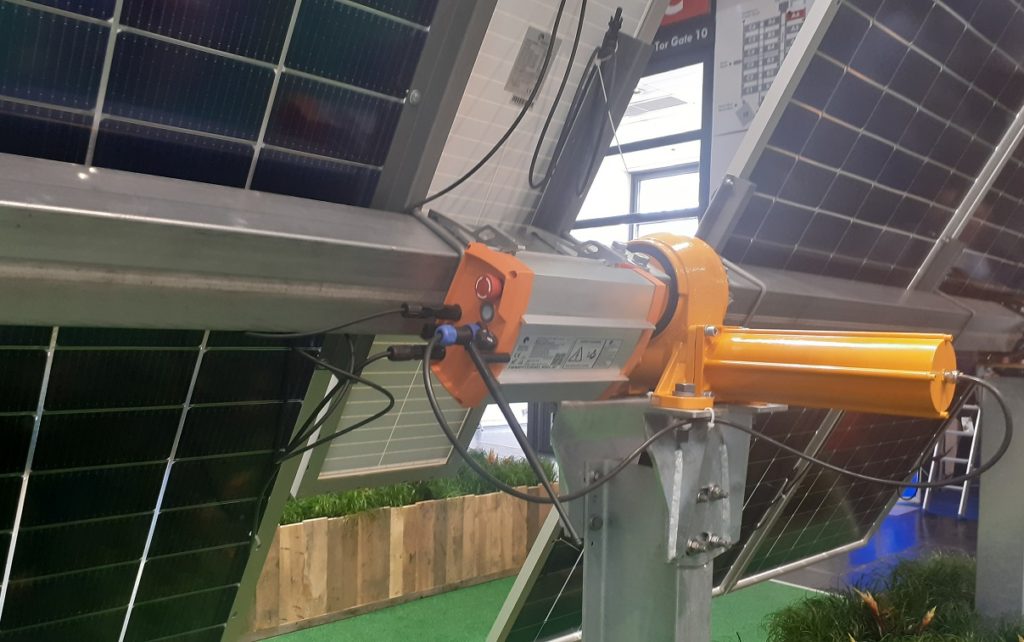 Solar tracker manufacturer Soltec has been working to change the design of its electronic components as it aims to overcome supply chain issues.
That is according to the company's chief strategy officer, Eduardo de San Nicolás, who said tracker deliveries to some projects have been slightly delayed, but not cancelled.
"We have been for almost two years now trying to redesign our electronics so that we can get a different variety of chips can be assembled and they do exactly the same," he added.
Soltec has been exhibiting its SFOne multirow tracker, designed for longer modules.
14:39 – PRODUCT LAUNCH – REC unveils new residential heterojunction module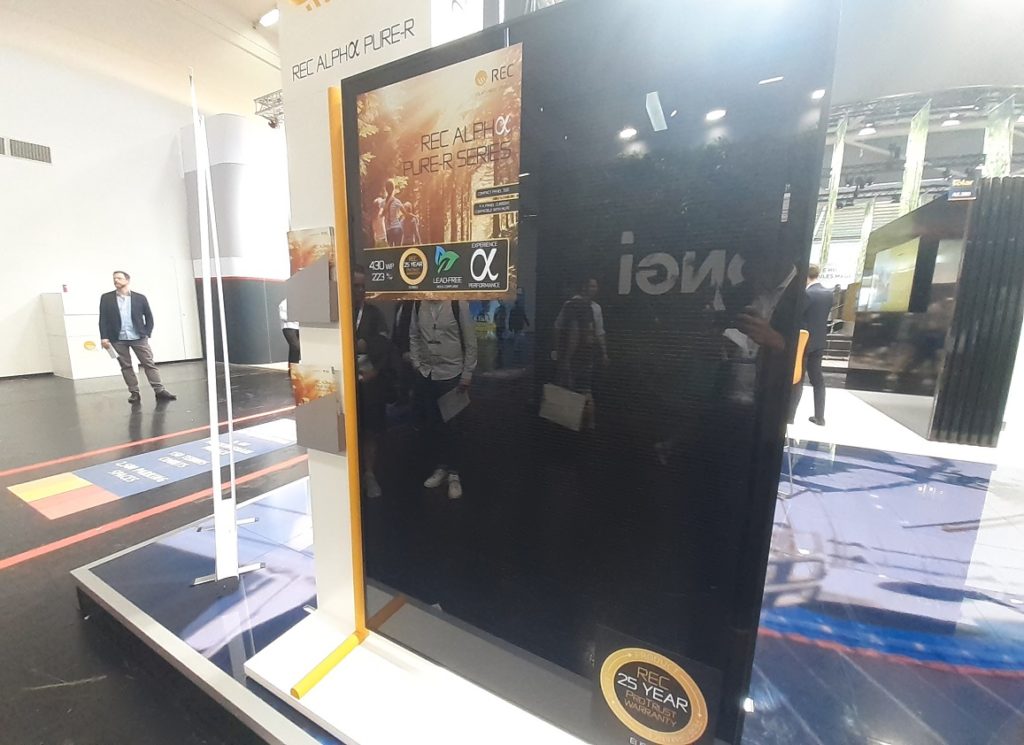 Integrated PV module manufacturer REC Group has launched its latest residential module, featuring 80 half-cut heterojunction cells with lead-free, gapless technology.
The Alpha Pure-R line will be available with three power outputs – 410Wp, 420Wp and 430Wp – each with a power warranty of 25 years.
Weighing 21.5kg, the module is sized at 1730 x 1118 x 30mm and is scheduled to start production in August at REC's facility in Singapore.
Cemil Seber, vice president of global marketing and product management at REC, said the company has worked to make the module as compact as possible while also boosting its sustainability credentials by not using lead.
According to Seber, REC's future research and development efforts will solely be focused on heterojunction technology. "We know that it's the technology which has the most potential in terms of really embracing the power density, the module efficiency going higher and higher," he said.
13:25 – VIDEO – Ecoppia robotic cleaning solutions on show
12:40 – INSIGHT – 'It's the future': Interest in AI continues to grow as companies seek greater asset optimisation
Interest in artificial intelligence is certainly growing in the solar industry, with a number of companies at Intersolar promoting the benefits the technology can bring in terms of site design, operations and maintenance (O&M) and output optimisation. PV Tech has spoken with a handful of AI-focused companies at this year's show, with all of them saying demand for and interest in their software was increasing. STEAG Solar Energy Solutions (SENS) was promoting its Sensaia AI software that it said provided far more accurate and detailed information on project alarms from faulty components. The system analyses data every five to 15 minutes and maps this against historical data using machine learning to identify when critical faults will occur in a project. "It's the future and demand is only rising," said one SENS representative.
On the design side, software company AI Imperium provides solar output forecasting and site design services that analyse historical data and climatic factors to optimise assets. Its software improves the performance of bi-facial modules by analysing the diffuse radiance and angle of the panels, the company said, adding that it could improve output in some cases by 55%. Other companies PV Tech spoke with, including the likes of Meteo and Solargis, said that demand for AI was increasing year-on-year and that early movers in that space would likely reap rewards later on down the line. More to follow on this soon.
12:34 – UPDATE – Sun shining on Europe's solar sector
As a packed day two of Intersolar progresses, delegates are spilling out onto the central lawn around lunchtime to network, eat and enjoy the fine weather (or perhaps to recover from last night). BayWa r.e. have sponsored the below deckchair arrangement, with it difficult to get a seat.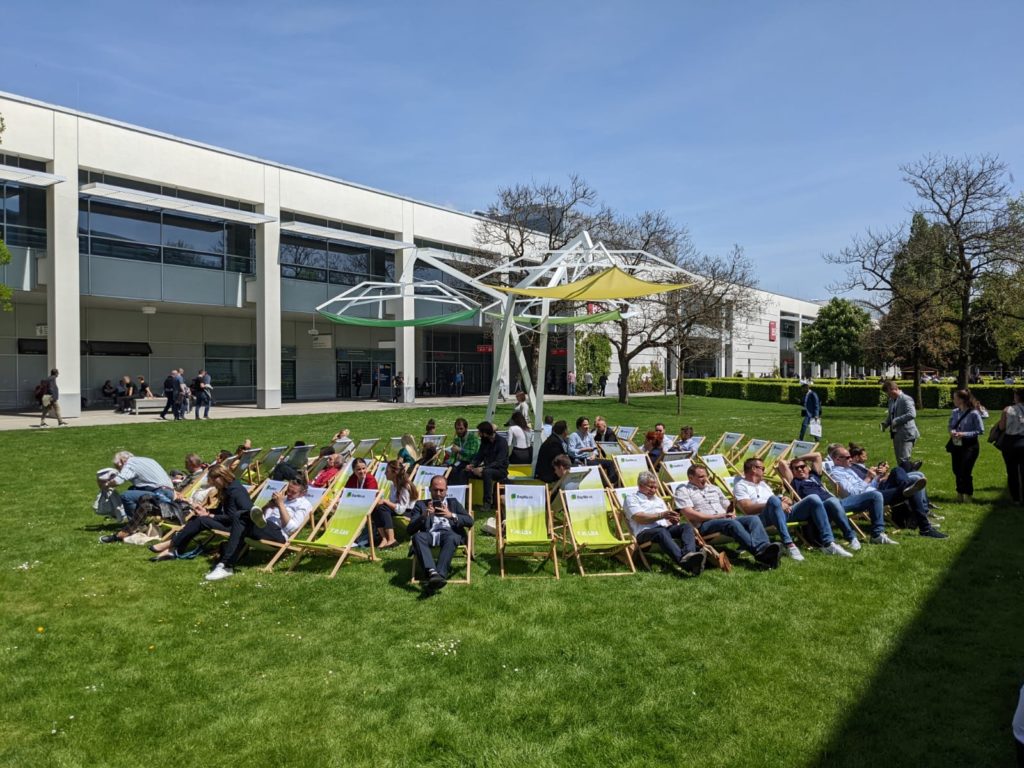 11:53 – PRODUCT NEWS – Von Ardenne introduces new equipment solutions
PV manufacturing equipment provider Von Ardenne is looking to ride the momentum building behind a European solar manufacturing renaissance, demonstrating this week its coating equipment offerings for PV manufacturers. The company noted that PVD1 coatings play an "essential role" in modern cell concepts and with gigawatts of n-type manufacturing set to come onstream, coating capabilities will also need to grow in tandem (pun unintended – editor) with the industry.
11:15 – INSIGHT – "Faster than expected" TOPCon expansion to give JinkoSolar major competitive edge
As you may have already guessed, there's not much on the show floor this year that either isn't n-type or mention it explicitly, with the trend towards n-type modules – TOPCon in particular – truly taking hold. Speaking to PV Tech earlier today Frank Niendorf, general manager for Europe at JinkoSolar, said the transition was happening much quicker than previously anticipated. Jinko has accelerated its own plans and, as previously reported by PV Tech, is to push gigawatts of TOPCon capacity production in the coming months. This, Niendorf said, would provide the manufacturer with a major competitive edge in the market as it will be capable of delivering the benefits of greater efficiency and reduced degradation at the gigawatt scale.
We'll have more on our conversation with Frank later this week.
10:43 – GALLERY – Trackers taking solar to new heights
A large number of tracker manufacturers are exhibiting this year, showcasing their wares that are taking solar to new heights – both figuratively and literally, in many cases.
09:36 – INSIGHT – SolarPower Europe says more action is needed if Europe is to achieve its 'high scenario'
Following on from the last point, SolarPower Europe (SPE) believes Europe is making strong progress on solar deployment but said more needs to be done in order for the region to hit its 'high scenario' of installing 100GW of solar PV per year by 2025, enabling a 1TW market by 2030. It currently expects Europe to fall short of this high scenario unless steps are taken.
Speaking to PV Tech at the their stand, authors of SPE's Global Market Outlook report, released just before this year's event, said that urgent permitting reform was needed to help Europe achieve that goal as well as significant investment to close the solar skills shortage, both at the regulatory and downstream level, and in manufacturing. They welcomed recent reports that the EU is considering speeding up the permitting process and called for greater action from individual member states via their National Energy and Climate Plans (NECPs).
PV Tech will be providing more extensive coverage of this discussion, as well as what SPE wants to see in the upcoming REPowerEU update, in the coming days.
09:30 – NEWS – Smarter E recognises its E AWARD 2022 winners
09:25 – INSIGHT – Could carbon footprint requirements drive PV sustainability further?
One topic that has come up in discussion frequently on the show floor this week has been that of sustainability. Our cover story in PV Tech Power vol. 31, which you can pick up at the trade press area this week, discussed this in great detail and manufacturers are acutely aware of the growing importance of a more sustainable solar ecosystem. The European Union's solar strategy, set to be released next week, is anticipated to address this issue head on and there is some expectation that the bloc could follow France's lead and set carbon footprint requirements for solar modules. Frank Niendorf, general manager for Europe at JinkoSolar, told PV Tech in discussion that the French model could indeed be replicated throughout Europe for the betterment of the sector.
09:10 – ANALYSIS – An industry back with buzz
There's always an element of excitement on the opening day of any exhibition, however most of the people PV Tech has spoken to both yesterday and already this morning have intimated the same thing; there's a different air to the solar sector this year. A renewed sense of optimism and heightened ambition are driving Europe's solar sector to new heights and, as one module manufacturer put it, new dimensions – the base level of discussions are hundreds of megawatts greater than previous and after two years of COVID-dented activity, there's a belief now that the industry is poised for an explosion of activity.
That will, predictably, only be stymied by supply. There's a sense that the only thing stopping Europe from becoming a 50 – 60GW per year market is the lack of readily available module supply, with all of the other stars aligning.
09:00 – Welcome back!
It's 9am in Munich and after a fantastic opening day yesterday, thousands of European solar stakeholders are returning to Messe München for the exhibition's second day. The PV Tech editorial team is once again present throughout the show's 12 halls and will be bringing you all the action on this live blog.