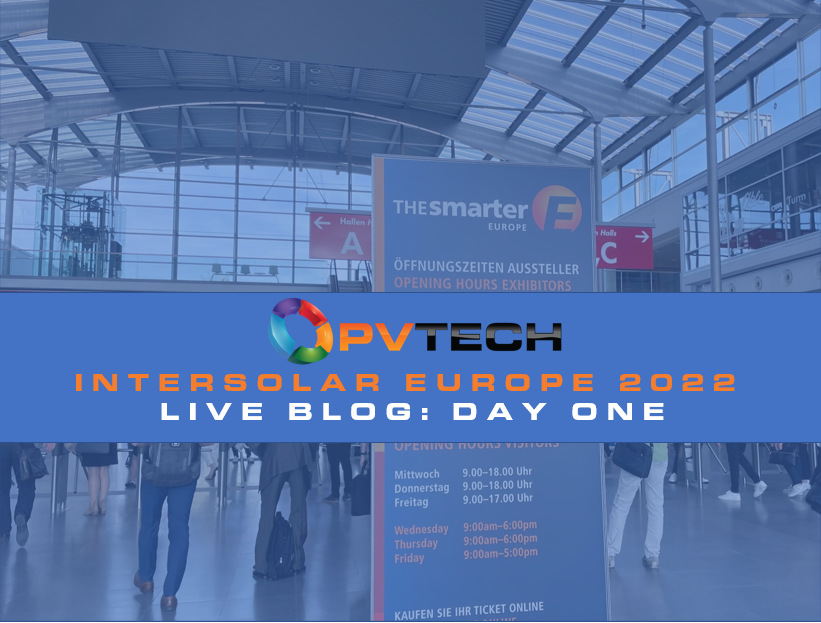 Welcome to PV Tech's rolling coverage of the opening day of Intersolar Europe 2022. This story will be updated throughout the day, so be sure to refresh for the latest news, product launches and insight from the exhibition.
---
18:00 – NEWS – Day one closes
And that is that – the opening day of Intersolar Europe 2022 has drawn to a close, with booth parties now in full swing as exhibitors and attendees alike celebrate what has been an undeniably successful first day. We've heard how Europe's solar manufacturing renaissance can – and indeed must – accelerate if the continent is to become truly energy independent, seen product launches galore and heard a great deal of first-hand experience and insight regarding what the situation on the ground concerning what module supply is actually like. More on those points to come.
For now, though, it's time to celebrate in what's left of the Munich sunshine and we'll see you all tomorrow for day two.
17:59 – PRODUCT NEWS – Trina Solar launches Vertex and Vertex S modules for residential and C&I sectors
Trina Solar has used Intersolar 2022 to launch three new and upgraded modules for the residential and commercial and industrial (C&I) sectors, building on its previously utility-only offering.
Launched at midday on day one of the trade show, the modules come in three different powers as Trina increasing eyes its European rooftop expansion, where currently half its orders on the continent come from.
The Vertex S monocrystalline module is the smallest of the three at 1762mm x 1134mm x 30mm, has a max power output of 425W, with a maximum efficiency of 21.3%, an max annual degradation of 0.55% and a 15 year warranty. It has 144 triple cut cells, weighs 21.8kg and is solely for the residential sector.
Next is the 435W Vertex S monocrystalline module for both residential and C&I customers. It has a maximum conversion efficiency of 21.8% and the same degradation rate at 0.55%. It is made up of 144 triple cut cells and is the same size as the solely residential panel.
Finally, Trina has also launched a 580W mono-PERC module exclusively for the C&I sector that has a conversion efficiency of 21.5% Given its intended use, it weighs considerably more at 29.6kg and contains 132 half cut cells. It's much bigger than the other two at 2384mm x 1134mm x 35mm and has a slightly lower warranty at 12 years, with annual degradation still set at 0.55%.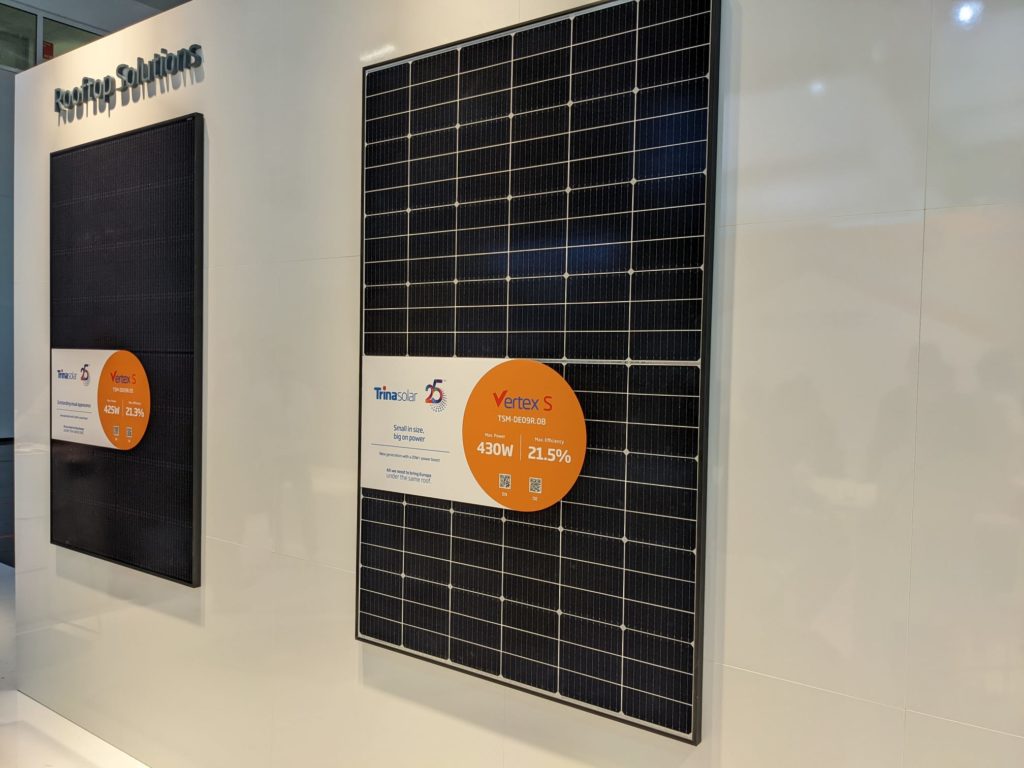 17:14 – INSIGHT – Sterling and Wilson sets sights on PV-powered green hydrogen
India-based EPC and O&M solutions provider Sterling and Wilson is forecasting strong growth arising from the deployment of solar-powered green hydrogen plants around the world.
That is according to the company's global CEO, Amit Jain, who said solar farms associated with the technology "will be in gigawatts, not megawatts".
"All the countries and major players – all the oil and gas [companies] and electric utilities – they're talking about green hydrogen," he said during an interview. "Hundreds of gigawats of capacity associated with green hydrogen will come up, which we see as a big positive for our business."
16:32 – PRODUCT NEWS – Trine Storage launches Elementa battery storage system with focus on cell performance and safety
Following on from the "unveiling" of its battery energy storage system (BESS) at Intersolar 2021, Trina Storage has now (re)launched its Elementa BESS, with a particular focus on safety features and cell performance. The "all new" Elementa system is a LFP BESS system in a DC cabinet with busbar connection resulting in easy scale up, the company said at its packed out stand at this year's trade show.
When it comes to safety, Elementa has a bi-directional liquid cool system, gas sensors as well as heat and smoke detectors. Presenters of the launch were keen to stress the BESS's improved cell performance compared to competitors, with Elementa providing up to 10,000 cycles, which Trina said was 25% more than the Tier 1 market average. This, coupled with a reduced instal time compared with competitors, could result in a 7.2% reduction in capex and opex costs and a 25% fall in the total cost of operating, Trina said. Out of its EMEA customers, 30% are EPCs and 70% are developers, independent power producers (IPPs) and investors, according to the company presentation. Read more here.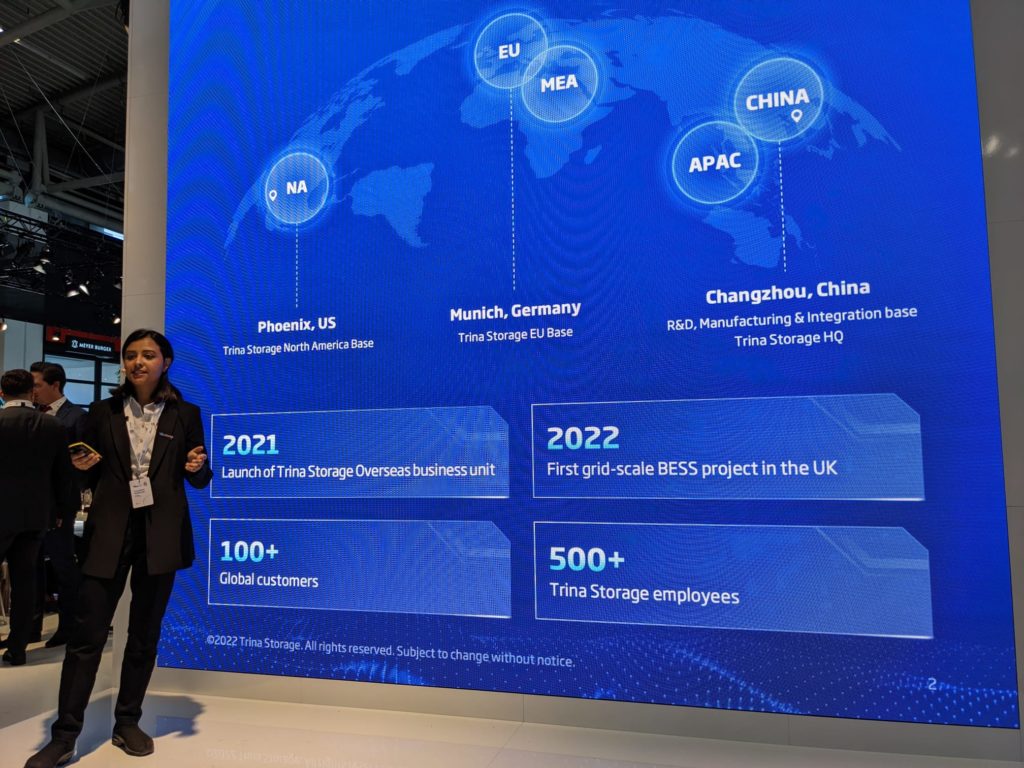 13:40 – ANALYSIS – AD/CVD case causing massive demand for Canadian manufacturer Heliene's modules
Canadian module manufacturer Heliene has seen unprecedented demand for its modules following the US Department of Commerce's (DOC) decision to investigate alleged anti-dumping and circumvention (AD/CVD) by solar manufacturers in Thailand, Vietnam, Malaysia and Cambodia. As a result of the phenomenal demand, it is eyeing greater capacity expansions as its modules do not source components from Chinese manufacturers in those countries and is therefore compliant with the US' tariff system. Heliene president Martin Pochtaruk spoke with PV Tech at Intersolar in an illuminating conversation about the company's plan moving forward, which can be read here.
13:25 – PRODUCT NEWS – Are modular inverters the future for utility-scale PV?
The debate around which inverter type is best suited to a particular project – string or central – has been discussed at length, however Sungrow believes it has solved that question once and for all with its 1+X modular inverter product which, the company told PV Tech at Intersolar Europe, combines the benefits of both string and central inverters in one product. The 1+X inverter is available in modular sizes, with each unit possessing 1.1MW of capacity and the capability to combine up to eight units. After a series of pilot installations in China, the product is currently going through final certifications and Sungrow expects it to be available from Q3 this year.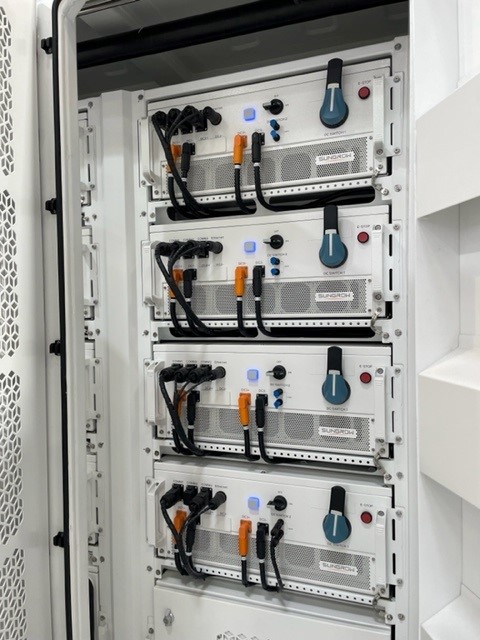 13:18 – ANALYSIS – Supply chain of concern, but not for all
Concerns around the solar supply chain were always going to be prominent in discussion at this year's exhibition, however the crowd does appear somewhat split on just how much of an issue logistical constraints are causing. Earlier today we heard from those at the forefront of re-establishing solar manufacturing in Europe who urged the industry to get real on strengthening certain key areas of the supply chain, however manufacturers PV Tech has spoken to so far today have looked to lighten the mood somewhat. Yes, manufacturers have had to lean on the relationships they've forged with material and component providers – and some are undoubtedly better placed than others – but there is a high degree of confidence that they can meet demand expectations.
Whether or not that turns out to be bluster, however, remains to be seen.
12:25 – INSIGHT – European solar manufacturing needs greater ambition
The need for a European solar manufacturing renaissance has continued to escalate in light of recent geopolitical events and while trade body SolarPower Europe intends for Europe's PV manufacturing capacity to reach at least 20GW by 2025, the scale of ambition needs to be much greater than that, a panel of industry experts has concluded.
Dr Peter Fath of Turkey-based PV manufacturer Kalyon stressed that a number of areas of improvement will be vital to establishing a properly fully integrated supply chain in Europe, including the availability of ingot pullers and diamond wire saws for upstream production, while the continent's foil, EVA and glass manufacturing capacity must also increase.
The future, Fath said, is in establishing fully integrated, gigawatt-scale production hubs where all of the industry's material and component demands – from metallurgical silicon to polysilicon, ingot to wafer and cell to module – is produced on site. Doing so would grant the industry the control over major cost bases and independence from supply chain and logistical volatility witnessed today.
12:10 – NEWS – Agrivoltaics growing in prominence
As recently as the 2019 edition of Intersolar Europe, agrivoltaics – or agriPV – was considered relatively fringe. Undoubted potential, but not exactly proven and with issues to be addressed. But the same cannot be said today, with many exhibitors promoting their adoption of agriPV, such as BayWa r.e., which has a handy demonstrator on its booth.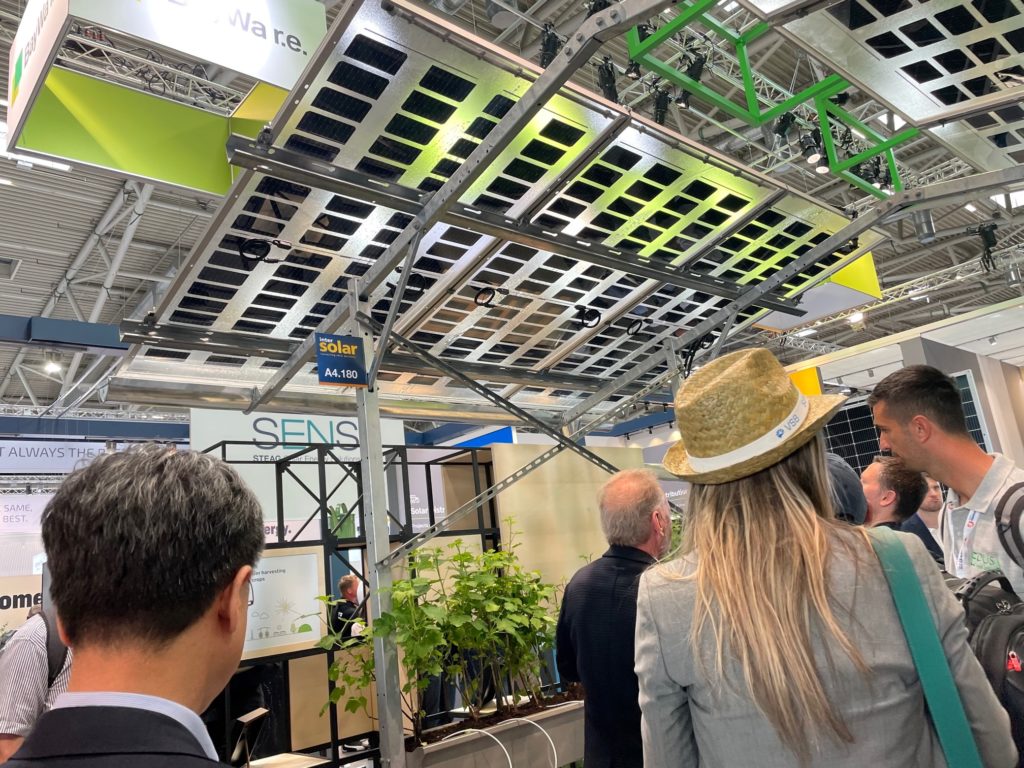 11:55 – INSIGHT – PV industry demands increasingly being heard by politicians, SMA Solar CEO says
Demands from the PV industry are increasingly being heard by politicians, according to the CEO of inverter supplier SMA Solar Technology, Jürgen Reinert.
Speaking with PV Tech this morning, Reinert said he is hoping states across Europe will reduce administrative burdens for installers and homeowners looking to add solar.
"We have very good access nowadays to politicians. We are very much different as a photovoltaic industry compared to three, four or five years ago," he said, adding that SMA management has been speaking with Germany's chancellor and the European Commissioner for Energy Kadri Simson.
"We have very easy access and we are being heard nowadays as a company as well as an industry," Reinert said.
Publishing its Q1 results today, SMA posted sales of €220.6 million (US$233 million), an 8.2% decrease on the same quarter last year, as a result of ongoing chip shortages. According to Reinert, the company could treble its revenues if it had sufficient electronic chip supply.
09:45 – GALLERY – N-type modules take centre stage
The 'Solar Module Super League' members are all here and are all demonstrating their technology platforms this week, with n-type technologies, and especially TOPCon modules, on display.
09:40 – NEWS – 50,000 expected to attend this week
And, judging by the crowds early on on day one, that figure looks likely…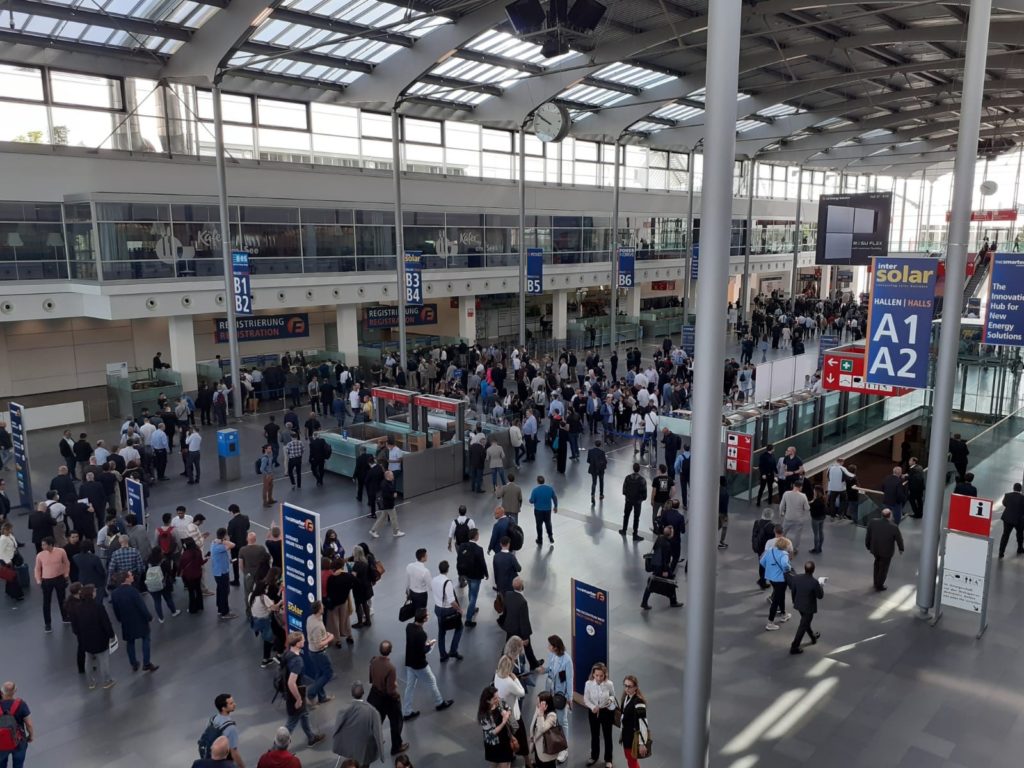 09:30 – PRODUCT LAUNCH – Huawei showcases new smart solar, energy storage offering
Huawei's a mainstay of Intersolar Europe and this year the technology giant has launched the latest version of its intelligent home solar PV and energy storage offering, dubbed FusionSolar. Fusion Solar 6.0. professes to deliver optimal levelised cost of electricity through enhanced features including an optimised tracking algorithm, improved I-V curve diagnosis to evaluate power losses and Huawei's own grid forming technology, which allows the PV system to adapt to various grid scenarios.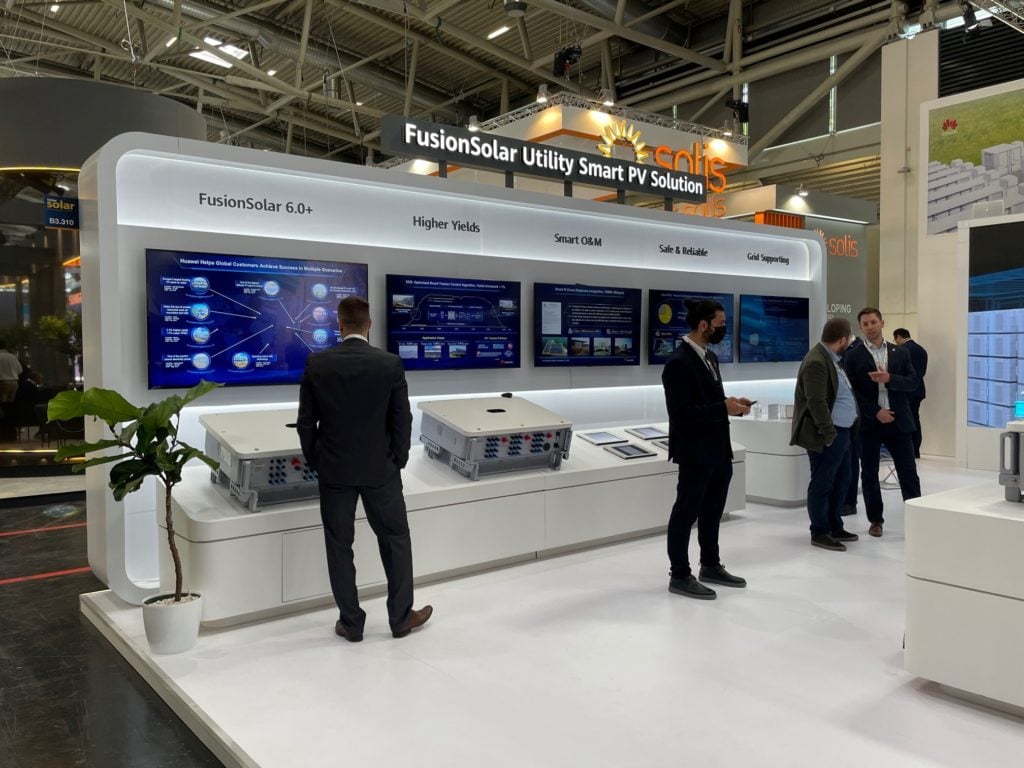 09:10 – ANALYSIS – What are this year's key themes in advance of Intersolar Europe 2022?
Always one of the first items in European solar's calendar, Intersolar Europe 2022 takes place with solar having entered the terawatt era. SolarPower Europe's global market outlook, published on the eve of the show, placed 2021 deployment at 168GW, with deployment expected to accelerate as demand for the world's cheapest renewable power source soars.
However the show is also set against a backdrop of issues, chiefly geopolitical and logistical ones. The supply chain is still under significant strain while Russia's invasion of Ukraine has upended the continent's energy markets, promising to redraw Europe's energy apparatus for good.
The PV sector is also on the cusp of technology evolution, the industry rapidly turning to n-type technologies in pursuit of greater efficiency, while demands on inverters have never been greater.
We expect to hear much discussion on these key trends at Intersolar Europe 2022 this week and much more as an expected 50,000 stakeholders descend on Messe München once again.
09:00 – Welcome to Messe München!
Hello and welcome to PV Tech's rolling coverage of Intersolar Europe 2022, live from Munich. PV Tech's editorial team will be reporting from the trade show throughout this week, bringing you all the latest news, product launches and insight from the show floor. This story will be updated live throughout the exhibition's opening day – 11 May 2022 – so be sure to refresh your page. PV Tech's publisher Solar Media is also exhibiting at Intersolar Europe 2022, so pop by stand A4.555 to say hello!