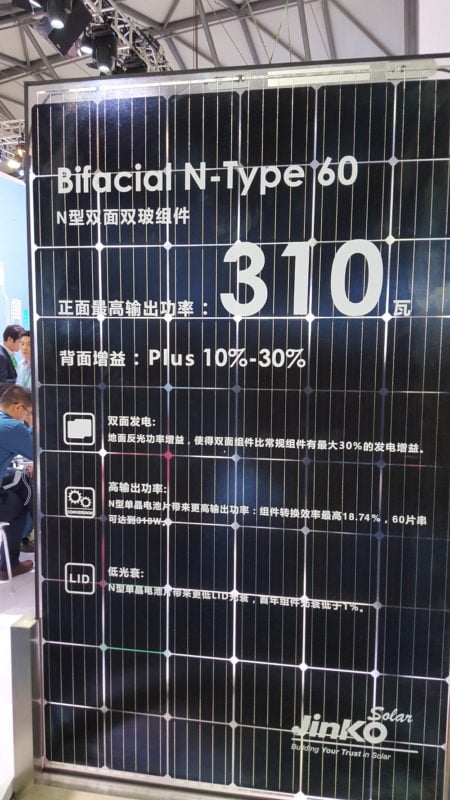 Leading Silicon Module Super League (SMSL) member JinkoSolar said it had been collaborating with TUV Rheinland to develop standardized testing methods for bifacial PV module technology.
JinkoSolar noted that it had already been working in this area, having convened the IEC/TC82 solar cell working group and efforts by Dr. Jin Hao, Vice President of JinkoSolar and had been inviting domestic and foreign experts to discuss draft testing procedures for IEC60904-1-2 bifacial standards and openly discuss the difficulties of testing bifacial technology.
The company also noted that it had joined a working group organized by Dr. Christos from TUV Rheinland to develop standardized testing methods with a draft of the testing method having recently been released for review.
Dr. Jin Hao said, "As an industry leader, JinkoSolar has deployed considerable resources towards further developing its bifacial technology and standardizing testing methods. We will continue to work with authoritative independent technical service providers such as TUV Rheinland to further study and standardize testing methods for bifacial modules used in outdoor power generation systems."
Recently, Yingli Green Energy highlighted their efforts in developing testing standards for bifacial technology and has been responsible for supplying its bifacial modules to a 50MW ground mount project in China, the largest to date to use bifacial modules.
Dedicated N-type monocrystalline module manufacturer Jolywood (Taizhou) Solar Technology Co. Ltd (Jolywood) has also recently noted that it had been collaborating with TUV NORD and the National Center of Supervision and Inspection on Solar Photovoltaic Product Quality (CPVT) in China to establish a preliminary testing standard for bifacial solar modules.
The 4th bifiPV workshop is being held in Konstanz, Germany on October 25 to 26, 2017.