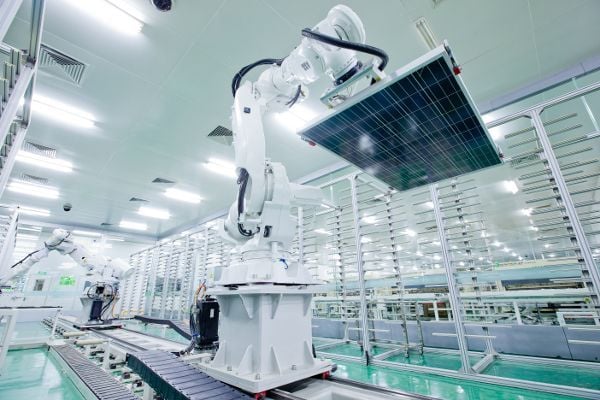 'Silicon Module Super League' (SMSL) leader JinkoSolar has reported record PV module shipments in the third quarter of 2018, while slightly lowering the high-end of full-year shipment guidance.
The SMSL reported that third quarter of 2018 PV module shipments reached 2,953MW, a new company and industry record. Although shipment guidance for the full-year was lowered at the high-end to be in the range of 11.5GW to 11.8GW, compared to year to date guidance of 11.5GW to 12GW, shipments for the fourth quarter are expected to be in the range of 3.7GW to 4.0GW, a new company and industry record.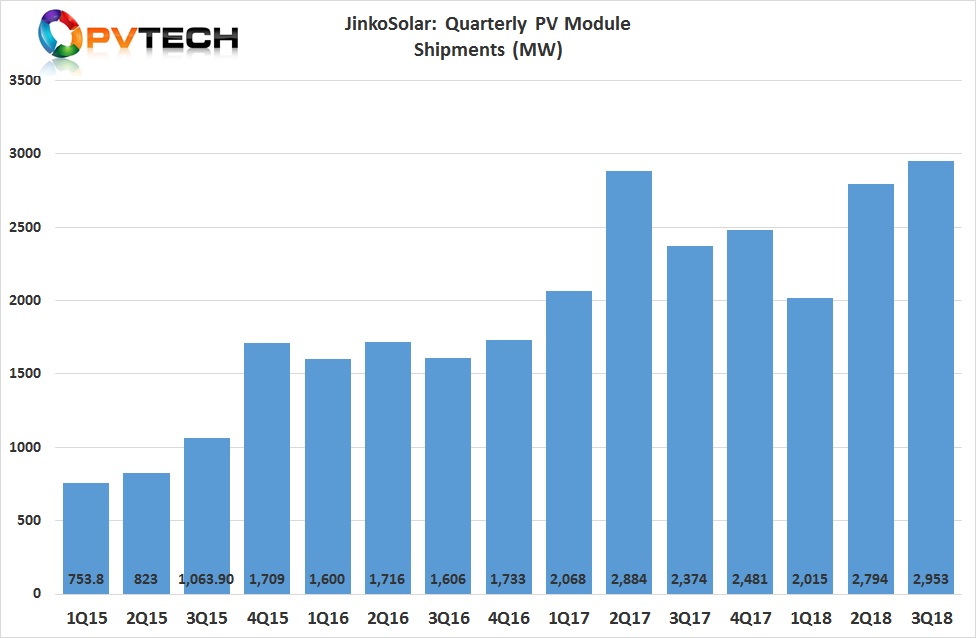 Kangping Chen, JinkoSolar's Chief Executive Officer commented, "We had a solid quarter with module shipments hitting record high of 2,953 MW, an increase of 5.7% sequentially and 24.4% year-over-year. Overseas module shipments accounted for almost 80% of total shipments during the quarter which offset the impact of softened demand domestically. We are confident in our ability to further expand our market share with global demand expected to recover next year as solar energy becomes more competitive and grid parity approaches in more key markets."
JinkoSolar reported third quarter 2018 revenue of US$974.8 million, an increase of 10.5% from the second quarter of 2018 and an increase of 4.3% from the third quarter of 2017.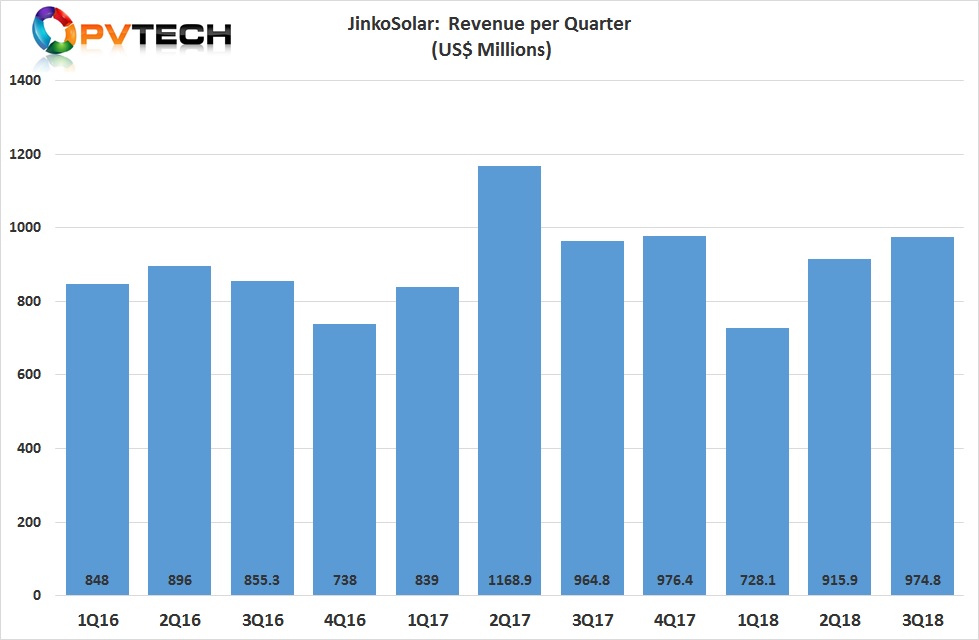 Despite PV module ASP pressures, gross margin improved to 14.9%, compared with 12.0% in the second quarter of 2018, and 12.0% in the third quarter of 2017.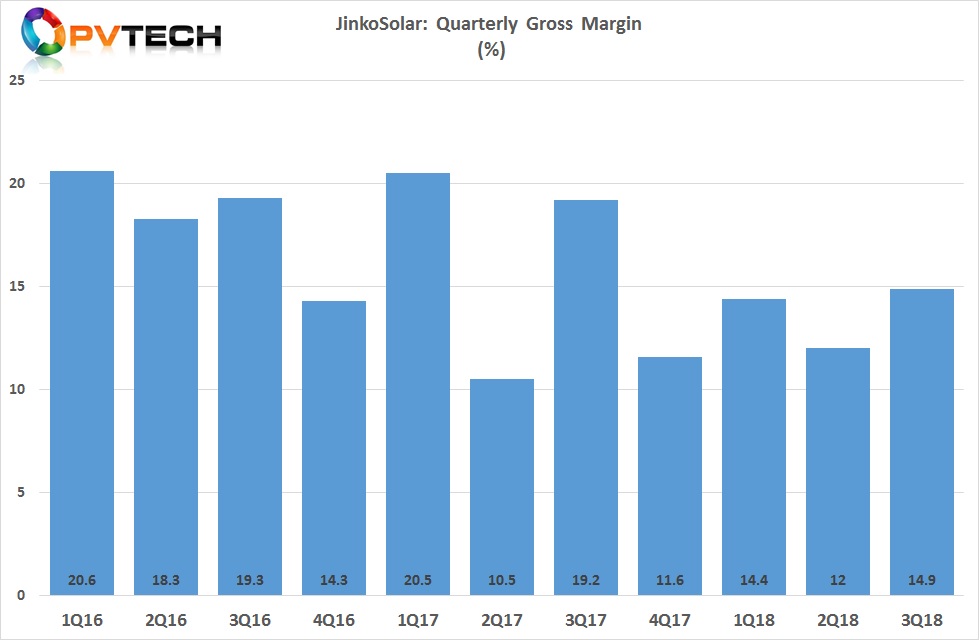 The company benefited from the US Countervailing Duty (CVD) reversal of US$20.5 million, based on the final results of the fourth administrative review of the CVD order published by the U.S. Department of Commerce.
Income from operations was US$27.4 million, compared to US$14.3 million in the previous quarter.
As of September 30, 2018, JinkoSolar had US$441.6 million in cash and cash equivalents and restricted cash, compared with US$386.5 million as of June 30, 2018.
Forecast
JinkoSolar remained conservatively bullish on global PV industry market demand in 2019. Management noted in its warnings call that it expected a recovery in demand in China and would be focusing on the 'Top Runner' and 'Poverty Alleviation' projects business.
However, demand in Japan was expected to remain strong at 6GW to 7GW in 2019 as the industry shifts away from the existing FiT system to more auctions. The company also noted that Vietnam was expected to install over 2GW in 2019 and growth was also expected in Malaysia and Thailand.

With the end of the EU MIP mechanism, JinkoSolar expects several European countries to be close to grid parity (UK, Italy, Spain and Greece), which is expected to spur new demand in 2019.
Although, India is proving to be a challenging market, due to the import duties, JinkoSolar still expects up to 14GW to be installed in the country in 2019.