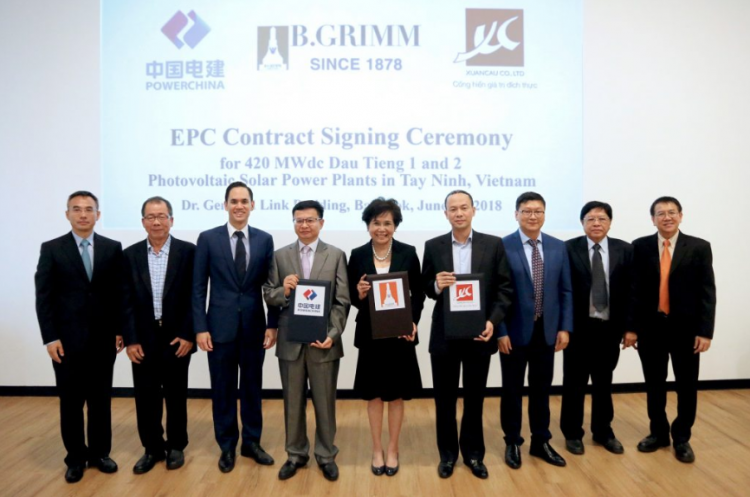 JinkoSolar has signed off on a 240MW solar module supply agreement with POWERCHINA Huadong Engineering for the second phase of the 420MW Dau Tieng solar plant in Vietnam.
Once completed, the installation will be the largest PV project completed in Southeast Asia.
The Dau Tieng project is being developed by Vietnam's Xuan Cau and Thailand's B.Grimm Power Public, while POWERCHINA will handle EPC duties.
Gener Miao, Vice President of global sales and marketing of JinkoSolar, said: "We stood out from our competition during the selection process by POWERCHINA HUADONG as a result of our excellent products, high-quality services and strong brand recognition. With the reduction of solar costs, the competitiveness of solar energy is increasing, we look forward to working closely again with POWERCHINA to participate in more outstanding solar energy projects globally."
Leiming Shi, vice president of POWERCHINA HUADONG, added: "A number of projects developed by POWERCHINA HUADONG are located in countries that often experience power shortages along the 'Belt and Road' route. These projects have strengthened the partnerships between each country and have helped Chinese companies to go global, allowing them to gain valuable experience in the planning, design, construction and operation of solar plants. Developing a partnership with a global leader like JinkoSolar to push this project forward allows us to use their high quality modules and leverage their mature global sales network. We look forward to deepening our relationship by working on more international power projects in the future and jointly expanding the influence of Chinese companies in the international clean energy market."
Beijing-based PowerChina International Group was awarded the contract to develop the 420MW project. It will cost around US$420 million to construct.