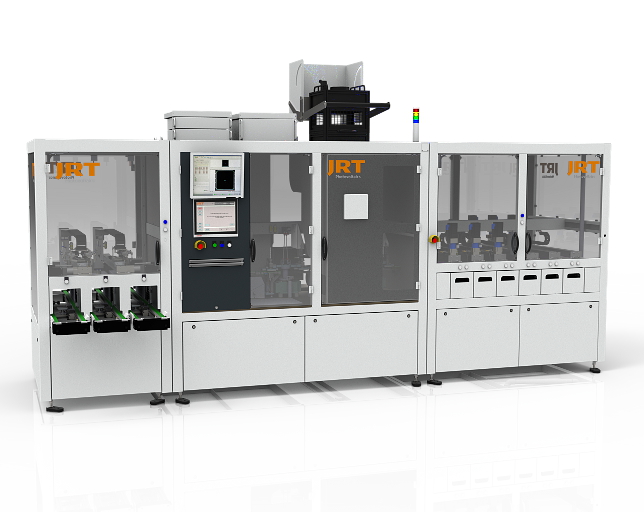 JRT Photovoltaics, a subsidiary of the Jonas & Redmann Group has optimized the testing and sorting of solar cells, claiming to significantly reducing the total cost of ownership (COO) with its 'CTS 3600' single-track cell tester & sorter
Problem
PV manufacturers require high cell processing throughput with reliable, quality of results and lower cost per tested cell to increase both the efficiency of production systems and planning certainty. A short return on investment time is also required.
Solution
During the fully automated quality assessment and sorting of solar cells with the CTS 3600, the fully processed solar cells are tested and then sorted on a single track. With 3,600 solar cells per hour throughput with a guaranteed yield of over 99.5% and a guaranteed availability in practice of 98%, makes the CTS 3600 most efficient and reliable single-track cell tester and sorter, according to the company.
Applications
Testing and sorting all types of high-efficiency solar cells.
Platform
The innovative and gentle material handling concept and high precision measuring systems used are responsible for the consistently high performance. The central transport system of the test unit is based on circulating vacuum conveyor belts and gentle cell handling. Once the cells have been positioned flat and fixed securely, they pass through the specified measuring stations. Critical transfer or handling processes are kept to a minimum. Optimized handovers and program sequences, as well as short transport routes, complement the high-quality components. The single-track concept eliminates costs for duplicate measurement systems. Quality measurements are performed by non-contact systems and with gentle contact using minimal force ensuring optimum measurement results. The result is a claimed above-average yield and the lowest breakage rates. The CTS 3600 can quickly be converted to different cell layouts and handles very thin busbars, which are precisely contacted without lost time.
Availability
May 2016 onwards.