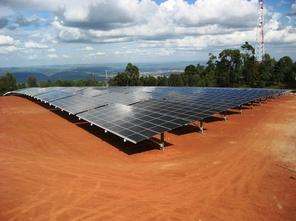 juwi Renewable Energy, the Australian subsidiary of juwi, has signed off on a deal with Energy Developments Pty (EDL) to deliver a hybrid solar project at the Gold Field Agnew Gold Mine project in the Eastern Goldfields region of Western Australia.
The installation will comprise a 4MW single-axis tracking PV system, together with cloud forecasting, and an advanced microgrid control system. Along with a thermal power station, provided by EDL, the project will supply reliable electricity to the critical and non-critical loads of the mine site.
This project builds off of the success of a solar-battery hybrid project delivered by juwi at the DeGrussa mine in Western Australia. For more than two years, that project has provided a reliable power supply to the DeGrussa mine.
Stephan Hansen, juwi's member of the board responsible for the international business, said: "juwi is pleased to be working with EDL as one of the largest off grid Independent Power Providers in Australia to deliver and integrate another landmark renewable energy system on a mine site in Western Australia. We look forward to be working with EDL and Gold Fields to provide a seamlessly integrated, efficient and reliable energy solution to the Gold Fields Agnew project."
James Harman, EDL's CEO, added: "As a leading global producer of sustainable distributed energy, EDL is pleased to be supporting Gold Fields' Agnew Gold Mine through the development of a fully integrated hybrid energy solution that will improve reliability, reduce operating costs and reduce environmental impact. We are looking forward to working with juwi and other partners to deliver for Gold Fields."