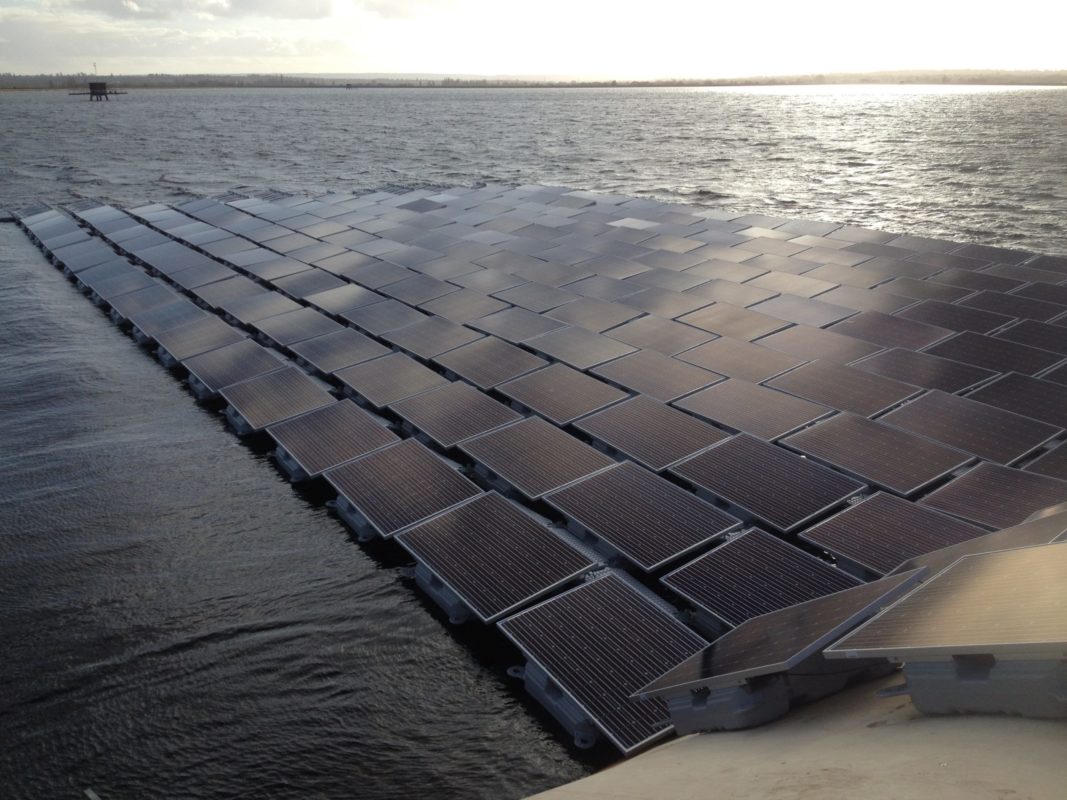 Construction of Europe's largest floating solar PV array is underway on London's Queen Elizabeth II reservoir, where the installation will help Thames Water meet its target of self-generating a third of its own power by 2020.
The 6.3MWp system will cover around a tenth of the reservoir, with the energy produced to be used to help power a nearby water treatment facility. Just over 23,000 solar panels will be installed to make use of the reservoir near Walton-on-Thames, which is surrounded by residential properties.
The project is the result of an agreement between Thames Water, Ennoviga Solar and Lightsource, which will oversee deployment of more than 61,000 floats and 177 anchors to provide the floating platform for the solar array. The project marks the first time Lightsource, the UK's largest PV developer, has worked on a floating solar installation as the company looks to build on its experience in the rooftop and ground-mounted sectors.
Nick Boyle, chief executive of Lightsource, said: "We're delighted to have begun work on another ambitious milestone project for Lightsource with our first floating solar installation. Over the last five years we've successfully completed ground and roof installations of all shapes and sizes, but this project has some obvious differences and has presented our team with a set of fresh challenges to overcome."
The project is scheduled for completion before the end of March 2016 and will qualify for a 1.5 ROC rate under the UK renewable obligation scheme. As it is not classed as a ground-mounted system – which would only receive a 1.3 ROC – the floating system is able to attract the higher rate of support usually assigned to building-mounted systems.
The installation is intended to help Thames Water meet its pledge to support the agreements made at COP21 to limit global temperature rises to below 2°C. It will also help to reduce the company's reliance on the grid as it seeks to improve its self-generation levels to 2020. It generated a total of 12.5% of its electricity requirements from renewable sources in 2014/2015, which is a 4% increase on the year before
Angus Berry, energy manager for Thames Water, said: "Becoming a more sustainable business is integral to our long-term strategy and this innovative new project brings us one step closer to achieving our goal – this is the right thing for our customers, the right thing for our stakeholders and most importantly the right thing for the environment."
Boyle added: "There is a great need from energy intensive industries to reduce their carbon footprint, as well as the amount they are spending on electricity and solar can be the perfect solution."
Floating systems have yet to take off in the UK, with just a few installations around the country including the floating system on Godley reservoir in Greater Manchester. The technology is growing around the world, particularly in Japan where construction recently began on a 13.7MW system.
Eva Pauly, international business development director at Ciel et Terre International, the French manufacturer of the floating mounting system, added: "This is our largest project outside of Japan and the first one with European bank financing, proving that our technology is not only suitable for water utilities, but has also been recognised as bankable in Europe as well as Asia."
The costs associated with floating systems remain higher than other land-based solar installations but these are expected to come down as more manufacturing facilities for the injection-moulded floatation devices become available.
The installations offer a number of benefits compared to regular installations, most notably the cooling effect of the water leading to higher electricity production. Floating systems also reduce evaporation throughout the year and limit algae growth while making use of unused, or 'dead', spaces.