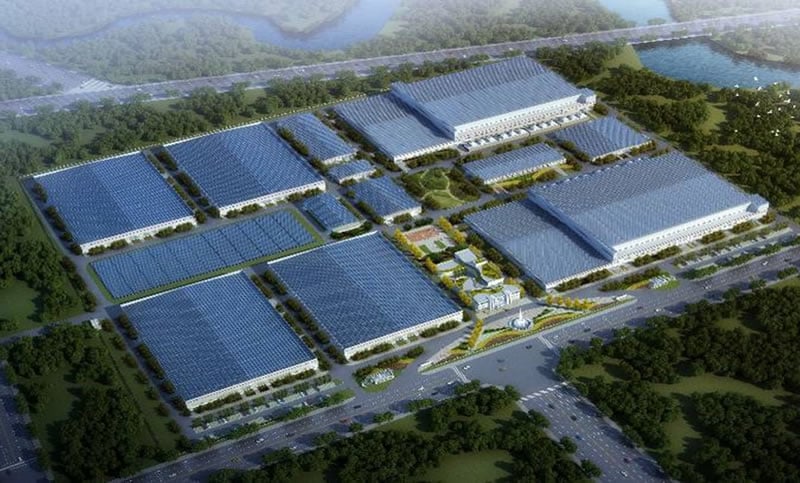 In 2020, LONGi Green Energy Technology further strengthened its position as the largest monocrystalline wafer producer in the PV industry. Its PV module manufacturing subsidiary, LONGi Solar also managed to leapfrog its closest 'Solar Module Super League' (SMSL) rivals, which included JinkoSolar, Trina Solar, JA Solar and Canadian Solar in achieving total PV module shipments of 24.53GW, setting a new industry shipment record along the way, while becoming the undisputed SMSL leader for the first time.
Although it has been well documented in the past that PV module market leadership changes hands, the pace of that change has often taken several years and is well flagged in advance that a leadership change could be in the making.
As a point of reference, the last leadership change, when JinkoSolar overtook Trina Solar on annual PV module shipments, happened in 2016.
So it may take some time for many mindsets to adapt that a manufacturer behind four other rivals (on a PV module shipments basis) in 2019, could not only leapfrog them all within a 12 month period, but open up a significant shipments gap of 5GW over the former leader, JinkoSolar.
However, LONGi is simply not waiting for the industry to get to grips with having a new market leader, as the company is planning to move the scale of its manufacturing and shipments to new industry levels in 2021.
Capacity expansions in 2020
The chart below shows LONGi's expansion plans as of the middle of last year across wafer, cell and modules, projected for 2020 and 2021, based on data from LONGi's financial filings and capacity expansion announcements.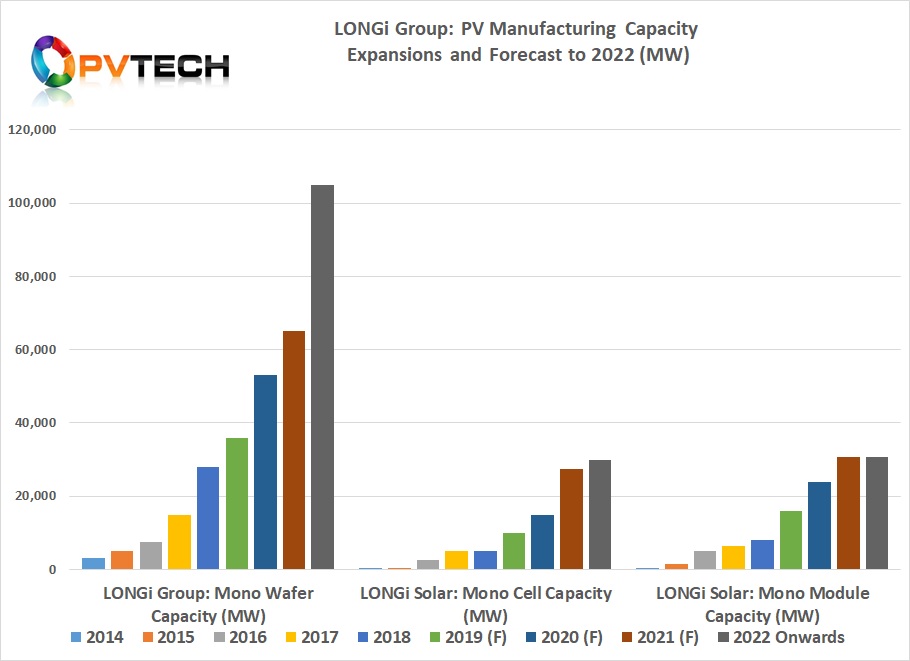 The dark blue bars represent the forecasted manufacturing capacity levels expected by the end of 2020 and brown bars represented capacity levels expected based on LONGi's public announcements of further plans for expansions that would come on stream in 2021.
However, there were many capacity expansion announcements made by LONGi in the second half of 2020 that completely changed the landscape, primarily for 2021 and beyond.
The chart above mapped LONGi's wafer manufacturing capacity to have reached 53GW by the end of 2020, while solar cell capacity was pegged at 15GW and module assembly would reach 24GW.
LONGi provided a few lines of text in their 301-page 2020 annual financial report that stated what the nameplate capacities had actually been reached by the year's end.
The company now states that nameplate wafer capacity had reached 85GW, solar cell capacity had increased to 30GW and module assembly capacity stood at 50GW.
Not surprisingly, these figures are significantly higher than projections in the chart above. In general terms, according to LONGi's narrative in its annual report, decisions were made to accelerate capacity expansion plans as much as possible in 2020 and push further with plans set for 2021 and beyond as market demand was going to outstrip previous expansion plans.
Capacity expansions in 2021
In the second chart below, we have updated the previous chart with LONGi's actual 2020 capacity figures as well as updating figures for 2021 that LONGi also provided guidance on within its latest annual report.
The dark grey bars represent LONGi's actual nameplate capacities at the end of 2020, as per the comments made in its latest annual report.
The brown bars on the furthest right-hand side of the three charts represent LONGi's manufacturing production capacity targets for 2021, as per its latest annual report.
By the end of 2021, LONGi plans monocrystalline silicon wafer capacity to reach 105GW, while solar cell capacity is targeted to reach 38GW. Module assembly capacity is set for an unprecedented 65GW, should anyone think reaching 50GW in 2020 was not already unprecedented!
Business goals for 2021
Backing up these capacity expansions in 2020 and new capacity expansion plans for 2021, LONGi guided 2021 total wafer shipments to be around 80GW (including self-use), while PV module shipments were expected to be around 40GW (including self-use).
The company also guided revenue (operating income) in 2021 to around RMB85 billion (US$13 billion), compared with revenue of approximately US$8.4 billion in 2020.
As we have noted, LONGi is not giving the PV industry much time to get to grips with what it achieved on so many fronts in 2020, let alone adapting to its its plans in 2021 and beyond.