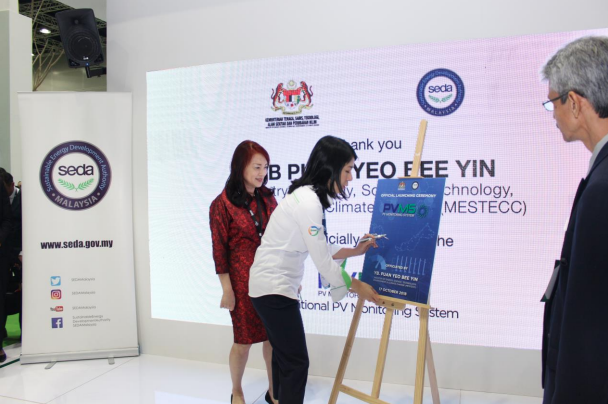 Malaysia's intent to progress its renewable energy sector was made clear in a number of announcements this week, including plans to install solar along a major highway, introducing both the first solar insurance scheme and monitoring system, as well as inking support agreements with powerful foreign organisations.
Firstly, TNB Energy Services (TNBES), a subsidiary of Malaysia power giant TNB, has signed a memorandum of understanding (MoU) with Malaysian Industry-Government Group for High Technology (MIGHT) and Senai-Desaru Expressway Berhad (SDEB) to add solar panels along a highway in Johor, a state in southern Malay Peninsula.
The green highway scheme for the Senai-Desaru Expressway (E22), would be implemented across the 77 kilometre-long road, the fifth longest inter-urban toll highway in Malaysia. The MoU would focus on energy efficiency and renewable energy.
Under the agreement, the parties would retrofit LEDs, install energy efficiency air-conditioning units and solar panel facilities, and integrate TNBES' building monitoring system known as Making Electricity Visible (MAEVI). They would also install, operate and maintain a network of electric vehicles (EV) charging stations at selected locations.
Insurance
Meanwhile, the country's statutory body driving clean energy Sustainable Energy Development Authority (SEDA) Malaysia has launched the country's first-of-its-kind Solar PV insurance, a product by insurance firm Allianz Malaysia Bhd via Anora Agency Sdn Bhd in collaboration with the Malaysian Photovoltaic Industry Association (MPIA).
The Solar PV Insurance aims to address investor risks following installation, an area that has typically been neglected to date, according to SEDA. This insurance covers a lack of support services, the high-cost of maintenance, and the lack of compensation for damages faced by residential Solar PV owners.
A SEDA release stated: "Under this protection, the policy holders will not have to bear any costs for repairs or the replacement of parts (including components), they will also be compensated for loss of income or savings should their solar PV system experience downtime due to damage or theft up to six months. This product aims to serve solar PV owners such as the recipients of the feed-in tariff (FiT) scheme implemented by SEDA."
According to Dr Wei-nee Chen, acting CEO of SEDA Malaysia, as at end of September 2018, the Authority had approved 12,284 solar PV applications under the FiT of which 9,864 solar PV projects are commercially operational.
The launch of this insurance product has been timed to coincide with an expected emergence of the domestic PV sector. The country is currently in the midst of periodic Large Scale Solar (LSS) auctions.
Monitoring
SEDA has also launched the first national solar PV monitoring system (PVMS), a single platform that allows real-time data to be disseminated to the industry. The PVMS is funded by the Malaysian Electricity Supply Industries Trust Account (MESITA) under MESTECC. The PVMS help to monitor modules and inverters in selected grid-connected solar PV systems for performance and reliability and it will be available via a subscription across Malaysia.
For starters, 120 grid-connected solar PV systems (up to 1MW in capacity) throughout Malaysia are being monitored on a real-time basis. As more projects are added, this database will become the reference for designing national energy policies and programmes in the future.
ADB Support
Finally, SEDA has signed three MoUs for renewable energy and energy efficiency with Asian Development Bank (ADB), the Japanese Business Alliance for Smart Energy Worldwide (JASE-W) and APX Inc.
ADB will provide three energy experts for a comprehensive peer-review of the Renewable Energy Transition Roadmap (RETR) 2035, for which SEDA is responsible.
The MoU with JASE-W will enable both parties to exchange information on energy efficiency programme opportunities in Malaysia. Japan is one of the leading countries for developing Zero Energy Buildings (ZEBs). Both parties plan to drive dissemination and promotion of the ZEB concept in Malaysia.
Meanwhile, APX Inc will assist SEDA in scaling up the domestic renewables market by supporting a renewable energy certificate (RECs) market.