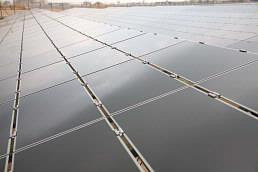 Abu Dhabi-based renewables firm Masdar has selected the International Finance Corporation (IFC) to oversee funding of Jordan's largest solar plant, standing at 200MW.
This follows the signing of a power purchase agreement (PPA) in October with the state utility National Electric Power Company (NEPCO).
The facility is being developed by Masdar subsidiary, Baynouna Solar Energy Company (BSEC), and construction is expected to start later this year. The plant will be built 10km outside the Jordan capital of Amman. It will supply electricity to the equivalent of around 110,000 homes each year.
Niall Hannigan, CEO and CFO of Masdar, said: "We are delighted to be working with IFC in the realisation of Jordan's largest solar plant, further consolidating Masdar's significant presence in the country. Our partnership with IFC will ensure that this landmark project will be developed according to the highest standards of financial best practice, while illustrating the strength of investor confidence in renewable energy."
Eric Becker, IFC manager of infrastructure for the Middle East and North Africa, said: "The Middle East and North Africa continues to face serious power shortages, and there is now even greater pressure on infrastructure services. We have been working with Masdar, a key partner, since 2013 and welcome this opportunity to further support the development of renewable energy generation capacity across the region."
Since 2006, Masdar has invested US$2.7 billion in renewable energy projects.
Jordan was a standout emerging market of 2016.