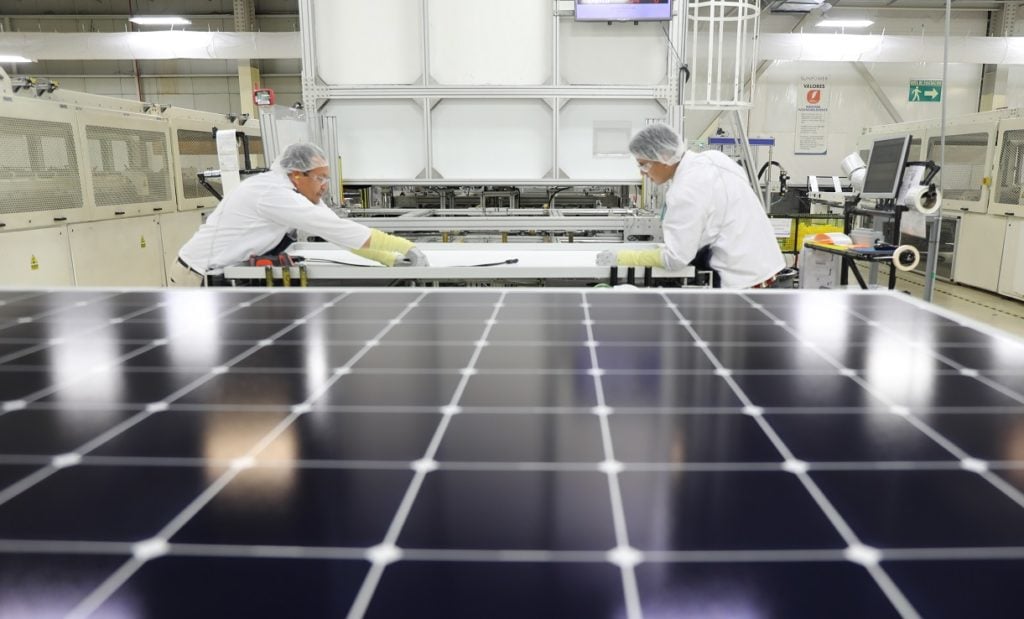 Maxeon Solar Technologies is actively scouting out locations for its new US solar factory following the passage of the Inflation Reduction Act (IRA) and is looking to expand its strategy for holistic, smart home solutions. It is also on the lookout for a CEO who can drive forward its expansion after parting ways with Jeff Waters early last month.
PV Tech Premium discussed the above and more with Maxeon's interim CEO and chief revenue officer Mark Babcock at the RE+ solar tradeshow in Anaheim, California last month. Babcock said the decision to part ways with Waters was "mutual" and that the board was "looking for a different direction". Maxeon has engaged an international head-hunter to help it in its search.
"They wanted somebody who had a bigger experience in large manufacturing organisations," explained Babcock, "in the current situation, the road to success passes through capacity expansion and so you've got to be really good at ramping up factories."
Maxeon announced last year that it would increase capacity at its Malaysian and Mexican factories in order to better serve the US market and would consider capacity buildouts in the country if the right policy support was in place.
"Since the IRA has passed, that focus has changed again," noted Babcock, "and we've reoriented that to US manufacturing. We're still in the 3GW range and very actively evaluating exactly what we're going to do."
Babcock said the company was still deciding whether to establish both module and cell production in the US or focus just on modules, and that more clarity was needed on the domestic content requirements contained within the IRA. "There are so many unknowns right now," he said.
"We just raised US$207 million in convertibles and that has given us some more stability," said Babcock, adding that the US capacity expansions would not be in place for a few years so, in the short term, Maxeon was focused on its smart home solutions offerings.
The company, whose module shipments during Q2 2022 reached 521MW, above its guidance of 460-490MW, is looking to expand its 'beyond the panel' smart home solutions offering to customers.
Earlier this year, Maxeon announced that it would begin selling home energy storage products after signing a white label agreement with battery producer AlphaESS. That move played into a wider strategy Maxeon has of combining its solar panel technology and network with that of associated energy technologies – energy storage, EV charging and beyond – in order to sate consumer demand for holistic home energy solutions.
"It's about providing that whole home solution from one source rather than people just having to cobble it together," said Babcock. "And it goes beyond just simple monitoring. It goes into analysis and consumption recommendations, so that it's not just about the solar system – it is about how you use the whole home, the power and how you could better use the power to save money or have a lower environmental footprint."
This is particularly pertinent at a time when energy bills are soaring in much of the world as a result of poor energy management and Russia's February invasion of Ukraine that has resulted in Western sanctions on Russian imports.
Babcock continued: "Whereas most of our competitors simply ship containers of product to the wholesaler and the wholesaler sells that product, we are working very closely with the installers, even if they're buying through wholesalers, to show them how to sell the value added."
And this chimes with Maxeon's strategy moving forward. Babcock said the company wants to increasingly highlight its suite of offerings to consumers in order to cement itself as a holistic, smart home energy supplier.
While the company will continue to target "certain utility-scale markets" going forward, Babcock said there was a mounting focus on distributed generation (DG) and smart home solutions. "We have a differentiated product both in the back contact technology, which is largely for DG, but also in the shingle technology, which has DG and power plant applications," he explained.
"Second, we have really differentiated channels to market across Europe, Australia, Japan and we are currently building out these kind of channels in the US."
Historically, Maxeon had used its relationship with SunPower, whose name it uses outside of the US, to get its products to market via the latter's supply channels. But earlier this year the two companies reached an agreement to loosen the exclusivity of their relationship, with both now able to work increasingly with other providers.
"It's not like we're abandoning SunPower but we're building parallel routes to market," said Babcock. "It was an exclusive relationship. They're now expanding and diversifying. We're expanding and diversifying."
How that new relationship plays out remains to be seen but Maxeon's desire to diversify and expand into new terrain means lots of potential for collaboration with other clean energy outfits.