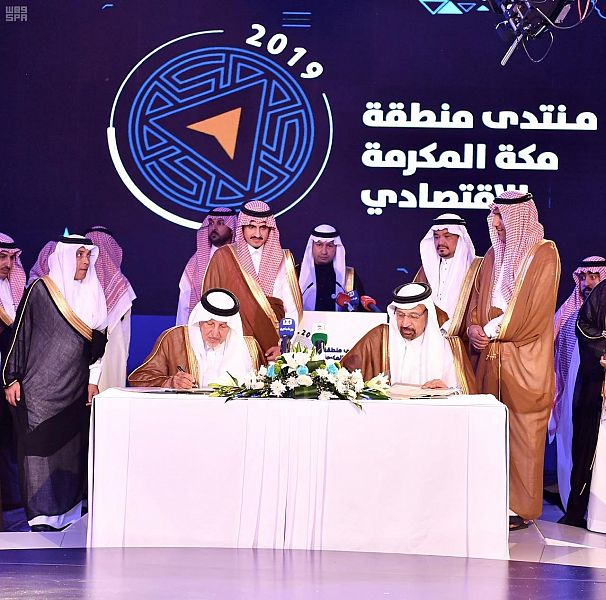 A scheme to deploy a multi-gigawatt solar pipeline in Saudi Arabia stands closer to delivery after a memorandum of understanding (MoU) was signed over the weekend.
The document rubberstamped on Saturday by Saudi prince Khalid Al-Faisal and Energy minister Khalid bin Abdul Aziz Al-Faleh lays the groundwork for the construction of 2.6GW in the Mecca region, under the Al Faisaliah scheme.
Some 2GW of that total will be implemented directly by Saudi Arabia's Public Investment Fund (PIF) and "selected partners", the government said in a statement over the weekend.
The MoU, signed at the fringes of the Mecca Economic Forum, will see the Energy Ministry carry out technical studies to ensure the 2.6GW scheme meets international standards. According to the government, up to 600MW will be publicly tendered by Saudi Arabia's Renewable Energy Projects Development Office this year.
The programme, the statement said, will help diversify and strengthen the power supply in the Mecca region. The area is home to well over eight million inhabitants, attracting further millions every year through pilgrimage trips to the holy site known as the Kaaba.
The document did not shed any light on who in particular will be partnering alongside Saudi sovereign wealth fund PIF for the Mecca programme.
However, the organisation is known to be working with investment giant SoftBank to deliver a colossal solar push across the whole of Saudi Arabia. Last October, the Saudi fund had to deny media reports that the solar build-up plans – co-financed by SoftBank's US$100 billion Vision fund, where PIF is one of the largest investors – were to be discarded.
Al Faisaliah aside, the programme's tenders so far have sought to award contracts for 300MW projects in Rabigh and Jeddah, 200MW in Qurayyat, 50MW in Medina, 45MW in Rafha and 20MW in Mahd AlDahab.