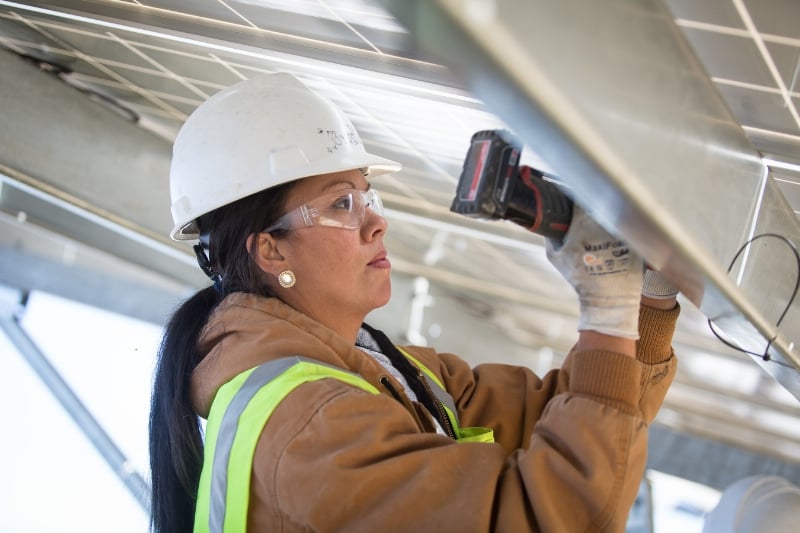 Independent nonprofit solar research and education organization The Solar Foundation (TSF) has released its sixth annual National Solar Jobs Census, highlighting the growing size of the solar workforce in the U.S.
According to the census, the U.S. solar industry boasted 208,859 American employees in 2015 — a total that includes the addition of 35,052 workers over the span of the last year, good for a 20.2% growth in solar market employment in the 12 months preceding November 2015.
Solar employers are expected to add over 30,000 jobs over the next 12 months, which would give the US a total of 239,625 workers by the end of 2016.
Solar employment grew by close to 12 times faster than the national employment growth rate of 1.7% during that same time.
Andrea Luecke, president and executive director of The Solar Foundation, said: "The solar industry has once again proven to be a powerful engine of economic growth and job creation. Employment in solar has grown an extraordinary 123 percent since 2010, adding approximately 115,000 well-paying jobs.
"Our census findings show that one out of every 83 new jobs created in the U.S. over the last 12 months was in the solar industry – 1.2% of all new jobs. The Solar Foundation is proud to play a vital role in delivering comprehensive solar jobs information to key decision makers about the technology's tremendous contributions to the U.S. economy."
Overall, the solar market workforce is larger than groups within the fossil-fuel sectors, which lost 13,800 jobs in 2015 and now employs 187,200 people. The solar industry is already three times larger than the coal-mining industry, which employs 67,929 workers.
Rick Needham, director, energy and sustainability at Google, said: "The continued growth and vitality of the solar industry is welcome news, especially after world leaders convened in Paris and signed an historic agreement recognizing the importance of climate change and of renewable energy as a way to help address it.
"As the largest corporate procurer of renewable power in the world and one of the largest corporate investors in both utility scale and residential solar, we're doing our part to support solar not only because it provides clean, renewable power but also because it makes great business sense. And with the launch and recent expansion of our Project Sunroof, we're helping our users explore whether solar makes sense for them and provides a pathway for cleaner power, economic savings, and more jobs."