Billed as the 'Largest Single Commitment to Renewable Energy by a State in U.S. History' the State of New York announced a US$1.4 billion investment package and over US$3 Billion in direct investment in solar, wind and hydro energy projects, expected to generate around 3,000 jobs.
Among the mix are 26 solar photovoltaics (PV) projects totalling 647MW, ranging in size from 2MW to several at the 100MW size.
Although the projects are spread throughout the state, the NYSERDA map highlights the majority of PV projects are located in the eastern (higher irradiance) regions of the state and include the majority of the large-scale projects, which were awarded to a number of US developers, such as Cypress Creek Renewables, NextEra, Invenergy and Granada Solar with the largest portfolio.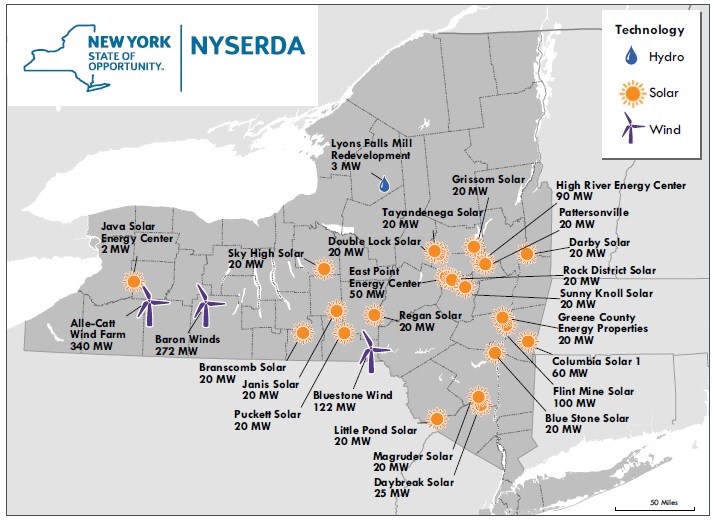 Alicia Barton, NYSERDA President and CEO said, "This is an historic moment for New York as we make the largest purchasing commitment to renewable energy by a state in the history of our country. Achieving 50 percent of New York's electricity from renewable sources by 2030 is a cornerstone of Governor Cuomo's nation-leading agenda to fight climate change, and I look forward to watching these projects create jobs, expand our clean energy economy and provide New Yorkers with clean, reliable power for decades."
The projects were qualified by New York State Energy Research and Development Authority (NYSERDA) and are expected to be all completed an operational by 2022 as part of competitive awards, driven by New York State Governor, Andrew Cuomo and his Clean Energy Standard mandate.