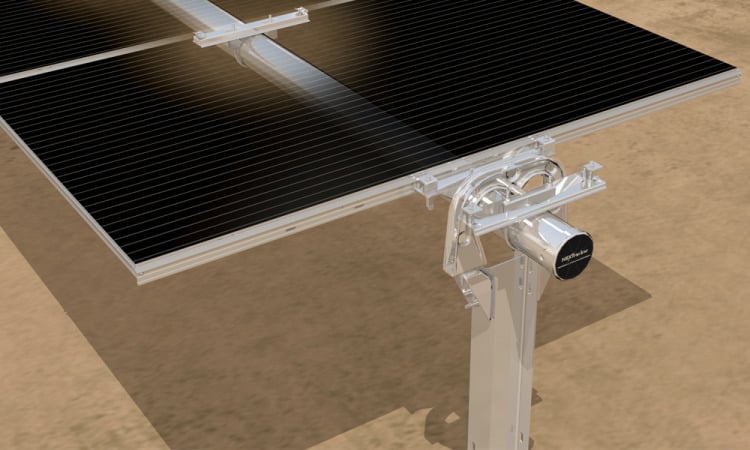 NEXTracker, a Flex company has collaborated with CdTe thin-film module manufacturer, First Solar to provide a patent-pending racking technology for First Solar's Series 6 (large-area) panel rollout this year.
Problem
First Solar Series 6 panel are three times as large as its Series 4 panels that are designed for higher performance and lowest levelized cost of electricity (LCOE). This requires optimized row configurations and unique mounting options for ultimate fast track installation, performance and reliability.
Solution
The NEXTracker mounting solution uses a bottom clamp system for installing First Solar Series 6 modules. In this system a shared rail self-locates underneath the frames of two adjacent modules, reducing handling and install times. A single set of clamps are mounted to this rail, which are used to secure the two modules. During installation, the clamps pass through the module frame mounting slots and are then tightened to the mounting rail. Grounding of the module frame to the tracker structure is built-in to the rail system, without need for additional grounding components. Longer rows improve tracker economics and simplify DC wiring. The high level of diffused light response of First Solar's photovoltaic cells was said to pair perfectly with 'TrueCapture', NEXTracker's proprietary smart control system to increase yields in PV power plants.
Applications
Utility-scale PV power plants
Platform
NEXTracker's mounting solution can be configured to accommodate a wide range of site conditions that may see wind speeds up to 130 mph, up to a 15% north-south slope, and also high corrosion environments. NEXTracker has further enhanced NX Horizon for future First Solar Series 4 projects, with optimized logistics and cost saving features.
Availability
Currently available.