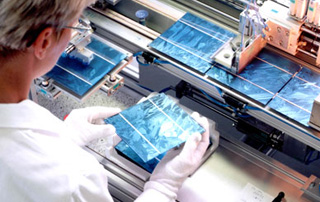 PV manufacturing capacity expansions planned this year are expected to push production levels beyond anticipated demand in 2016, creating further cost pressures for suppliers.
That is one of the headline findings of the seventh International Technology Roadmap for Photovoltaic (ITRPV) published yesterday. Produced this year for the first time by German industrial body VDMA, the annual report sets out the latest technology trends for the industry and charts the way ahead for further cost reductions.
Focusing us usual specifically on c-Si rather than thin-film manufacturing, the report alludes to the recent trend of capacity expansion announcements by module manufacturers.
With global demand predicted at around 60GW this year and capacity expansions expected to push total production capacity above the 60GW the roadmap said was in place at the end of 2015, the report said supply would likely outstrip demand this year.
"Therefore prices will not compensate for any cost increases as there is no shortage expected – in other words, the pressure on cell and more painful [sic] on module manufacturing will persist. Achieving cost reductions in terms of consumables and materials will therefore remain a major task," the roadmap said.
Materials, manufacturing and products
Among the trends for achieving such reductions, the roadmap predicts diamond wire sawing will steal significant market share off the current slurry-based process that currently dominate both mono and multi wafer production.
It predicts that from as early as 2018 diamond wire technology will become the market leader for mono wafer production and from 2026 for multi. Other emerging technologies such as kerfless sawing are not expected to gain more than 5% market share for either mono or multi.
On wafer thickness, although thinner wafers are generally held to be desirable for reducing cell costs, the roadmap said developments on this front predicted in previous issues of the report had not materialised. This was due to the falling prices of polysilicon, which meant cost savings through thinner wafers was less.
Nevertheless, the roadmap predicts wafer thicknesses will fall in the coming years – slightly quicker for mono, which is expected to decrease from the 180μm preferred today to 160 μm by 2018 and slower for multi, which fall to 150μm by 2026.
Given the high costs of silver, the report underlines the need for the industry to reduce consumption of this material in cell metallisation. Metallisation pastes are the most expensive non-silicon materials used in current c-Si production techniques.
The roadmap predicts the silver content of cells could be reduced to as little as 40mg by 2026. After this, it suggests alternative silver may be replaced by alternative materials such as copper, although some technical issues relating to the reliability and adhesion of alternative metallisation techniques remain.
On this basis, the roadmap predicts silver will remain the default metallisation material for years to come, with mass production using copper plating techniques only coming into effect from 2018 and accounting for a 25% market share by 2026.
On cells, the roadmap alludes to the recent growth in passivated emitter and rear contact (PERC) technologies, predicting that this and its near relations PERT and PERL will gain a significant market share over BSF cells, the current market leader.
Heterojunction cells are also predicted to grow in popularity, achieving a 10% market share by 2026. The market share for back contact cells is not expected to exceed 12% by that time.
PV systems
At a system level, the roadmap highlights the growing importance of balance of system costs in reducing over installed system costs.
One trend it says will become "discernable" by 2018 is the shift from 1,000V to 1,500V architectures. By 2026, such technologies are expected to have gained a 50% market share.
Another trend, discussed for the first time in an ITRPV report, is the growing popularity of singe-axis tracker systems. By 2026 systems using this technology will have a 20% market share, up from around 2% today. Dual-axis trackers, on the other hand, are expected to have only a negligible market share – only around 1% over the next decade.
In terms of levelised cost of electricity, the roadmap puts current values at between US$0.045 and US$0.09/kWp. Based on assumptions about overall system costs will fall, the roadmap expects values of between US$0.03 and US$0.06 to be achievable by 2026.