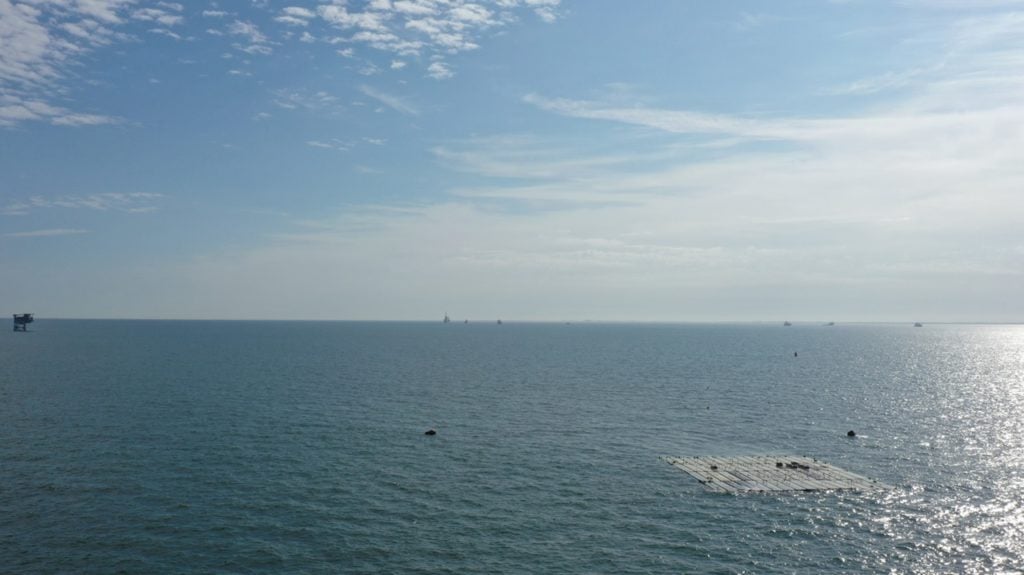 The contract for what is claimed to be the "world's first grid-connected offshore solar-wind hybrid project" has been awarded to offshore specialist Oceans of Energy for a site in the North Sea situated off the coast of the Netherlands.
0.5MW of floating solar modules will be installed between the turbines of CrossWind's 759MW Hollandse Kust Noord wind park. CrossWind is a joint venture between oil major Shell and Dutch energy provider Eneco.
The wind project will be complete by the end of 2023, with the solar farm due to be in place in 2025.
This will be Oceans of Energy's first commercial project. Allard van Hoeken, founder and CEO of Oceans of Energy said: "We are very pleased that Crosswind and their shareholders Shell and Eneco have trust in Oceans of Energy for realizing this first off amazing project."
In a recent feature, PV Tech Premium explored the routes that floating PV could take to move beyond pilot projects. Co-location with other renewable energy sources like wind and hydropower offers a strong route to market for offshore technologies as diversified energy sources can boost the overall yield of a project.
The Hollandse Kust Noord project will co-locate wind, solar, storage and round-trip green hydrogen generated from the wind turbines. CrossWind said this was a "world first" combination.
Floating solar also addresses land availability concerns in countries where suitable land is scarce. Southeast Asia has long been a hotbed for floating solar projects, with European countries like the Netherlands and Austria also pursuing the technology.
A Chinese state-backed energy firm is currently engaged in building the "world's largest" inland floating project, a 1GW facility on the reservoir atop the Kariba Dam in Zimbabwe.
Last month a subsidiary of French utility Engie – Tractebel – revealed a new offshore floating technology designed to withstand harsh marine conditions. The tech proposes to raise panels above the ocean surface on substantial metal structures in easily-deployable modular formation.